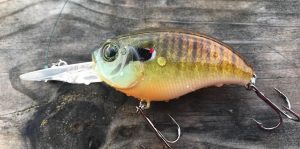 Tackle Test is reader-supported. When you buy products through links on our site, we may earn an affiliate commission.
Learn More
.
Lure Me In Crankbaits Crankbait Review
I'm not a big crankbait angler. I used to always have one tied on and ready to go. But over the years I kind of gradually got away from them. So it's a bit surprising that I'm actually sitting here writing this Lure Me In Crankbaits Crankbait Review.
Let me explain
Many, many years ago, I used to keep a crankbait tied on at all times. And I would generally get it wet on just about every trip, just to see if it was what the bass wanted on any given day. Sometimes they would eat it up. Sometimes that wouldn't even give it a glance.
But for some reason, I gradually started fishing them less and less. I think a lot of that had to do with the fact that I started fishing shallower and in heavier cover. Crankbaits obviously don't do well in shallow water with thick cover. So my crankbaits started collecting proverbial dust in my tackle storage boxes 🙁
Fast Forward to 2020
As I was sitting in my living room during the winter of 2019/2020, I made up my mind that I was going to put crankbaits back into my regular arsenal. After all, only a percentage of my fishing involves heavy cover, not all of it.
So the percentage where I am not punching weeds or flipping brush could very well be accented with some casts with a crankbait!
And, over the last few years I have collected some really, really nice crankbaits from a company called Lure Me In Crankbaits. And let me just say right here that these baits are meticulously custom-painted by the company's owner, Michael Orensteen.
Mike paints them and assembles them right in his own shop, one bait at a time! And then he packs them up and ships them out. You can't get much more of a personal touch than that!
Here's Some Background Info
I found Mike's custom crankbaits on Facebook several years ago. And being a lure nut, I couldn't resist the incredible paint jobs that he was doing on them. So I began acquiring some of them and putting them in my tackle boxes.
As I kept in touch with Mike over the years, I also watched his painting skills go from better than average, to off-the-charts incredible.
You see, Mike didn't just stick to painting the same 4 or 5 patterns on all of his baits. He actually took the time to create and develop new patterns and even new techniques of painting them.
And as he did that, I have seen other painters actually mimic his work on the baits that they paint for others. Yes, his paint work is that good, that it gets copied.
Let's Talk About The Baits Themselves
There are three things that make baits or break them.
1 – Do they catch fish?
2 – Are they quality or junk?
3 – Are they a good value for the price paid?
First, let me assure you that these baits catch fish!
Because the blanks that are used are high quality, they absolutely catch fish.
The beautiful paint work on those blanks is like icing on the cake, so to speak. The different color patterns offered by Mike give you options for every possible water type or seasonal pattern you might encounter.
What's more, these baits catch a huge variety of species, like Largemouth Bass, Smallmouth Bass, Northern Pike, Musky and more.
So, no matter what species you target, there is a crankbait for you to help you catch the fish you're looking to catch. All you need to do is choose the right one for the situation 🙂
Second, everything about these baits says quality!
The blanks themselves are well-made and durable. On top of that, Mike custom-paints them with one of his signature patterns, one at a time, using the best paints available. And then, to seal the whole deal, he applies a tough-as-nails coat of epoxy to protect that incredible paint work from whatever they might encounter, whether it be wear and tear from catching lots of fish, the teeth of a pike or musky, or the occasional accidental collision with a rock on an errant cast.
To finish them off, he adds only top-of-the-line hooks and hardware, including sticky-sharp VMC treble hooks.
Trust me when I tell you that these baits are made to last.
Now, let's talk about value. If you're a regular reader of my reviews, you already know that I don't like spending exorbitant amounts of money on fishing tackle. And you will also already know that part of my rating system is based on the overall value of a product vs. the price paid.
Well, I'm happy to say that these baits, priced at $17.99 each, are an excellent value!
Yes, you can buy some crankbaits for less money than this in the store. But you'll get the exact same lure that thousands of other anglers are also getting. With a Lure Me In Crankbaits product, though, you're getting a custom paint pattern on a bait that is put together by an individual, not in a factory setting where quantity rules over quality.
The ability to order any of the 24 lure body styles and pick from 24 different custom color patterns sets these baits worlds apart from the store-bought fodder. You'll be showing the fish something they have likely never seen before, giving yourself the edge over other anglers.
Oh, and did I mention that these baits have been featured in In-Fisherman magazine, not once, but twice, in 2014 and 2017!
Wrapping It Up
Well, by now I guess you know that I really like these crankbaits. In fact, when I do fish a crankbait, there's a really, really good chance that it will be one of these baits.
Yes, they cost more than some of the others. But they're worth every penny. And not only are they super-high-quality, but they are painted and sold by a US military veteran who works hard at perfecting his craft.
I highly recommend these baits, and I have no problem at all giving them a super solid 5 star rating.
So, if you've been thinking about buying some crankbaits that aren't the usual retail stuff, or if you're looking for something different to fool the fish on your lakes and rivers, be sure to check out Lure Me In Custom Crankbaits.
You can check them out by clicking here.
If you like this article, please be sure to share it with others!
And feel free to leave comments below.
Good fishing <><