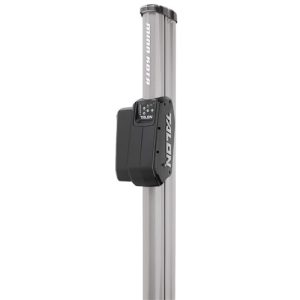 Tackle Test is reader-supported. When you buy products through links on our site, we may earn an affiliate commission.
Learn More
.
Minn Kota Talon Review
It's taken me a while, but I'm finally getting around to writing my Minn Kota Talon Review.
I hadn't intended for it to take me this long, but things have changed drastically for me over the last year or so. That's a story for another day, though, so let's get on with this Minn Kota Talon Review so I can let you know what I think of them.
I never write reviews on any product without spending an ample amount of time using it and learning the pros and cons of that product. I want to make sure my reviews aren't just based on first impressions, marketing hype, etc.
With this Minn Kota Talon Review, you're getting two years worth of on-the-water use and experience. I have put in hundreds of hours of use on my Talons to learn what I like and what I don't like about them. So, now I can pass that information along to you, allowing you to make a fully-informed buying decision.
Spoiler Alert!
Before I get into the meat and potatoes of the actual review, I'm going to give you a bit of a spoiler right up front. For me, the Minn Kota Talon is the absolute best money I have spent on boat accessories in my 30+ years of owning a bass boat. They have added to my fishing experience in a positive way like no other piece of equipment that I own.
With that said, let me begin to break down why I say that.
A Little Background
I started fishing in bass tournaments in the early 1990s. And I fished recreationally for close to 10 years before that.
Add to that my 15 or so years as a professional bass fishing guide and I think it's safe to say that I have spent a lot of hours on the water chasing green (and brown) bass.
Over time, you tend to learn a lot, not just about fishing, but about boat control and how that affects your fishing.
There were countless times when I missed out on catching more fish due to not having a good method of holding my boat in place when it was windy. Some of those times revolved around not being able to keep the boat sufficiently stationary while targeting a specific piece of cover where I wanted to make casts. Other times it involved the boat drifting far away from a spot when I caught a fish and had to unhook it to put in the livewell.
A Frustrating Incident
Here's an example from a tournament a few years ago.
I was working my way across a flat that was about 3-4 feet deep. I was targeting various small submerged rock piles that were scattered on the flat with a soft plastic beaver style bait. As I hit one particular rock pile, I caught a decent fish and put it in the livewell pretty quickly, but without weighing it first because I didn't want to waste time or lose my boat position due to the wind that was blowing.
This repeated three more times until I had my limit. At this point, I had to weigh and tag my fish so I would know which fish to cull when I caught the next one.
Lost Boat Position
Because of the wind, I had to pull the boat close to shore (to get out of that wind) and spend 10 minutes weighing and tagging my 5 bass. By the time I had moved the boat close to shore, weighed and tagged the bass and then moved back out onto the flat, I had trouble relocating that exact rock pile, and didn't get any more bites in that area 🙁
If I'd had some way of keeping the boat pinned to that spot, I would have lost only half that time because I wouldn't have had to spend time trolling to shore and then trolling back out onto the flat. I still placed in the tournament, but that incident may have cost me the win.
When the Wife Speaks…
On another occasion when I had taken my wife with me to the same lake, there were wind gusts of 15+ MPH. Again, due to a lack of a suitable way to hold the boat in position while we targeted specific pieces of structure and cover, our efforts to catch fish were fruitless.
And as we headed home after just 2 hours on the water, my wife said to me, "you definitely need to get one of those Talon things to hold you still when it's like this".
You see, even someone who isn't a die-hard angler saw the need for something to hold the boat in place to make boat control less of a hassle.
A Few Months Later
That windy incident with my wife happened in April. A few months later, in late July, I bought and installed my first Minn Kota Talon on my transom.
Part of that time between April and July had been spent saving the money for the Talon and the proper bracket to mount it on. The other part was invested in researching to determine which length Talon I would buy, as well as making sure I got the correct mounting bracket.
Which Length Did I Choose?
In the end, because I fish a lot of shallow water, I opted for the 8 foot model.
I might have gone for the 10 foot model, but a few things stopped me from doing so.
First, the price difference was roughly $300 between the 8 and the 10 footer. Second, I bought my first Talon in the summer of 2020, right in the middle of the massive product shortages we were all dealing with at that time. So, when I searched for Talons to buy, they were hard to find in stock in any size.
When I did find the 8 foot model in stock, I ordered it right away and had it in my possession 48 hours later. And thankfully it was a color that actually matched my boat!
Also, let me note just for informational purposes, my first Talon was installed on the Port side of the boat.
Installation
I won't bother getting into details about installing the Talon. But I will tell you that I chose to do mine myself. And it was fairly easy to do.
I've had a fair amount of mechanical experience over the years, so it wasn't too intimidating even though I had never installed one before.
There are considerations when it comes to the installation that revolved around whether your boat has a jackplate or not, so if you buy a Talon and aren't sure about installing it, do yourself a favor and pay someone to do it for you. Then you can rest in knowing that it was done right.
First Impressions
After I installed my shiny new Minn Kota Talon, I took it to my local lake at that time and put it to the test during a short fishing trip.
As is normal on that lake, the wind was blowing. This gave me a chance to see how the boat behaved with the Talon when compared to not having any kind of shallow water anchor.
I made my way out to my first spot and got ready to fish. I deployed the Talon and then set about getting a couple rods ready to use. While I readied the tackle, the boat stayed where I had put it. This was a pleasant change!
As I fished for the next couple of hours, I played with the Talon to see how quickly it deployed, how quiet or loud it was, etc. And I was pleasantly surprised with both aspects of it. It deployed quickly, and made minimal noise.
Using it was super easy. And in a strange sort of way, it was extremely satisfying to hit the button and have the spike pin itself to the lake bottom, denying the wind its opportunity to blow me around relentlessly as it had done for so many years 🙂
One Talon vs. Two Talons
When I hit the water that first time, I knew that having one Talon would not give me absolute boat control. Let me explain.
Having one Talon on the transom holds the boat in place, but it does not hold the boat still. The single If it's windy, a single Talon actually acts as a pivot point, requiring the use of the trolling motor in small bursts to keep the bow pointed where you want it.
This is obviously amplified as wind speed increases and by the boat position required relative to the wind direction while trying to fish your intended target.
The best boat position with a single Talon is to have the wind blowing square at the stern of the boat. But that's not always possible or feasible. So, keep in mind that you will still need to control the front of the boat if you have a single Talon on the back.
I will talk more about using two Talons later in this review.
More Time Spent On The Water
As I used the Talon on more fishing trips and in some tournaments, it became an essential tool; one that I would never want to be without again.
It gave me a peace of mind to know that I could quickly hit the button to deploy it and it would do its job of holding my boat in place when needed.
So, how fast are they? They are not rapid. But none of the current variety of shallow water anchors are.
They can't be in light of the fact mechanisms that make them work.
Talons run on cables and pullies in conjunction with electronics that make those cables and pullies deploy and retract.
Cables and pullies might sound primitive, but with the advancements of electronics, Minn Kota has done a fantastic job in engineering the Talons to work smoothly and as quickly as possible.
Fast or Slow?
I like the speed with which the Talon deploys. From the time I press the button to the time it anchors me obviously varies based on water depth. But let's just say that full deployment in 3 feet of water takes roughly 3-4 seconds, while 7 feet of water might take 5-6 seconds.
I have not timed them. I'm giving times based on estimates, but I know these estimates are close.
And as you gain experience using your Talon, you'll learn to compensate for the deployment time by hitting that "down" button a tad sooner if you're fishing in deeper water, and also by using your trolling motor to hold the boat in position while the spike deploys and digs into the lake bottom.
Technological Stuff
One of the newest advancements in the Talons is that they utilize Bluetooth technology. This opened up a whole new world of possibilities when it comes to various accessories, pairing options, etc.
Minn Kota offers an app that can be used to control their Talons. I have the app, but I rarely use it. It's much easier to use one of Minn Kota's remotes than to reach for my phone.
Each Talon comes with two standard remotes that pair with your Talon via Bluetooth. These remotes can be used from anywhere in your boat, making it easy to deploy or retract your Talon.
Likes
After using my Talons for more than 2 years, here's what I like and what I dislike.
I like the fact that the Minn Kota Talon is self-contained. The Talon houses everything that makes it work all in that one tower.
There are no external pumps, reservoirs or hoses required. You simply bolt it on, connect the power and it's ready to use.
I like that it works with Bluetooth, giving me multiple options for different types of remotes.
I like that it offers different settings for anchoring in soft bottom, hard bottom or rough water.
I like that adding it to my boat didn't require major modifications to my boat or hours spent fishing wires or hoses through my hull.
I like that when I press the button to deploy it, it does exactly what it's supposed to do; hold my boat in place. No nonsense.
I like that it's reasonably quiet. It's not silent, but reasonably quiet.
I like that it has changed my fishing for the better in more ways than I can list here.
Dislikes
This will probably be the shortest part of this review!
I don't like that maintenance is a bit tough if you don't have the Minn Kota Talon tilt bracket (more on this later).
I don't like that they can impede my ability to get under low obstacles, such as bridges, unless I have the Minn Kota tilt bracket.
I don't like that the blue LED light that indicates it has been deployed is so bright that it blinds me when I'm fishing at night. LOL. I'm trying hard to find things that I don't like 😀
At this point, anything I can think of that I don't like would be ridiculously petty, so I will stop here.
Let's Talk About Accessories
My review would be seriously lacking and delinquent if I didn't spend a few minutes talking about the accessories that have made my Minn Kota Talons even better, more versatile and more pleasant to use.
Let me say right up front that the two remotes that come with your Talon are sufficient. But that's all I will say for them. They're sufficient but not really all that convenient.
First, they're meant to be controlled with your hands. Second, they're not easy to place somewhere that's convenient and easy to access quickly.
The fact that they're designed to be controlled with your hands is a huge detriment, in my opinion. Your hands should be free to fish, not be bogged down with operating your shallow water anchors.
And the fact that they come with a neck lanyard, so they can be worn like a necklace is not something that I want. Ever.
But these remotes do what they're supposed to do; lower and raise your Talons.
Minn Kota Talon Foot Switches
After I installed my second Min Kota Talon, I also wanted to move away from having to use the clunky remotes that come with the Talons. I wanted my hands free to fish, not having to reach for a hand-controlled remote to deploy the Talons.
This was especially true when I hooked a fish and wanted to stick the boat right there so I can fight the fish and land it without being distracted. The last thing I needed was to have to reach for a remote and deploy the Talons with one hand while trying to play a fish.
I knew that I wanted some kind of foot-operated switch. For these, I learned that I had two choices; Minn Kota Bluetooth Wireless Foot Switch or the Minn Kota Bluetooth Stomp Switch.
After doing my homework, I opted to go with the Stomp Switch.
As you can see from the photo, the stomp switches mount very unobtrusively and are easily accessible to deploy or retract the Talons in a split second.
Here's Why I Chose the Stomp Switch
My main reason for doing this is that the Wireless Foot Switch has too big a footprint for my front deck.
I wanted something small and compact that would require minimal space so as not to clutter up the front deck area. The Stomp Switches were perfect because they are small and allowed me to install one on each side of my recessed trolling motor foot pedal tray.
I will be writing a review that covers the Stomp Switches in more detail, along with the differences between the Stomp Switches and the Wireless Foot Switch. So be on the lookout for that in the near future.
Also, as a quick side note, since installing my stomp switches, I have discovered these two new products that are designed to enhance or solidify your stomp switch installations.
Ashmore has introduced the Stomp Switch Station and the Stomp Switch Station Singles. Both of these items allow you to have your stomp switches mounted at a 5 degree angle and on a slightly elevated platform that makes them easier to access quickly and accurately.
I have not bought or tested these items, but they look promising, so I wanted to mention them to give you options when it comes to mounting your new stomp switches!
Mounting Bracket Recommendation
I would be amiss if I didn't expound a bit on something that I mentioned earlier in this article; the Minn Kota Talon tilt bracket.
The tilt bracket is an absolute essential if you want to simplify maintenance on your Talon(s). It is also essential if you routinely take your boat under very low bridges or other types of low obstructions.
There is a lake or two that I used to fish in New England that actually had a very large culvert pipe that I would go through to get under a road that separated the main lake from a smaller side where I have caught some very big bass. My Talons would have prevented me from accessing that part of the lake if I didn't have the tilt brackets.
These tilt brackets aren't cheap. But in my opinion they are worth their weight in gold, and I would recommend that every single Talon installation be done using these brackets.
Installation of the tilt bracket is super simple and painless with a few basic tools. Again, as with the Talon installation, if you're not comfortable doing it yourself, spend the money to have it installed professionally.
Summing it Up
Let's get this Minn Kota Talon Review wrapped up.
You have probably surmised by now that I love my Minn Kota Talons. And I love having two of them even more than just one. Two Talons gives me absolute control of boat positioning even in 20+ MPH winds.
When I deploy the Talons, the boat DOES NOT MOVE. It simply stays put. Period.
And I will reiterate that the money spent on the Minn Kota Talons is the best money I have spent on boat accessories in all my years of owning bass boats.
Are they perfect? No. No product is perfect.
Do they do what they're supposed to do reliably and with few problems or glitches? Absolutely!
Do I feel they're worth the price I paid for them? 100%. I have no qualms whatsoever with them when it comes to value vs. price.
As I stated early in this Minn Kota Talon Review, they have seriously changed my fishing since buying them.
What rating do I give them after using them and putting them to the test for over 2 years? Absolutely, without hesitation, I give them a solid 5 Stars.
Final Words
Are Minn Kota Talons for you?
That depends on you. Do you fish in or anchor your boat in water less than 15 feet deep a reasonable number of times each season?
Do you want a way to hold your boat in position effortlessly in windy conditions while fishing in water that's 15 feet deep or less?
Are you tired of your boat blowing around uncontrollably on windy days, costing you valuable fishing time and frustrating you to no end?
Do you want to be able to pull your boat up to shore and reasonably expect it to stay there while you walk to get your truck at the end of a fishing trip?
Should I go on?
The answer is a resounding, "YES!". If you nodded your head to more than one of the points above, you need a Minn Kota Talon.
You can check it out the Minn Kota Talons by clicking here.
If you enjoyed this review, please be sure to share it with others!
And feel free to leave comments below.
Good fishing <><