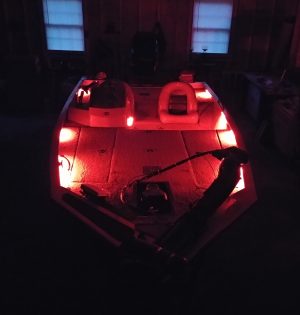 Tackle Test is reader-supported. When you buy products through links on our site, we may earn an affiliate commission.
Learn More
.
LEDhead Lighting LED Boat Lighting Kit Review
With all of the tackle reviews recently, it's time for a LEDhead Lighting LED Boat Lighting Kit Review!
Over the past 3-4 years, LED lights have become pretty popular on boats of all kinds, especially on bass boats. So I figured I should put my two cents worth in on this hot topic and let you know what I think of my LEDhead Lighting LED Boat Lighting Kit.
First, I have to admit that there was much procrastination when it came to installing my LED light kit. I knew it would take me at least a few hours, more than likely more than a few. So it took me a long time to carve out the time necessary to get it done.
But I also knew that I needed to buy a few things in order to do the installation properly. I'm not a fan of things being done halfway. If it's worth doing, it's worth doing right 😉
So, over a period of months (yes, I said months!), I gathered the necessary wire, etc. to make sure that when the day arrived that I decided to do this, I would be able to get it done without having to run somewhere to buy parts that I didn't have on hand.
Once all of the wire, connectors and heat shrink tubing were purchased, then I finally took the time to tackle the install.
I Wanted it to Look Perfect
When my LEDhead Lighting LED Boat Lighting Kit was installed, I wanted it to look clean and professionally-installed. That's how I roll with anything I do myself. I want it done right. If I can't do it right myself, I will have someone do it that I know will do a good job.
So, for me, the hardest part was figuring out the logistics of routing the wires, making all of the connections, etc. Figuring out the location of each light was relatively easy in comparison. Then, once I had all of that sorted out, I had to fish all of the wires through various areas of my G3 HP180.
All told, I did this job over the course of two different days, with a total time of somewhere between 7 and 8 hours. That might sound crazy, but since this was my first time tackling this kind of project, much of that time was spent on planning and sorting out the details.
Mounting The LED Lights
The first thing I want to mention about the lights themselves is that they come equipped with high quality 3M adhesive backing. Simply peel and stick, and your light strip is set in place.
Because of this, it's critical that you get it right where you want it before sticking it on! Once that 3M tape is stuck, it's not moving. So, as the old saying goes, "measure twice, cut once". But in this situation, be very sure you're putting the light strip where you want it, before sticking it to the boat!
Once you stick it to its location, press reasonably firmly, but without putting too much pressure on any one spot, so as not to damage the LEDs themselves.
Before I actually stuck mine in place, I laid each of them on the decks, right next to where I wanted them to live permanently. This gave me a really good idea as to how the light from each strip would be distributed throughout my boat.
Wiring Them Up
Wiring these lights is pretty straight forward. If you understand basic 12 volt wiring, you can do this yourself with no problems. Probably the hardest part is figuring out where each light will connect to the wiring harness you're connecting them all to. Once you sort this out, it's just a matter of tying them all in properly.
I highly recommend using heat shrink tubing on all of your connections to keep them protected. It helps to keep everything firmly in place and prevent loose connections down the road.
Some people choose to make a complete run around the entire boat with one pair of wires, connecting to that harness at various points. For my boat, I decided to start at the bow and make a run down each side, tying each strip in at its mounting point. It just worked better for me because of the layout of my boat.
About The Lights
I noticed a few things about the LEDhead LED light kit that I wanted to share in my review. So here goes.
First, everything I received in the kit is very high quality. The lights themselves are better than the cheap quality lights that can be bought from the no-name sellers at various locations across the web.
Each LEDhead Lighting LED light strip has more lights per strip than most other brands. This ensures more even lighting, with no blank or dark spots in the strips.
The lights themselves are also very bright and crisp. They aren't hazy or dim.
LEDhead Lighting LED lights come with a lifetime warranty. If one of the strips stops working due to a defect, it will be replaced for you. That's something you don't hear of very often in this industry!
About LEDhead Lighting
Dealing with the owner of LEDhead Lighting, Mikey Wyatt, was an absolute pleasure. He set me up with the kit, as well as some basic instructions as to how to wire everything up, what kind of wire works best and a few other pointers.
My order was in the mail quickly and arrived right on time, as promised.
You'll also notice when you get your lights that they are branded with the LEDhead name on them. This tells me that these are not just cheap knock-off lights that have been bought in bulk and remarketed under a company name.
They have been designed and built specifically to the specifications that LEDhead Lighting required before they would sell them as their own brand.
Also, any time I have had a question about anything related to these lights, or even questions about adding other lights to my boat, Mikey has always been professional and polite while answering all of my questions in a very helpful way.
I got a dimmer with my lighting kit because I wanted to be able to control the brightness. When the dimmer arrived, it had wires already attached to it, with each wire labeled, to make it drop-dead easy to hook it up with no guessing which wire went where (See the photo above). Again, excellent customer service.
After The Install
Once the lights were installed, I was completely impressed with them! They light up my entire boat, from front to back, with a really awesome glow that stands out, but without being obnoxiously bright.
And having the dimmer installed gives me even more control of them.
Despite it taking me a ridiculous amount of time to actually do the installation, I'm glad that I finally got it done. It was totally worth the time and effort.
And with the reasonable price for these LED boat lighting kits, just about anyone can afford to add them to their boat too.
Wrapping it Up
If you've been considering adding LED lights to your boat, I highly recommend the LEDhead Lighting LED Boat Lighting Kit. They're reasonably priced. They're super high quality. They work well. And the customer service is excellent. That's a recipe for a 5 star review in anybody's book!
You can check out the LED light kits by clicking here.
If you like this article, please be sure to share it with others!
And feel free to leave comments below.
If you'd like to read a review on another great boating accessory, please click here.
Good fishing <><