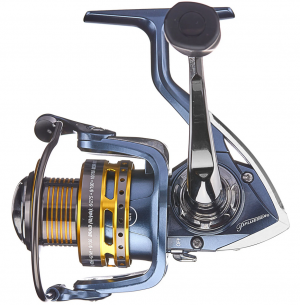 Tackle Test is reader-supported. When you buy products through links on our site, we may earn an affiliate commission.
Learn More
.
Pflueger President Spinning Reel Review
I've mentioned in the past that I don't buy a lot of spinning reels. That's mainly because I use more casting gear than spinning gear. But I wanted to setup a new spinning setup, so I bought a new spinning rod and reel, and now I wanted to share my experience in this Pflueger President Spinning Reel Review.
So, let's get started.
My past experiences with buying new spinning reels has been mixed. I have bought some very good reels, such as the Okuma Avenger. And others that weren't so good. So, when I wanted to buy another spinning reel, I wasn't too sure how it would turn out.
I did some homework, but pretty much just bought my new Pflueger President Spinning Reel on a whim, hoping for the best.
Pflueger President Spinning Reel Features
Before we get into the actual review, let's take a quick look at the reel's features.
From the PRESSP25X model through the PRESSP40X model, this reel boats 9 ball bearings and 1 roller bearing. That's pretty amazing for a reel in the sub $70 price range.
The weight of the reel will vary, based on which size you choose. The PRESSP20X weighs in at 6.2 oz., while the largest model, the PRESSP40X, weighs in at 11.5 oz. Overall, this is a lightweight reel for whichever size you choose.
The reel body is graphite, which explains the light weight.
The Pfleuger President Spinning Reel features a stainless steel/oil felt drag.
The bail and handle are both aluminum. And the spool is machined aluminum. Again, this helps reduce the weight, while still being strong and durable.
Performance On The Water
On my first trip out with this reel, I was impressed. The reel was smooth and quiet. My biggest concern is whether it would stay that way or not.
I didn't catch any fish big enough to put the drag to the test, but everything I did with the reel went flawlessly. It made no odd noises and it felt completely balanced in my hands.
The spinning of the rotor during a retrieve, or while playing a fish, was even, with no vibration at all.
And I had no problems at all with the bail slamming shut on me while casting, as I have experience with some lesser quality spinning reels.
So my first day using it was a pleasurable one.
Over The Long Haul
I used this reel for an entire season, from April through to December. I caught bass on it from tiny little smallmouth bass to largemouth bass up to just under 4 lbs.
The reel handled every one of them with no effort at all.
The gears remained quiet throughout the entire season. The drag was smooth with the bigger fish. I never felt like the drag would cause me to lose a fish because it didn't release line when it should have.
Unlike many spinning reels I have owned, this reel never made any strange scraping sounds. It never bound up. It just flat out worked from day one, like a good reel should do.
What I Used it For
I used this reel primarily for small soft plastics, such as a 4 or 5 inch Shakey Head Worm. Then I eventually started using it to fish a weighted 4 inch Senko style worm. Between these two baits, that covered 99% of my usage.
I spooled it with 15 lb. braided line. and used 10 lb. fluorocarbon line for a leader. This combination worked perfectly on this reel.
The braid laid perfectly on the spool, and I never had any trouble with it looping or knotting on me.
I actually paired the reel with a Lew's Carbon Fire Spinning Rod. And it was a match made in heaven!
Final Words
I have to admit that this is the best spinning reel I have bought. Period.
It has been an absolute pleasure to use and catch bass on.
Everything about my experience with the Pflueger President Spinning Reel has been 100% positive. I wish more products were made this well.
And I have to say that I found no negatives whatsoever about this reel. Not one. It has performed well above my expectations.
So, as you can imagine, I can't give this reel anything less than a solid 5 star rating across the board.
I can recommend this reel very, very strongly without hesitation.
If you're looking for a new spinning reel, you can buy this one with no worries about the quality or the overall value.
You can check it out by clicking here.
If you like this article, please be sure to share it with others!
And feel free to leave comments below.
Good fishing <><