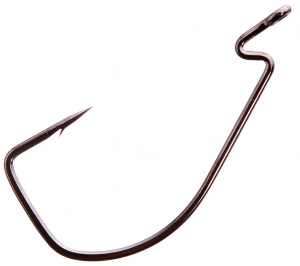 Tackle Test is reader-supported. When you buy products through links on our site, we may earn an affiliate commission.
Learn More
.
Lunker City Wide Gap Texposer Hook Review
Hooks aren't an item that we think too much about, as long as they work. I have been using the same wide gap hooks for at least 5 years. I recently decided to try the new Lunker City Wide Gap Texposer Hooks just to see if they might be any better than my old stand-by hooks. So, based on my testing, I decided to put this Lunker City Wide Gap Texposer Hook Review together so you can benefit from my time spent putting through their paces in the real world.
A Little Background
Hooks don't have much to test, especially in light of the fact that they have no moving parts, no fancy paint schemes, and definitely no bells and whistles.
But, they are a critical part of successfully hooking and landing fish. Bad hooks equals bad hooksets or hooks that can't hold big fish, and result in losing the fish of a lifetime or a fish that could win a tourney. I know because it has happened to me on at least one occasion 🙁
I have been using Eagle Claw EWG Worm Hooks for a very long time. They are very good hooks for the money. My only complaint with them is that they don't hold up well in thick weeds or other heavy cover. If you happen to hook a big fish in heavy cover, there's a good chance the hook will bend slightly and allow the fish to get away unless you can get the fish out away from the cover immediately after setting the hook.
I know this from personal experience. This has cost me a tournament win more than once. Because of this, I have had my eyes on the lookout for a better wide gap worm hook that's a bit heavier, made of quality materials, but not as heavy as a flipping hook.
This led me to find the Lunker City Wide Gap Texposer Hook.
Initial Impressions
At first glance, I knew this hook was very different, but in a good way.
It looked rugged. The gauge of the wire is heavier than the hooks I mentioned above, but not ridiculously heavy. It looked like it would hold up in heavy cover with no problems at all. I wouldn't necessarily say they would be good for flipping, but for everything else they should be great.
I also liked the design. They have a very unique shape in two specific areas.
First, the little section that holds the nose of your soft plastic bait is made in a way that is more exaggerated than any other hook I've seen.
Second, the "belly" of the hook is square instead of round. This places the hook point flat against the surface of whatever bait you're using, making it much easier to rig the bait straight and for "texposing" the hook, regardless of whether you skin hook the bait or simply leave the hook point nestled snugly against the bait's surface.
On The Water
My first trip out to use these hooks was an evening trip with a buddy of mine. We fished from 5 PM until roughly midnight. I rigged up one of these new hooks in the 3/0 size and decided to test it with a B-Bug, from LurePartsOnline.com. It's a 4 inch creature/flipping bait that I absolutely love. It has caught me a ton of fish and won me many, many tournaments over the last 7-8 years.
As we covered water, I alternated between one of my homemade spinnerbaits and the B-Bug on the new Lunker City Wide Gap Texposer Hook.
Before the trip was complete I had caught some bass on the new hook.
During that trip I made some observations about the hook.
First, it was extremely sharp right out of the package. I didn't need to touch it up at all. It was perfectly sharp.
Second, when rigging the soft plastic on it, the little V shape near the eye was very tight. It actually took a bit of work to get the bait down into the V. But once it was there, it stayed there. Period.
Third, the unique square shape of the lower part of the hook made it super easy to rig the bait straight. This shape also caused the hook point to lay snugly against the body of the bait, making it easy to skin hook it if I wanted to. In this particular lake, I did skin hook it because I was fishing around a ton of rocks. I wanted that hook point protected from those rocks.
On another body of water that had no rocks I left the hook point simply laying flat against the bait and it never grabbed weeds. Again, that square design forced the point of the hook to lay tightly against the bait's surface, keeping it from sticking up and grabbing weeds.
Hooking Power
Now, let me tell you about what I observed next. My Lunker City Wide Gap Texposer Hook Review wouldn't be complete without talking about actually hooking fish with a them!
My experience with this hook when it comes to catching fish has been nothing but positive. The extra-sharp point made it super easy to get fantastic hooksets. I'd set the hook, it would stick and stay stuck.
And best of all, the fish I landed were all hooked in or near dead center in the top of their mouth, right where it stays put.
Speaking of staying put, the shape of the hook also makes the hook hard for the fish to shake off. In fact, they hook so well that it takes a bit of effort on the part of the angler to pop it free. That's a good thing.
My last trip out with these hooks was on a small local reservoir where I got to fish the same creature bait along channel edges, finding bass in 4-8 FOW.
Again, the hook performed flawlessly, hooking the bass tightly in the top part of their mouth and never coming unbuttoned until I popped the hook free myself.
After using one hook for a handful of outings and catching many fish on it, it was still sticky sharp and in perfect condition, proving the fact that these hooks are high-quality and well made.
One Last Thought
One thing I have noticed over the years is that hooks can vary when it comes to sizes. Size standards are vague from one company to another. And different styles can tend to wreak havoc with sizing.
I was pleasantly surprised when I got these hooks and compared a size 3/0 in these to the 3/0 in the hooks I had been using. They were a perfect match! I was so glad to see that, since it kept me from having to fiddle with trying to find the right size to match what I had been using for so many years.
Final Words
There's only just so much that can be said about a hook. But I have to admit that I had more to say about these hooks than I figured I would be able to.
Lunker City Hit a Homerun With These Hooks! I mean that. Everything about them says quality and good design. I can honestly say they are the best I have used. When you rig a soft plastic bait and you slide the nose of the bait into that little V shape near the eye, it stays put. End of story.
I highly recommend these hooks. They seriously won't disappoint you if you buy them.
I can very confidently give these hooks a 5 star rating and not bat an eye about it.
You can check them out by clicking here.
If you like this article, please be sure to share it with others!
And feel free to leave comments below.
Good fishing <><