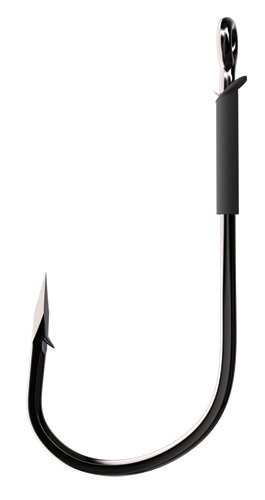 Tackle Test is reader-supported. When you buy products through links on our site, we may earn an affiliate commission.
Learn More
.
Lazer Trokar Flippin Hook Review
Back in 2016 I tried punching lily pads to catch bigger bass during a tournament. It worked well and I won the tournament with that tactic. But I did run into problems with my hook straightening out at least once. So, 2 years ago I bought some heavier hooks. That led me to write this Lazer Trokar Flippin Hook Review.
Let me preface this by saying that the hooks I was using on the day that I won the tourney were not at all meant for the kind of punishment that I was subjecting them to. But they were all that I had in the boat at the time, so they had to be put to use. Thankfully I only lost one bass due to a bent hook.
Another Day, Another Bent Hook
But then it happened again later on, during another tourney. And I decided that enough was enough. So I started searching for a better hook for fishing heavy cover. And I found the Lazer Trokar Flippin Hook. I didn't really have much info to go by when buying them,but I know that Trokar is a name that's been around for a while. So I made the purchase.
When the hooks arrived, I opened them up and checked them out. I was impressed with how rugged they were. I seriously couldn't see how it would be possible for these hooks to bend with the bass here in New England. So I put them in my boat.
Fast forward several months and I happen to need a rugged hook because I'm probably going to be punching again. The night before the tourney I was in my garage, prepping my tackle for the next day.
Not Impressed
I pulled one of the Lazer Trokar Flippin Hooks out of the package and checked the hook point. I wasn't impressed.
You see, I'm a fanatic when it comes to keeping my hooks sticky sharp. I constantly check my hooks when I'm fishing, whether on a guide trip, a tourney or just recreationally fishing. A sticky sharp hook is a must. So if I find that a hook doesn't meet my sharpness requirements, I immediately grab my trusty hook file and fix the hook point.
When I checked the Lazer Trokar Flippin Hook, it was only slightly sharp. It wasn't even close to meeting my own requirements. So I grabbed my hook file and sharpened it every so slightly. I checked it again and it was better, but still not sharp enough.
A minute or so later I had gotten it to where it was acceptable. Not perfect, but acceptable.
I fished the tourney the next day, but ended up not finding any fish by punching. So I never got to really put the new hooks to the test.
Fast Forward Several Months
Fast forward to this season. I had a hunch that I might need to do some more punching. So I grabbed the rod that I usually use for punching and was about to tie on the hook that I had previously had tied on. But, first I had to check the point. It needed touching up.
Out came the hook file. I began to hone it a little at a time. But no matter how I tried to sharpen that hook point, it just wouldn't get sharp. I spent well over 10 minutes on this one hook.
And Then I Gave Up
After wasting 10 minutes on that hook, I finally gave up and grabbed a new hook. And that was pretty disappointing in light of the fact that I had only gotten to use that hook on one or two outings. And on both of those outings I never even had a bite.
I pulled a new hook from the package and gave it a really close inspection. I just shook my head as I examined the point of the hook.
I could tell from looking at this hook that I was probably never going to be able to get it sharp enough to satisfy me. And I was 100% right.
I grabbed my hook file and gave it an honest effort. I was able to get it sharp enough to almost satisfy me, which was good enough. But it was impossible to get it "sticky sharp".
I also pulled the rest of the hooks from the package and found that they were all like this too.
I Will Never Buy These Hooks Again
Based on my experience with these hooks, I will never buy them again. They were a complete waste of my time and money. And I would never recommend that anyone else buy them, either.
As I mentioned at the beginning of writing this Lazer Trokar Flippin Hook Review I made sure to mention that I had bought these hooks in 2016. So it's quite possible that there have been some improvements made since then. But it will take a lot of convincing to get me to buy them to find out.
In the meantime, I will be on the hunt for a good, stout hook that will work for close contact applications such as flipping and punching. If I find one, I will be sure to write a review on it here and let you know.
A paltry 2 stars for this product. They're nowhere near worth the price I paid for them.
Here's another flipping hook you can check out by clicking here.
I hope you've enjoyed my Lazer Trokar Flippin Hook Review.
If you like this article, please be sure to share it with others!
And feel free to leave comments below.
Good fishing <><