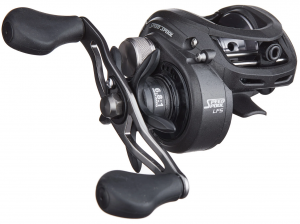 Tackle Test is reader-supported. When you buy products through links on our site, we may earn an affiliate commission.
Learn More
.
Lew's Speed Spool LFS Baitcasting Reel Review
I've been wanting to buy and test one of these reels for a couple of years now. This Spring I finally bought one, and I want you to know what I think of it. So, here I sit, writing my Lew's Speed Spool LFS Baitcasting Reel Review. Is it a solid piece of quality fishing tackle? Or is it over-hyped and not worth the money to buy it? Read on to find out.
Let's Get Started
Over the last few years I have become more and more of a fan of Lew's fishing tackle. Their rods and most of their reels have treated me very well. Because of this, I have reached a point where I believe that their equipment, overall, is a good value for the money spent on it.
I have bought a few of their combos, including the Carbon Blue Baitcasting Combo, which I rated as the best baitcasting combo for beginners, the Mach Crush Casting Combo and the Mach II Baitcasting Combo, as well as several of their Carbon Fire rods, from 2018 through 2020.
With that said, there is literally never a time when there are not Lew's rods on my front deck. The Lew's Carbon Fire rods have become my absolute favorites. The Mach II Combo is one that has seen hundreds of hours of use over the last few years. It excels for fishing creature baits in the southern New England lakes and rivers that I frequent.
Back On Topic
With all of that said, let's get on with my Lew's Speed Spool LFS Baitcasting Reel Review!
I bought this reel, along with the 2020 version of the Lew's Carbon Fire Baitcasting Rod, back in late February. Because I live in New England, it sat in my garage for a few weeks while I waited for the weather to warm up enough to be able to get on the water to start testing it.
When I finally did get out there, it took me some time to figure out what bait and presentation worked best for it. So my first few trips with it were pretty experimental.
I initially tied on a Gambler swimbait, rigged on an underspin swimbait hook. Unfortunately, during my first few trips, this rig never got any bites. But I did manage to start getting a feel for the reel and how it behaved.
First Impressions
My first impressions were very good. The reel was an absolute breeze to setup and dial in, with no backlashes at all.
Casts were butter-smooth and very long, and the overall feel of the reel on the retrieve was also very smooth and pretty quiet for a reel that comes in under $100.
The reel has a low profile, which is very easy to palm effortlessly. Because of its design, it is super comfortable to hold and use for hours at a time.
The paddle-style knobs are pretty comfortable to grab and hold onto during a fight. They are also reasonably "grippy", since their surface appears to be made of a rubber composite.
I like the braking system. It was super easy to setup and fine tune, since it's "old school" in the sense that it has one dial on the side plate for a magnetic braking system, along with the spool tension knob.
Let's Talk About The Reel's Specs
This reel is reasonably light for its class. It weighs in at just 7.1 oz. That makes it lighter than many other casting reels of the same size. This is a huge plus if you plan on using it for hours at a time and it will help drastically reduce or eliminate fatigue over the course of a long day of use.
The LFS Speed Spool is available in 3 different gear ratios; 5.6:1, 6.8:1 and 7.5:1. These three ratios will more than cover just about every possible application. The reel I bought has the 6.8:1, which is decent for spinnerbaits, etc. It's not too fast or too slow.
The line capacity isn't massive, but it's more than sufficient for bass fishing applications. I currently have mine spooled up with Sunline Super fluorocarbon 16 lb. test line. This is almost perfect for this reel. This line is super smooth and very strong. I reviewed it here.
The frame of this reel is aluminum. It is strong and stable, with no flex whatsoever. Because it's aluminum, it will last a good long time.
The gears are also super rugged, machined from solid brass. This means they will last many, many years with a reasonable amount of care and maintenance.
The spool is also aluminum, so it's super-light, yet strong. The light weight of this spool is part of why casts are long and effortless.
Lastly, the LFS Speed Spool sports a 10-bearing system. That's 9 sealed ball bearings, with a stainless steel one-way roller bearing for instant, bone-jarring hooksets.
It's a Drag
One of the things that often gets overlooked on bass fishing reels is the drag. Let's face it. Most bass are hooked and landed inside of 30 seconds, where the drag comes into play very little.
However, I can personally vouch for the fact that the drag on this reel is super smooth and works very well. How do I know this? Because I hooked a monster bass last week that put the drag to the test in an unexpected way. Let's just say that I was impressed with it!
This bass made a sudden surge that had the line smoothly, but quickly, flying off the spool, despite it being set fairly tight. So, for the drag to function this smoothly under a sudden burst of energy like this showed me that it was very well designed and built.
By the way, this reel is rated at 15 lbs. of drag. That's not a ton of stopping power, but its more than sufficient for 90% of bass fishing applications.
And the adjustment star wheel clicks while adjusting it, so there is no guess work involved when it comes to knowing how far you backed it off or tightened it up.
Do You Hear That?
My experience with reels that are under $100 is that they aren't always the quietest reels to use. I f I was to rate a reel from 0-10, with 0 being the quietest and 10 being the noisiest, I would put this reel right in the middle, at 5.
Overall, it is a quiet reel. But it will occasionally make a subtle noise that isn't a clicking noise, but is almost a clicking noise. What do I mean by that?
Well, most of the time I barely hear it when retrieving a bait. The exception is when I use the big spinnerbaits that I fish with at night.
I make my own spinnerbaits for night fishing. This allows me to completely customize them for whatever conditions I will be using them in. And because I fish them in the dark, I use a big #8 Colorado blade on them. This gives them a thumping vibration that is telegraphed through the fluorocarbon line, right into the reel.
As that monster blade rotates below the surface of the water, it causes the reel to make a subtle noise that resembles a faint clicking noise. In reality, it's caused by the blade on the spinnerbait. But the fact that the reel telegraphs it and turns it into a "almost-clicking-sound", bugs me a little bit.
Despite this noise, the reel performs flawlessly for me. And to be honest, this is the only thing about this reel that I can even mention as being a possible negative.
Overall Opinion
I have been using this reel a ton for the last several weeks, along with whatever hours I put on it earlier in the season, in the three months prior to the night fishing season here in New England.
If I fish after dark, it has a big spinnerbait tied onto it, and it is the reel that gets the most use. I've gotten really comfortable with it, and I have yet to have any real backlashes with it, fishing with it under a wide variety of conditions.
It is super comfortable to use, even for hours at a time. And it just plain works well.
I used it during a night tourney a few weeks ago when the spinnerbait bite was what caught every single fish for me that night. The reel never hiccuped. And it never got tiresome to use.
Wrapping it Up
I have to say that I am really happy with this reel. I'm glad I finally bought one to test!
My overall experience with it has been super positive. The one sort-of-negative thing that I mentioned above isn't worth deducting any points. And the price is great, at under $100
It casts like a bullet and it's butter-smooth on the cast and the retrieve. It's well-built, with very little plastic, including the aluminum frame and brass gears. And it's very lightweight for a reel its size.
I have no problem at all giving this reel a solid 5 stars.
And if it continues to perform at this level for the next few months, it will likely be one of my best 5 buys of the 2020 season.
So, if you've been thinking about buying one of these reels, or if you're looking for a great reel for under $100, buy one of these! You won't regret it at all.
You can check it out by clicking here.
If you like this article, please be sure to share it with others!
And feel free to leave comments below.
Good fishing <><