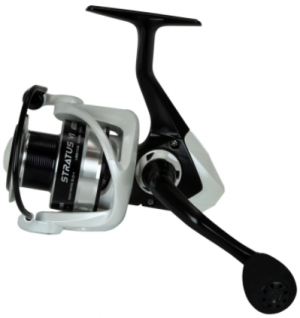 Tackle Test is reader-supported. When you buy products through links on our site, we may earn an affiliate commission.
Learn More
.
Okuma Stratus VI Spinning Reel Review
I don't buy a lot of spinning gear. But once in a while I do need to replace a spinning reel that wears out or add a new spinning setup to my tackle arsenal for a new technique. My most recent purchase is the reason for me writing this Okuma Stratus VI Spinning Reel Review.
I chose the Okuma Stratus VI Spinning Reel because I've had good success with other Okuma spinning reels in the past. So, I hoped that the Okuma Stratus VI Spinning Reel would give me the same positive results.
Now that I've been using this reel for several months, I have a good feel for it and whether it's a good reel or not.
So, let's get down to the nitty gritty of my Okuma Stratus VI Spinning Reel Review, so we can see what I have to say about it.
Initial Thoughts
Since I've owned other Okuma spinning reels, and I have had no problems with them, I fully expected this reel to also treat me well. Every one of the Okuma reels I have bought in the past are still in service, either on my rods or on the spinning rod my wife uses. They are just flat out reliable.
I actually bought this reel after having problems with a Lew's spinning reel. I wrote about that reel here.
Real Life
So, what happened in real life with the Okuma Stratus VI Spinning Reel?
It has been absolutely flawless, as I expected it would be. But before I get into all of that, let's take a quick look at the specs for this reel, along with a little other info.
Okuma Stratus VI Spinning Reel Specs
All of the reels in SVI lineup feature 7 bearings. 6 of those are ball bearings. The 7th is a one-way roller bearing that the instant anti-reverse is built on.
Because it has 7 total bearings, this reel is quite smooth.
The reel I bought was the SVI-30-CL. This model, along with the 10 and 40 models, has a 5.0:1 gear ratio. This is a good all-around gear ratio for most of the things you'll be doing with a spinning reel. I use this reel primarily for fishing small soft plastics, like the 4 inch Senko or similar baits.
Usually, with these types of baits, it's desirable to have a bit faster gear ratio that allows me to take up slack line a bit more quickly. But it hasn't been a problem for me at all.
And, because I will occasionally toss a small crankbait or a small topwater bait like a Jitterbug, the 5.0:1 works out really well for those too.
What About Features?
Let's take a look at the features of this reel.
FEATURES:
6BB+1RB For ultimate smoothness and performance
Quick-Set anti-reverse bearing
Precision machine cut brass pinion gear
Corrosion resistant graphite body
CFR: Cyclonic Flow Rotor technology
Elliptical Gearing System
Fat Bail wire
Machined Aluminum Spool
EVA Handle knob
There's not a whole lot more I can say when it comes to the features. It's a spinning reel that costs less than $50. It has everything it can have for a reel in that price range.
On The Water
As part of any review I do, most of what I write is based on real-life, on-the-water use and performance of a product. This Okuma Stratus VI Spinning Reel Review is no exception.
I have spent the last several months using this reel. I've landed bass up to 4 lbs. on it. It has been super dependable, with no problems at all.
The bearings make it smooth on the retrieve. The drag is smooth when a big fish makes a run.
The graphite body makes the reel light and easy to use for hours at a time.
The reel as a whole is smooth. Line twist isn't even thought of, since it just plain doesn't happen.
The bail opens and closes butter smooth, with no binding or hesitation at all. The bail spring is strong, but not too strong.
Overall, this reel is just engineered and built very well.
The Sum of It All
I could go on and on, writing more just to take up more space. But that would be a waste of my time and yours. So I'll just get right to the point and wrap this Okuma Stratus VI Spinning Reel Review up here and now.
Buy this reel. It's solid, lightweight, smooth and dependable. And best of all, it is all of that without breaking the bank.
Super easy to give this reel 5 stars. No hesitation on my part at all with that.
You can check out the Okuma Stratus VI Spinning Reel by clicking here.
If you like this article, please be sure to share it with others!
And feel free to leave comments below.
Good fishing <><