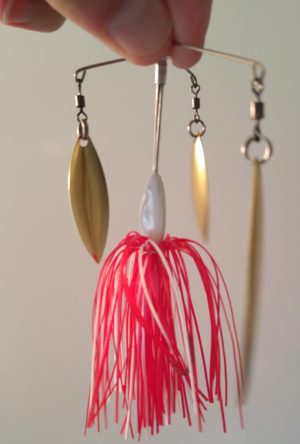 Tackle Test is reader-supported. When you buy products through links on our site, we may earn an affiliate commission.
Learn More
.
Bait School Baits Spinnerbait Review
Spinnerbaits have been around for a long time. Not much about them has changed over the last few decades. But I found some spinnerbaits recently that caught my eye due to their unique design. And I bought some of them so I could try them out and write a review on them. Sit back and read my Bait School Baits Spinnerbait Review to see what I think of them.
Let's start out with how and where I found these new baits.
With the explosion of social media the last few years, a lot of great new independent tackle makers have sprung up, literally across the globe. They can be found on Facebook, Twitter and Instagram, to name a few places.
I happened to find this tackle maker on Facebook. I don't recall exactly how I found him, but I guess that really doesn't matter now, does it?
Travis Cheeseman is the man behind these new baits. Travis is from Indiana, where he builds baits, chases bass, hunts turkeys and also tinkers with hot rods. He's a busy guy!
I contacted Travis immediately when I first saw these spinnerbaits and let him know that I wanted to buy a couple of them. He had no idea at the time that I was going to review his baits. The entire transaction was handled just as though I was a regular customer. I do this purposely, since I also like to write about the customer service experience just as much as the products themselves 😉
So I placed the order for the two baits and paid for them. And then I waited for them to arrive. But, I didn't have to wait long!
Travis had these baits made for me and shipped out almost immediately. I had them in my hands within 2 days from placing the order! 5 stars for order handling and shipping time!
Next, after opening the baits and snapping a couple of quick pics for the purpose of this review, I looked them over thoroughly. I was impressed. Everything about them looked great. Sturdy wire construction. Hand-tied skirt, held in place with heavy duty wire. A stout, very sharp hook. High quality blades. Good paint finish. The only thing that I noticed where there could have been a very slight improvement in quality was with the swivels. They are not ball bearing swivels. But no points have been deducted, since ball bearing swivels aren't a requirement for a great bait.
The only thing left to do at this point was to get them wet and let the fish talk to us.
So off to the lake I went! The wind was howling when I got there, but I was determined to test these baits, even if it was only for a short time! So I launched the boat and pulled away from the ramp, immediately reaching for the rod with this brand new spinnerbait rigged on it.
And on only the second cast of the trip, I landed this absolute beauty of a bass!
The fish literally inhaled the entire bait. I had to dig deep into its bucket mouth to pop the hook free. And once the hook was out, I snapped a couple more pics and released her to swim again. Check the photo below to see the bait still in the mouth of the fish!
I fished a while longer that day, but not for long due to the wind gusts of 25+ MPH. Satisfied with my first test, I packed everything up and headed home, with a smile on my face 😀
I tested the other one, a chartreuse and white bait with gold blades, about 2 weeks later, on a different lake, with great results once again. The bass on the second trip weren't as big as that first one, but they were still great quality fish.
So, two trips with these baits and fish were caught both times. I'm liking these baits more and more!
So now that I've told you that they catch good quality bass, let's talk about the baits themselves.
First, they are available in a myriad of color choices and blade configurations. The possible combinations of skirts and blades is almost endless. And Travis tells me that he is also now making these baits with buzz blades on the top two arms, with a single spinner blade on the lower arm, creating a completely unique bait that attracts bass on top and below the surface at the same time. It's safe to assume that I will be buying some of these in the near future too 🙂
When I bought my baits, I took into consideration the fact that this bait would have three blades, so I made sure I went with a 1/2 oz. bait. I wanted to make sure that it wasn't "over-bladed" causing it to run too shallow or not run true when retrieved. I wanted it to run straight without having to slow roll it.
And I'm happy to say that this is the case 100% of the time. These baits ran true from the first cast. And even after catching fish, they still run true.
The skirts are great quality. They appear to be made from quality silicone and are attached to the bait with wire, which means they won't come off easily, even when slapping the bait on the water to get weeds off.
The wire frame of the bait is rugged and durable. I have caught big fish on both of these baits now and haven't seen any evidence of it bending or becoming weak. The hook might be able to go up one size, but the hook that's used is more than sufficient and is sharp right from the start.
As I mentioned previously, the only thing I might see as a possible improvement to these baits is the fact that they don't come with ball bearing swivels. This is not a major deal. Ball bearing swivels aren't a necessity, but some people just prefer them.
On a bait of this style, I don't think ball bearing swivels are a necessity. The blades on both of these spinnerbaits spin easily with the stock swivels. But I do have to wonder how much more easily they'd spin if they did have ball bearing swivels. Maybe this should become an option, offering customers ball bearing swivels at a slightly higher price per bait. Hint, hint 😉
Anyway, like I said before, I won't deduct any points from my review for this, since the swivels that come on the baits are more than sufficient.
One other observation
The first lake that I tested these baits on is a very shallow body of water that gets weedy pretty fast in the springtime. And as I spent time testing these baits there, I found that they are not well-suited to very weedy areas or bodies of water.
The umbrella style arms have a tendency to catch on grass and coontail weed, requiring the angler to pay very close attention to the movement of the bait and to rip it free anytime it contacts weeds. This becomes tiresome and frustrating after a while. And ripping the bait didn't always clear the weeds from it, since the weeds were actually getting caught on the three arms that hold the blades, not so much on the blades themselves.
This isn't surprising when you consider the design, with three wire arms protruding outward from the center shaft. Unlike it's cousin, the standard spinnerbait, this bait has a bigger profile, created by those arms jutting outward from the baits center axis.
So, the best suggestion I can make is to avoid heavy vegetation with these lures, especially heavy, grassy vegetation. And with that said, I will also state that they should work fine around sparse weeds, such as lily pads, reeds, etc., provided there is no grass or very little grass around them.
It's a Wrap
So that's about it for these baits. I'll sum this all up by saying that I am extremely happy with them. Despite only buying them a short time ago, they have already caught some big bass for me. And I can see myself using them more and more, and even trying them out after dark this summer. I can also see myself trying out the buzzbait styles too 😀
These baits are well worth the price of $10. I won't even hesitate to recommend them to anyone who likes spinnerbaits. And, with their unique style, they definitely give you something to throw that few other anglers are using… yet.
The quality of the baits is excellent. I would expect these lures to last a very long time, even if you catch a ton of fish on them.
And the customer service? That was excellent too! Travis was great to deal with and he communicated with me quickly. The order I placed was handled with great speed and I got my package only two days after placing the order. Packing was good, with no damage to my baits while in transit.
I have no problem at all giving these baits a very solid 5 stars.
So if you'd like to order some of these excellent baits, you can find them here: https://www.facebook.com/Baitschoolbaits/
If you like this article, please be sure to share it with others!
And feel free to leave comments below.
Good fishing <><