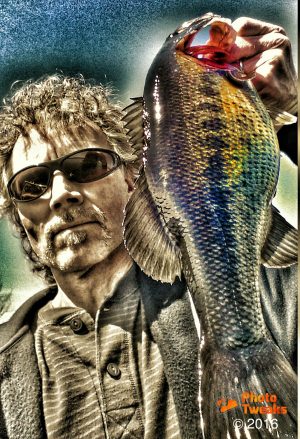 Tackle Test is reader-supported. When you buy products through links on our site, we may earn an affiliate commission.
Learn More
.
I'm not a highly technical bass angler. I like to pay attention to details because this can mean the difference between catching fish or not. But when it comes to many of the newer techniques that require very specific tackle and presentations, I have never taken the time to learn them. Despite that, though, I have learned over the years how finesse fishing for bass can be a game changer.
Bass in many lakes are highly pressured. They see thousands of artificial lures over the course of a year. Those lures could range from spinnerbaits to various topwater lures, to a multitude of different soft plastic baits, like the Senko or any number of creature baits.
Bass Remember Things
It's been proven in many tests that a bass will remember a lure that it was caught on and will likely not be caught again on that same lure for a long time. With that said, not every bass is like this. I have hooked bass repeatedly on the same bait, sometimes within just 2-3 minutes of losing that same fish.
Obviously, in a case like this, the bass never made it to the boat and got removed from the water. So maybe that made the difference between it biting again or not. Who really knows?
But one of the things that I have seen over and over again is that bass in pressured waters respond much more frequently to smaller, more subtle baits than they do to bigger baits that make noise or might look more obviously artificial.
The Bass Provide Proof
I used to read tons of fishing articles when I first started tournament fishing. I wanted to absorb as much info as I possibly could to try to gain some kind of edge over the anglers I was competing against. I like to think it helped me become a better angler. And in reality, I do think it helped a lot.
But there is no substitute for time spent on the water, chasing those elusive green fish in real-life, real-world conditions.
As time goes by and you catch bass or fail to catch bass under various conditions, paying attention to the details can pay big dividends when it comes to learning.
Sometimes the littlest things can make the difference between catching bass or going home skunked. And the word "little" can be taken figuratively and literally.
Subtle changes in baits, presentation, location or technique can mean drastic changes in catching or not.
But, in a more literal sense, small, subtle baits can sometimes make a world of difference, especially when pursuing pressured bass. These small baits will, many times, trigger bites from bass that just watched your 5 bigger lures go right by them without so much as a sniff.
Little Baits Catch Little Fish?
There is a school of thought that says big baits catch big bass, while little baits catch little bass.
And while there is a tiny bit of truth in this, it's not a hard and fast rule that the bass are bound to follow religiously. We need to remember that the bass don't read the books. They don't always play by the rules. They are bass. They have brains the size of a pea. They do what they want to do, when they want to do it.
I have seen days when little lures will catch nothing but small fish. But I have also seen some very big bass come over the side of my boat using very small, subtle finesse lures.
Seeing some of these big bass, along with being able to catch limits of bass on the toughest days, proved to me how finesse fishing for bass can be a game changer.
Let The Bass do The Talking
I have learned to listen to the bass. I have had days when I have tried to tell them what they should be eating. And those days rarely turn out well.
But on the days when I let the bass tell me what they want, I fare much, much better!
When the things that I think should work aren't working, I will begin slowing down and scaling back. Things like spinnerbaits and bulky soft plastics get set aside, and smaller, more subtle baits and presentations get put into play.
Finesse Baits That Work
Maybe you're wondering what kind of finesse baits I like. So, let me take a few minutes to mention a few here that are tried and true, along with a few more that I am planning on adding to my arsenal for the 2020 season.
The oldest finesse bait that I still use occasionally is the Charlie Brewer Slider Worm. This is a straight-tail finesse worm that has been around for probably over 30 years now. These worms don't do much, but that's the beauty of them. The less you do with them, the better they catch bass. They are small and very subtle in their action (or lack of it).
Years ago I found some very small soft plastic craw imitations that caught my attention. I immediately bought a couple bags of them to try. They ended being an unbelievable bait that bailed me out on several occasions when the bass would bite nothing else. They were very small, probably only 2 inches or so in length. They were not bulky at all. And boy did they catch the fire out of the bass on tough days.
I don't remember what brand they were. I don't even remember where I bought them. And, up until a few months ago, I had never run into anything similar, until I stumbled onto the Z-Man TRD Craw. I haven't had the chance to fish with the Z-Man baits yet, but based on what I see in these baits, and some inside info I have from a good friend who uses them, they should crush the bass when the bite is tough. I'm looking forward to trying them out in 2020.
More Recent Additions to My Finesse Bait Arsenal
I would be completely negligent if I didn't mention the tried and true Gary Yamamoto Senko, especially in the 4 inch size. I have a love/hate relationship with these baits. When they first hit the market, I flat out refused to buy them. Way too many people were fishing with them and I watched some very poor anglers suddenly start catching fish consistently.
I finally gave in and bought some of them after I fished on the California Delta with a good friend of mine and I landed a 9 lb. 14 oz. largemouth bass on one! That was a deal sealer for me. From then on, I was hooked, and so were the bass (pun intended).
For the Senkos, I use the 4 inch size on tough days, on spinning gear. When the bass are a little less finicky, I will opt for the 5 inch baits fished on a medium baitcasting setup with 14 lb. Sufix Siege mono.
And, more recently, a good friend of mine introduced me to the Zoom Shakey Head Worms. These worms have been around for along time, but I had never used them. During a few fishing trips in early Spring a couple years ago, he caught lots of fish on them while we fished together.
Seeing that was enough to convince me that I needed to be using this technique, so I bought a new Abu Garcia spinning rod and reel combo specifically for this technique. I spooled this setup up with 15 lb. braid and have caught a lot of fish on it since then, including a 5 lber. during a local tourney this past summer, fishing with that same buddy who introduced me to this technique. That fish took big bass honors for the tourney.
Just an FYI, if I am using that setup in fairly clear water, or water with a lot of rocks, I will add a short, 8 or 10 lb. test fluorocarbon leader. In dirtier water, though, I will fish it with straight braid.
Final Thoughts
Well, that about wraps this up. I could go on and on, but I think this is enough info to convince you of how finesse fishing for bass can be a game changer.
I hope you've enjoyed this article and found it informative.
If you like this article, or if you found it helpful, please be sure to share it with others!
And feel free to leave comments below.
Good fishing <><