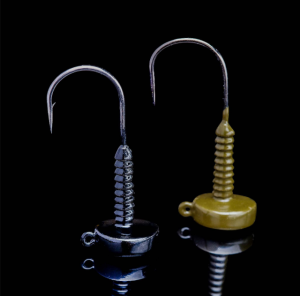 Tackle Test is reader-supported. When you buy products through links on our site, we may earn an affiliate commission.
Learn More
.
Lunker City Ned Head Jig Review
I tend to power fish as often as I can. It's just my preferred method of pursuing bass. And most of the time it works in my favor, attracting big bass. But every once in a while, I do some finesse fishing when the bite gets tough. When that happens, small baits and small jig heads are a great way to entice finicky bass. And it is for this reason that I'm writing this Lunker City Ned Head Jig Review.
Let's start my Lunker City Ned Head Jig Review off by talking about the jig head itself. Then we will move on to the various ways to use it, rig it, etc.
The Bait
Many people might think that a lead head jig is a lead head jig. It is, after all, a very basic tool that can be used in a myriad of ways to present dozens of different baits to the intended fish species under a wide variety of conditions.
And while this is a true statement, it's important to remember that in certain situations a specialized lead head such as the Lunker City Ned Head will outperform the old standard jig head.
Let's talk about why.
A standard ball head jig will fall to the bottom and simply lay there. Whatever soft plastic bait you have adorned it with will also pretty much just lay there on the bottom. If you're fishing a super-clean, hard bottom area of a lake or river, that might be OK for some presentations.
If, however, you're fishing areas where you need or want your bait to be a bit more noticeable, maybe because there are weeds or other rubble on the bottom, then you need a jig head that will help your bait stand out.
The Lunker City Ned Head does this perfectly. It accomplishes this with a completely flat, disc-shaped head that stands up vertically. This causes your bait to stand on end, almost as if waving to the fish, saying "I'm right here"!
Different baits will react differently. The picture to the left shows a tail from a Lunker City Slug-Go threaded onto the hook. This is a great example of what many Ned Rig anglers might envision in their minds when they think of a Ned Rig, basically a "no-action" piece of soft plastic threaded onto the hook of the lead head.
Now, picture it with a bait that has a bit more to it when it comes to appendages, claws, etc. The Lunker City Hellgie is a great example of this, since it is a bait that has little legs and antennae that can seductively move in the water with even the slightest current, beckoning the fish to come and snap it up. It's a great bait for the Ned Head when you want something subtle, but also with a tiny hint of movement.
Z-Man also makes some soft plastic baits that also excel for Ned Rigging and will work beautifully on the Ned Head. Two such baits would be the Z-Man Finesse TRD, a do-nothing stick style soft plastic bait. The other is the Z-Man TRD Crawz, a tiny soft plastic craw imitation that has claws that float upward when it sits still.
Now let's talk about when.
For the most part, the Ned Head comes into play when you're fishing baits that are small and the bite is tough. This might be when there has been a massive cold front blow through. or maybe when fishing pressure is unusually high.
As most anyone who fishes a Ned Rig consistently will tell you, it's not really a rig for dirty or heavily stained water. But it will excel when water clarity is medium or better.
Many tournaments have been won over the last few years with the Ned Rig. It just plain works. And the Lunker City Ned Head is, in my opinion, the perfect head to use because it stands out from the crowd of other Ned Rig jig heads out there.
What I Like About It
The Lunker City Ned Head is unique in a few different ways.
First, it doesn't use a mushroom-shaped head like most of the others. Instead, it uses a disc-shaped head that's 100% flat. This flat head allows the head to stand on end, as I mentioned above.
The disc-shaped head also keeps the bait from getting hung up in rocks as often as a ball-shaped would do. The shape isn't prone to getting wedged into those little nooks and crannies that cost us time and aggravation trying to get it un-snagged.
I also like that it uses a different system for keeping the soft plastic baits attached to the hook. Instead of the typical single lead barb, or the wire keeper, the Ned Head uses a series of cones on the shaft of the jig head. Lunker City calls it the "LunkerGrip baitkeeper system". And it works! Instead of a single lead barb or wire barb, these cones all work together to keep the bait securely in place. If you add a single drop of super glue to these cones before sliding the plastic all the way up, it'll stay there indefinitely, until whatever bait you're using is literally shredded by the fish.
I also like that they are powder coated, which means the finish is super tough and durable. These heads can catch dozens of fish and bounce off obstacles time after time and not show signs of wear.
Lastly, they are made with super sharp and tough 2/0 Mustad UltraPoint hooks, so they are sticky sharp right out of the package and strong enough to land any size fish without straightening out. That 2/0 size also makes it easy to get great hook sets because the point isn't impeded by the soft plastic it is carrying.
Any Negatives?
I honestly have nothing negative to say about the Ned Heads. They work, and they work very well.
Lunker City obviously put some serious thought and testing into these heads to make them, not only unique, but better than the heads that were already available. And in my opinion, they hit a monster home run with them.
Wrapping it Up
As you can probably tell by now, I love these heads. Like any of the other Lunker City products I have used over the years, they are super-high-quality in every way, including their unique design. And best of all, they are made right here in the USA. There's not much else I can say, except that if you're not using these heads, you should seriously check them out. You will love them too.
My Rating
This is a 5 star product from the word go. I found absolutely nothing about these heads that would keep me from recommending them to you.
You can check out the Lunker City Ned Head by clicking here.
I hope you've enjoyed my Lunker City Ned Head Jig Review.
If you like this article, or if you found it helpful, please be sure to share it with others!
And feel free to leave comments below.
Good fishing <><