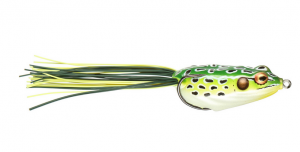 Tackle Test is reader-supported. When you buy products through links on our site, we may earn an affiliate commission.
Learn More
.
Booyah Pad Crasher Frog Review
I recently won a tournament using a hollow body frog, which is unusual for me. Because of that, I'm writing this Booyah Pad Crasher Frog Review, so I could pass what I learned about this frog on to you.
This Booyah Pad Crasher Frog Review won't be lengthy. There is only just so much you can say about a hollow body frog. But let's take a look at what can be said, so you'll know how and why I rated this frog the way I did.
Let's Get Started
First, as I've mentioned many times in the past, I like a good value. I don't mind paying a higher price for a quality product, as long as it's within reason. But there are some products where a high price tag can never be justified. Hollow Body Frogs are one of them. Let's face it. It's a hollow piece of plastic with a skirt and a hook harness. There is no justifying paying a high price for it.
So, with that said, the price of this frog is one of the first things I like about it. It's less than $6. Nobody anywhere can disagree that this is an excellent value for the price. And, based on my experience with the Booyah Pad Crasher Frog, it's worth every penny.
The Pad Crasher performs well and does exactly what it's supposed to do at a more-than-reasonable price. Enough said.
Let's Talk About Quality
Everything about the Booyah Pad Crasher Frog is good. The body holds together well, fish after fish. I've even caught a few toothy pickerel with it, and it stayed intact. Yes, their teeth left a few minor slashes on the body, but they never penetrated the plastic or tore it completely.
I've also noticed that this frog doesn't get filled up with water, like some hollow body frogs I've used in the past. It stays dry inside, cast after cast, which is a nice quality. I don't have to stop and squeeze water out of it every few minutes. So there is no time wasted on that frustrating task.
And in light of the fact that it stays free of water inside, it stays high in the water, skimming effortlessly over lily pads and other weedy, gnarly stuff.
Does it Catch Fish?
With all of the other stuff mentioned above, if it doesn't catch fish, it's a waste of time and money, right?
Well, I'm happy to say that it catches the heck out of the fish! And here's what I noticed about this frog that's a huge plus. The body is almost the perfect combination of toughness and softness. What do I mean by that?
Well, I mean that it's durable and holds up to rugged use. It can be annihilated by the fish, bounce off of cover, dragged through lily pads and other slop, and it doesn't even flinch.
The hooks are rugged. They stand up to big fish and braided line, which can be tough on a frog. They are also perfectly sized for the body of the frog, which helps in two ways. First, they're small enough to keep them from getting hooked or snagged on every little piece of cover, because they don't protrude beyond the body.
Second, they're big enough to hook fish well, and they stay hooked.
About The Hooks
Now, let me mention one thing quickly, before I move on. Straight out of the package, the hooks are sort of sharp. If you're adventurous, you could fish this bait without sharpening the hooks first. But I seriously recommend touching them up a little if you want to increase your hook-up percentage and lad all of the fish you hook. It doesn't take much at all to get them sticky sharp.
I use a small hook file and it takes me only a few seconds to get them right where I want them. Once the hooks are touched up, there's nothing more to do but get it wet and catch some bass.
Summarizing
In my opinion, this is as close as you can get to a perfect hollow body frog. It's inexpensive, rugged, well-designed and it catches fish.
I have no hesitation at all giving this a 5 star rating. If you fish a hollow body frog even only occasionally, this is the right frog for you.
Click here to check it out now.
If you like this article, please be sure to share it with others!
And feel free to leave comments below.
Good fishing <><