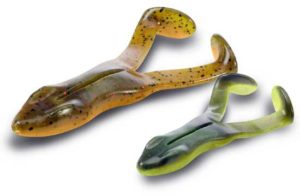 Tackle Test is reader-supported. When you buy products through links on our site, we may earn an affiliate commission.
Learn More
.
Stanley Ribbit Frog Review
I was introduced to the Stanley Ribbit Frog a few years back, during a bass tournament being held by my club. Little did I know that would lead to me writing this Stanley Ribbit Frog Review.
One of the other guys in my club was fishing about 50 yards from me. Every few minutes I'd hear a huge splash and see the water bust open. This went on for a while and I was completely fishless at the time.
Finally, after hearing about the umpteenth splash and seeing myself still fishless, I hollered over to him and asked him what the heck he was doing to get such violent strikes from bass that seemed so lethargic to me!
Lucky for me, my buddy was gracious enough to call me over to his boat and he showed me what it was that he was throwing. It was the Stanley Ribbit Frog. He showed them to me and then proceeded to hand me a bag of them, along with some heavy 5/0 wide-gap hooks to rig them on.
I Was Thankful
I thanked him and trolled away, rigging one of the frogs on one of my baitcasting rods, as I made my back to where I had been fishing a few minutes before.
The rod I chose was a medium action rod rigged with 15 lb. line and a Shimano Curado baitcasting reel. I knew I wouldn't be fishing any heavy slop, since it was still relatively early in the Spring season, so the medium action rod made a great match-up with the frog's weight and size.
Over the course of the rest of the tourney, I landed several decent bass on those frogs and lost a slammer Northern Pike beside the boat when it chewed through my line. All in all, the Ribbit Frogs saved my butt and gave me a 2nd place finish in that tournament. Coincidentally, I finished a few places ahead of my buddy who loaned me the frogs to begin with.
Over The Long Haul
So now that you know about my first experience with Mr. Ribbit, let's get down to the business of talking about how they do or do not perform and whether they catch fish consistently. Most of all, let's also talk about whether they're worth the price of buying them or not.
First of all, let me talk about what I think they're not good for. This isn't because I want to make negative comments and have them stick with you, but more so I can just get this done and move on to what I do like about them.
This isn't really a negative comment or a negative aspect of the baits, but more like a tip on where not to throw these baits. My experience with the Stanley Ribbit Frog is that it is not a great choice in heavy, dense lily pads.
This might seem like a weird thing to say since a frog is usually associated with lily pads, so let me explain a little further so you'll know where I'm coming from.
Because the Ribbit Frog is made of soft plastic similar to the same material that plastic worms are made of, it has a tendency to cling to lily pads. It also has two decent-sized  rear legs. These legs also tend to stick to dry lily pads, getting caught pretty firmly sometimes, requiring a pretty good tug on the rod to get them free.
It Can Be Annoying
This can become pretty frustrating after a while and, ultimately, become pretty counter productive, wasting a lot of your fishing time. There are two ways to prevent this from happening.
The first way to stop this is to use liquid fish attractant to lubricate the bottom of the frog before tossing it into the pads. This actually works pretty well and prevents probably about 75% of the usual hang-ups.
The other way to prevent this bait from getting hung up in dense lily pads is not to throw it there! Yep.. I said not to throw it there.
If the lily pads are dense, a hollow-bodied frog would be much better suited, in my opinion. Hollow-bodied scum baits are made for this type of fishing and are made of a material that doesn't cling to the lily pads so readily. They also don't usually have squirmy little appendages that get caught on emergent vegetation.
The only other thing that I don't like about the Ribbit Frogs is the fact that the nose of the bait will get torn up pretty quickly when catching a fish or from the bait getting caught in the vegetation mentioned above. Fortunately, there is a cure for this that I'll talk about in another article.
What I Really Like
Now, onto to what I do like about the Ribbit Frogs.
First of all, they catch fish and they catch them like a madman when the conditions are right for them. I've had some awesome days of fishing where the Ribbit Frog was the bait of choice after trying several other baits in my boat.
I've caught bass up to 5 1/2 lbs. on them so far here where I live in New England, and I have no doubt that I will eventually catch bigger fish on them.
I've done equally well with the Ribbit Frog during the day and after dark. It doesn't seem to matter whether the sun is shining or not, these baits catch bass. They'll also stir up a good share of Northern Pike and Pickerel, as well as bass.
The key to fishing them successfully is fishing them where and when the bass want them, as with any bait. But my tests with these baits shows that they excel in areas with water less than 4 feet deep and vegetation that isn't emergent, but sits just below the surface of the water.
The Right Areas
In areas where there is emergent vegetation, the Ribbit frog will fish best if the vegetation isn't heavy. It needs to be sparse enough to leave pockets of open water where you can swim the frog through, getting the attention of the bass.
The Ribbit Frog's strongest point is the action it creates with the special legs that Stanley designed for them. They create a subtle commotion on the surface of the water, similar to that of a small buzzbait. Reeling the bait slowly across the surface will keep the gurgle subtle, whereas cranking it in faster will create more commotion.
The Ribbit Frog comes in a pretty big selection of colors, but I personally don't play the color game very much with frogs. I throw black about 75% of the time, whether fishing them in the day or night time. Remember… the bass is looking up at the bottom of this bait, so all they really see is a silhouette.
Weight or No Weight?
The weight of the frog is decent enough to be cast a fair distance, even without adding any weight to it. Lonnie Stanley, the bait's creator, recommends using a belly-weighted hook, adding 1/8 oz. or slightly more weight to the overall bait and hook combination, but I tend to disagree, fishing the bait with a wide-gap 5/0 hook. Additionally, adding weight only means having to retrieve the bait more quickly to keep it on the surface, thus creating more opportunities for missed strikes.
The overall durability of these frogs is excellent, especially when used with the right hooks. I have some of these frogs that I've caught a half dozen or more bass on and they're still functional. That's not bad for a soft plastic bait of this type.
Obviously, if you're in an area where you're catching pickerel or northern pike, the frog will have a tendency to get slashed by their teeth, but they will still be good for catching several fish, if they're rigged correctly with the right hooks.
Stanley baits has now released a floating version of the Ribbit Frog which I have tested and fished with for several months now. We'll cover this bait in later tests also, comparing it to the standard version, which sinks very slowly.
The bait is available in 3 1/2 inch and 4 1/2 inch sizes. Stanley has named the 4 1/2 inch model the Bull Ribbit Frog. Surprisingly, I have seen the Bull Ribbit Frog priced well below the regular-sized Ribbit Frog.
Price point for this bait runs anywhere from $3.49 to $4.99 per bag of 5, depending where you buy them and whether they're on sale at a special price or not.
So that's my rundown on the Stanley Ribbit Frog. My opinion is that this is a great topwater bait for shallow, open water and sparse-to-medium density emergent cover. The bait catches big bass and has many good qualities.
As I mentioned above, I really don't have any major complaints about these baits, so I give them a 4.8 star rating out of 5 stars and I would recommend them to you as part of your bass fishing tackle arsenal.
For a complete list of colors and sizes, you can check out the Stanley Ribbit Frog by clicking here.