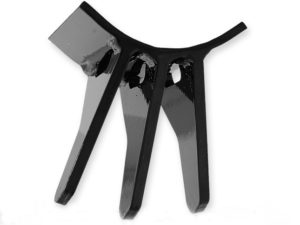 Tackle Test is reader-supported. When you buy products through links on our site, we may earn an affiliate commission.
Learn More
.
Innovative Angler Transducer Protector Review
Every once in a while, you stumble onto a product that is extremely simple, but incredibly useful. Such is the case with this product, and the reason I'm writing this Innovative Angler Transducer Protector Review.
I fish in a lot of shallow, rocky lakes. Well, not all of them are super shallow. But I choose to fish in the areas of these lakes that are shallow and rocky.
This helps me catch a lot of fish. But it also puts a lot of stress on my trolling motor, and even more stress on my trolling motor-mounted transducer.
The skeg on my Minn Kota Maxxum trolling motor has become intimately familiar with thousands of boulders in shallow water. Some of them it probably knows by name! It's not an intentional thing. It just sort of happens. Especially when I fish after dark for hundreds of hours each summer. Rocks don't glow. So we meet by accident.
Many years ago, I used to cringe every time I'd hear the trolling motor start to make contact with a rock. All I could picture was my transducer whacking that rock and breaking into little pieces. Or maybe my transducer getting knocked to one side, and the cable getting ripped out of it. Ouch.
I'd freak out and jump hard on the foot pedal in an effort to avoid hitting it too hard. And then the first thing I'd do is yank the trolling motor out of the water and check the transducer to make sure it was still in one piece.
A Thing of The Past
Thankfully, that's a thing of the past. Not the contact with rocks. But the freaking out part, where I'd immediately yank the trolling motor up out of the water to check my transducer.
Trust me when I tell you, I'm a very picky person. Some might say I'm a fanatic. Others might even say that I'm a bit obsessive. I still hate it when I hear my trolling motor make contact with a rock. But I no longer freak out about it. I no longer fret about my transducer getting the snot beat out of it.
Now, I just do whatever is necessary to move the boat around the rock. And I keep right on fishing. I don't really give my transducer a second thought.
Why? Because I now have a neat little gadget protecting my transducer like a well-armed guard.
Something Very Different
Quite a few years back, while at a club tournament, I noticed that a fellow club member had a unique kind of gadget attached to the bottom of his trolling motor. I could tell right away that it was designed specifically to protect his transducer.
I could also tell right away that it probably did a heck of a job of protecting that transducer too!
And I also knew something else right away. I wanted one!
So I asked him where he got it from, and he promptly told me.
Later that day, after I arrived home from the tournament, I jumped online and found it. It was called the Innovative Angler Transducer Protector. I didn't even hesitate to order mine right away.
It's The Little Things
I was actually excited and very much looking forward to getting this thing in the mail and getting it mounted on my trolling motor right away!
Trust me when I tell you that this thing is the simplest of simple contraptions. It's literally just some metal fingers welded onto another piece of metal. That's it!
But it's the way those pieces are all put together that makes this thing so special.
The thing is nothing special to look at. It doesn't make your boat prettier. It doesn't make it go faster. It just sits there.
But that's the beauty of it. While it just sits there, it keeps your sanity intact if/when you bounce off a rock with the TM.
If you look at the pic above, you'll notice that the fingers of this device reach down below the bottom of the transducer. So unless you hit the side of your trolling motor on something, the transducer is completely protected from impact with any objects you might hit while moving forward.
The transducer in the photo was brand new when it was installed. I fished with it for an entire season in all of my favorite boulder-filled lakes and shallow flats. The Innovative Angler Transducer Protector was already installed on my TM, since this transducer was being installed as part of an electronics upgrade.
If you look closely, you can see that the transducer made it through hundreds of fishing trips, with virtually no scrapes on it. This is 100% due to the protection offered by the transducer protector. And this is why I no longer cringe terribly when I bounce off of a rock with the trolling motor. I know beyond any doubt that the transducer is protected as well as it possibly can be.
How To Install It
The Innovative Angler Transducer Protector is drop-dead easy to install. It literally takes less than 10 minutes to put on then you're on your way to breathing easier when you fish boulder-strewn shallow water.
All it takes is a large stainless steel hose clamp that gets slid through the holes in this device, and then tightened around the trolling motor itself. Done. Just like that.
One tip, though. Make sure you tighten it down very tightly! You don't want it to be able to shift to one side or the other upon impact. It needs to stay put to do its job correctly. So be sure to snug it down really, really well.
Summing it Up
Since this thing has no moving parts, there's not much else to cover or write about. It is designed to do one thing, and it does it very well.
And at just $20.99, buying this is a complete no-brainer. Nobody should even have to think about it for a second or two.
When it comes to boating accessories, this is one of the absolute best purchases you'll ever make. Period.
Hands down, 5 stars for this item. If I could give it more, I definitely would.
So if you're tired of cringing every time your trolling motor bumps a rock or some other kind of underwater obstruction, don't wait one more second. Buy this right now.
You can check it out by clicking here.
If you like this article, please be sure to share it with others!
And feel free to leave comments below.
Good fishing <><