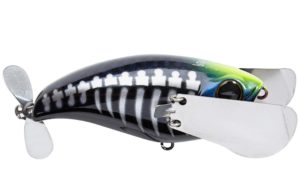 Tackle Test is reader-supported. When you buy products through links on our site, we may earn an affiliate commission.
Learn More
.
Jackall Pompadour Topwater Lure Review
I'm a topwater fanatic. I love big topwater baits to attract big bass. I have to admit, though, that I never thought I would be writing a Jackall Pompadour Topwater Lure Review.
Why? Because I don't very often spring for lures that cost anywhere near $20. As I've mentioned many times in other reviews, I'm a pretty budget-conscious guy. I like to find bargains when I can. I rarely pay full retail price for anything.
But a couple years ago I paired up with my best friend for a night fishing trip together on a local lake that we both love. As we pulled away from the boat ramp using the trolling motor, he showed me a new lure he had bought; the Jackall Pompadour. I liked it immediately upon seeing it. It had a unique look and unique design. It really looked like a bait that would attract big bass.
And Here's Why I Thought That
First, it has creeper wings on its sides, instead of the usual Jitterbug style bib on the front. Don't get me wrong, I love Jitterbugs and other lures styled after this classic bait. But the creeper wings give it a different sound. It's hard to put into words, but it's a more crisp, distinct blooping sound that I just really, really love.
Second, it has a tail prop. This gives the bait another element of sound that many baits don't have. In my opinion, not having a tail prop is a disadvantage. I know that sometimes less is more, but when I'm fishing a big topwater bait at night, I want it to make noise!
The third thing I liked is that it has dual internal rattles. Rattles don't make any commotion on the surface, as the wings and the prop do, but they add an acoustic factor to the bait that only helps bass to find it, especially after dark.
There are other features of this bait that are also good, like a magnetic internal weight transfer system that makes this bait cast like a rocket, despite weighing only 3/4 oz.
Lastly, the rear prop and rear hook are free-swinging. Jackall did this based on the theory that a free-swinging hook will give the bass less leverage to throw the lure once they're hooked. It's a good theory. But whether it really helps or not is just speculation.
My opinion, based on 30 years worth of experience, is that it's very rare for a bass to grab these kinds of lures solely by the rear hook. More often than not, the bass will grab it at the front hook, and the rear hook will often end up either in the head of the bass or somewhere on the side of their face. Occasionally it will end up inside of their mouth, but seldom as the only hook that the bass is caught on. Either way, though, having a free-swinging hook is still better than one that's not free-swinging.
But Does it Catch Bass?
Well, let's put it this way. Yes!
As my buddy and I slowly pulled away from the boat ramp on that particular night I mentioned above, he began chucking his new Pompadour around and promptly caught a bass over 2 lbs within the first two or three casts. A short time later, he caught another one close to 3 lbs. And the rest of the night went like that several more times. He didn't catch any monsters, but the way the bass were hitting it was incredible. I tried fishing a few different topwater baits that night, but the Pompadour outfished any of the baits I tried!
As I mentioned earlier, I love topwater baits. But I really love topwater baits with creeper wings on them. Creeper wings date way back to the old Crazy Crawler, from Heddon. They may even go back further than that, but I'm not familiar with anything prior to the Crazy Crawler.
Crazy Crawlers have accounted for some very, very big bass over the years. In fact, my own state of RI had a previous state record largemouth bass caught on a Crazy Crawler. The bass weighed just shy of 10 lbs.!
Anyway, I love creeper-winged baits. And if you've never tried one, you absolutely need to.
I liked the Pompadour so much that I ended up springing for one. And I'm glad I did!
What Else I Like About The Jackall Pompadour
I like the design of the creeper wings on this bait. I know that I have already established the fact that I like creeper wings in general. But I like
these
creeper wings because they are large enough to create some serious sound.
I have seen some baits with creeper wings, such as the Savage Gear 3D Bat Lure, that have wings that are a bit too small, in my opinion. Don't get me wrong. They are sufficient to make noise, but not the kind of noise that I like creeper wings to make when fishing after dark.
I want them to make a crisp, sharp blooping noise. And the wings on the Pompadour do just that. When this thing is being retrieved, you can't help but hear it, even from a good distance away. And these wings are stainless steel, not some junk stamped metal that will last a few months and then begin wearing out.
I also like that these wings are not slim. They are broad (tall) enough to grab lots of water! This is where some lures miss the mark. They may have a good overall design, and they use wings that are wide enough, but not tall enough. The height of the wings is what gives the lure that distinct blooping sound that I demand from the creeper lures that I use.
The wings obviously need to be wide (long) enough to work for the size of the bait they're attached to. But they absolutely have to have the proper height if the lure is going to excel at attracting bigger-than-average bass. And the wings on the Pompadour work very, very well.
The other thing I like is the prop on the tail end. I fished for many years with the Arbogast Jitterstick. It's an elongated version of the Jitterbug that has a prop on the rear end. I've caught some huge New England bass on that bait over the last 30 years of both, the green and the brown variety. And I'm convinced that having a prop on the tail helped to attract those big bass.
So the fact that the Pompadour has a rear prop caused me to like it even more. It just gives it one more way to make noise and draw big bass to it, whether fished in the daylight or after dark.
What I Don't Like
I could end my review of the Pompadour right here and it would be sufficient. But I always like to include things that I don't like about a product, even if they are very minor. Please keep in mind that none of these things is really a design flaw or a quality problem. They are based solely on my own preferences, but I think they're worth mentioning. So here they are.
The line tie has no split ring or wire snap. It's just an eye. I recommend adding an oval split ring or a heavy wire snap to give the lure more freedom of movement. If you choose to add a split ring or a wire snap, be sure to use one that's at least 20 lb. test, so it won't become a weak link.
I also think the hooks could have been a bit higher quality. I haven't personally had any issues with them, but they just don't look like they are as beefy as I would prefer them to be. It's not a problem with the size of them, but rather with the design/construction of them.
So, if/when these hooks wear out, I will be replacing them with something a bit more rugged. The only caveat to this is that whatever I replace the factory hooks with will have to be very similar in weight, so it doesn't negatively impact the action of the lure.
Again, these little quirks are based on my own preferences, not on a lack of quality on the part of the lure, so I won't deduct any points because of them.
It's a Wrap
So here are my final thoughts on the Jackall Pompadour. It's a fantastic topwater bait. It catches the heck out of the bass, including some really nice ones!
It's well-made and does everything it is advertised as doing. And it does it very well. Despite its $20 price tag, I still believe it's a very good value. I base this on two things. 1 – it is very good quality overall. 2 – it catches bass really well.
In light of this, and in light of the fact that I have had no problems at all with mine, I have no problem giving it 5 stars.
If you prefer to shop at Tackle Warehouse, please click here.
Click here if you prefer to shop at Amazon.
If you like this article, please be sure to share it with others!
And feel free to leave comments below.
Good fishing <><