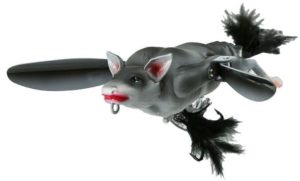 Tackle Test is reader-supported. When you buy products through links on our site, we may earn an affiliate commission.
Learn More
.
Savage Gear 3D Bat Review
I've been patiently waiting to write this Savage Gear 3D Bat Review for a while now. I bought one of these baits last year when they first became available at Tackle Warehouse. It took me quite a while to get mine, since there was a backlog of orders immediately after these first hit iCast 2017. The buzz they generated caused them to sell in high numbers before they were even available for shipment.
So, by the time I got mine, it was getting too late in the year to use it at night, like I had hoped to do. But I still tried it here and there for a few minutes at a time. Unfortunately, none of the days when I tried it were at all conducive to any kind of a topwater bite. So I had to let the bait sit over the winter in my boat, waiting to try it again once the water thawed out.
And I have to be honest. I flinched a little at the price of this bait. I never spend $25 on any bait… ever. So I thought long and hard before buying it. But I kept going back and looking at it on various websites. Finally, I pulled the trigger and ordered one.
What Caught My Eye
I'm not one to be wowed by fancy paint on a lure, especially a topwater bait. Let's face it. That paint on those expensive topwater baits is there for one reason; to catch fishermen. A bass coming up from below a lure doesn't see that expensive mouse-themed paint job. Not even for one second. They only see the bottom side of the bait!
So, when I checked the Savage Gear 3D Bat out online, I wasn't caught up in the paint or the realistic looking "skin". I was more interested in how the bait was put together and what features it had to attract big bass.
First, it uses creeper wings, which generate a lot of noise and splashing. This feature alone can make it a good big bass lure. Creeper style lures have accounted for some huge bass (as well as pike and musky) over the years. There's just something about this style of topwater bait that bass can't resist as it splashes across the surface.
Anyway, after seeing the shape of the bait, seeing the creeper wings and then learning that it has an internal rattle, I decided it had what it takes to make it into my tackle arsenal for catching big New England Largemouths.
So, I ordered it. And then I waited. And waited some more… And then one day, it finally arrived.
First Impressions
I opened the box from Tackle Warehouse and removed the brown paper packing material and found my new Savage Gear 3D Bat staring at me with its beady eyes 😀
I picked it up and cut the package open and held it in my hand. The first thing I did was shake it a bit. I heard the rattles. Check! And then I checked out the creeper wings. They moved freely and seemed well made. Check! I checked the hooks to see if they were good and sharp. Check! And I just gave it a good old onceover to make sure everything looked up to par. Check!
And, of course I had to check out the cool, realistic look of the finish and the body itself, even though I know that doesn't really help it catch fish. And even with that I was pleased. This bait appeared to be well made, using quality components. So now all it needed was some water on it.
I also want to mention the hardware on this bait. I was hoping it would be rugged and high quality, so it wouldn't fall apart after a short time. And I was pleased to see that the hooks and the split rings were all heavy duty and high quality.
My only concern after seeing it initially was with the creeper wings. They're not as beefy or rugged as I'd like to see them be, especially in light of the fact that I will be targeting big bass with this bait. The last thing I want is to have a big bass crush it and bend or break one of the wings and render the bait useless. Time would tell whether that would happen or not.
On The Water With The Savage Gear 3D Bat
First, let me mention that I bought the 90 model, which is 4 inches in length and weighs 1 oz. There are various other sizes available, up to the 125 model, which is 5 inches and weighs in at a full 2 oz. The 70 model is 3 inches in length and weighs 1/2 oz. If you're interested in the smaller model, you can check it out here.
I opted for the 90 because I wanted something big enough to provoke big bass into biting, but I didn't want to be chunking a 2 oz. bait around for hours at a time. I passed on the smaller version because it just didn't strike me as being big enough or bulky enough to attract the bigger fish I'm looking for, especially after dark.
Now, as I said, when I finally got my hands on this bait, my night fishing season was over for the year. So I played with it a bit here and there on the various trips I made late in the season. Unfortunately, I never got a bite on it during the daytime. But I did get a chance to get a feel for the bait overall and decide what I liked and didn't like about its action, how it cast, etc.
Here's what I thought after using it for a while
First, the action on the retrieve was fantastic. It wobbles and splashes along the surface with the best of them. The action alone is enough to attract strikes from hungry bass (or Pike/Musky). It does a great job of imitating a critter making its way across the surface, or a wounded animal struggling to stay afloat.
On my initial tests, it didn't make as much noise as I had hoped it would. I attribute that to the creeper wings not being as big as I had hoped for. And when I say "big", I mean the height of them. The length of each wing is more than sufficient, which accounts for all of the splashing they make on the retrieve.
But because they aren't big from top to bottom, they don't "grab" the water and make the usual "blooping" sound that I expected them to. It's more of a slashing/splashing sound.
I've fished with other creeper style baits with wings that are broader, and they make a huge racket with their "bloop, bloop, bloop" on the surface. And I've caught a lot of very big bass with one creeper bait in particular. I attribute the large number of big bass to the louder sound that it makes. This could be just my perception of things, but I've seen that bait outfish other topwater baits that were just as big, but made less noise, on several occasions.
My other concern was that the wide, flat body tends to catch a lot of air on the cast, especially if I tried to cast very hard. Using a sidearm, lobbing kind of motion worked better than a hard, overhand cast. The tail end of the bait is triangular in shape. This actually helps the bait to cut through the air on the cast, if you don't try to cast it too hard.
I didn't have any problems with it landing upside down, like one of the customer reviews mentioned on one of the retail websites. But I did find another review that also mentioned the lack of "blooping" noise. Again, the slashing vs. the blooping is due to the design of the "cup" in the wings and the smallish size of those wings.
Until Later…
Despite not yet catching any fish on this bait, I'm going to rate it based on the overall quality of the bait and the time that I did get to test it over the course of a half dozen trips.
I've fished a ton of topwater baits over the last 30 years. Some were terrible. Some were good. And some were outstanding. This bait has all of the attributes it needs to fall in between the good and the outstanding category. Based on my vast knowledge and experience with these kinds of lures, I'm going to give this a very solid 4 stars.
There are a few reasons for not giving it 5 stars. First, I think it's a bit over-priced. Second, I think the wings could have been made a bit bigger and more heavy duty.
I will be continuing to test this lure over the next several months. And I'll be coming back here to post updates on it, along with pics of bass that I catch on it.
I seriously don't expect to have any regrets with this bait based on what I've seen so far from it. So be sure to check back here sometime in the next several months to get my feedback on the Savage Baits 3D Bat after I've been able to give it a good workout with hungry Spring and Summer bass here in New England.
If you like this article, please be sure to share it with others!
And feel free to leave comments below.
Good fishing <><