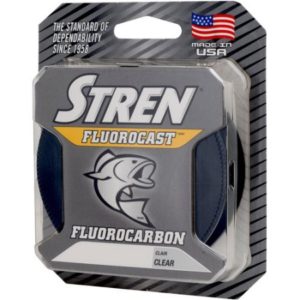 Tackle Test is reader-supported. When you buy products through links on our site, we may earn an affiliate commission.
Learn More
.
Stren Fluorocarbon Fishing Line Review
While I was out on the water today, chasing the local bass, I was thinking about what I could write another review on. It crossed my mind that I had yet to write a Stren Fluorocarbon Fishing Line Review, so I figured I'd better get to it!
For many years I was a Berkley-only fan when it came to fishing line. As I mentioned in another review, I used to use Berkley Tri-Max, before they stopped making it. When Tri-Max disappeared, I tested several brands and types of mono, looking for a suitable replacement.
Ultimately, I settled on Stren Mono for all of my spinning rods and reels. And I have to admit that I have been more than happy with it. In fact, I guess maybe I need to write a review for Stren monofilament line too!
But I don't want to get off track here, so back to Stren Fluorocarbon line!
As with mono, I used to use a different brand of fluoro. I won't name that brand here just because I think it got ridiculously expensive over the years. It was good line, but not worth a premium price. So when that line went haywire with pricing, I started trying different brands to see what I could find that would satisfy me. The road to finding the Stren Fluoro was long and winding, and full of disappointments.
At one point, I tried Vicious Fluorocarbon, but that was a big disappointment. I wrote a review on that line too. Then I tried a couple other brands that I don't remember off the top of my head. And, finally, I found the Stren Fluorocarbon line and decided to give it a shot.
What Caught My Attention About Stren Fluorocarbon
With all of the different brands of fluorocarbon fishing line available, what caused me to want to try Stren? A couple of things, actually. So let me tell you about it.
First, I don't like paying premium prices for my fishing tackle. I spend a lot of time researching items before I buy them, just to make sure I'm getting a good deal. I'm not cheap. I just don't like paying more than is necessary. Just call it common sense and wisdom from years of learning, I guess 😉
Anyway, when I spotted the Stren fluorocarbon line, I happened to notice the price. It was just under $10 for a 200 yard spool. That's unheard of. So I figured, "what the heck.. I have nothing to lose, so let's give it a try". So I did! I bought the spool and took it home to try it out.
And now that I have fished with it for a whole season and part of another one, I'm hooked (no pun intended). Stren is a name that's been around for a very long time. They're not a fly-by-night company that's here and gone in a year or less. They've been making fishing line for decades. And that shows in this product.
On The Water With Stren Fluorocarbon
Since starting to use Stren Fluorocarbon, I've fished with it under just about any conditions you can think of. Hot, cold and anywhere in between. I've used it during the day and at night, in weedy lakes, rocky lakes and lakes with a mixture of weeds, rocks and wood cover. And I can honestly say that I've never had it break off.
I've landed bass up to 6 lbs. on this line and it has behaved perfectly. It doesn't fray or nick easily and I have had no problems with it becoming abraded when fishing around rocks, which I do a lot of in the lakes in my area.
As with all fluorocarbon line, it's sensitive. And because I'm fishing it ona rod that's also pretty sensitive, I can detect bites from finicky bass very well.
And because it's extremely low stretch, hook sets are almost bone-jarring. When I set the hook with this line, I have no doubts whatsoever that the hook will drive into the fish's mouth with no hesitation.
The rod and reel that I have this line spooled onto is used to fish a Sweet Beaver style bait. So I'm constantly dragging it through gnarly cover or pitching it into laydown logs and timber. Again, it has never broken on me, no matter where I have fished it.
I use the 17 lb. line on this particular rod and reel setup. Despite it being fairly heavy line, I have had zero problems with memory. It doesn't get unruly, even in cold weather. The line that's currently on my reel is some that I spooled on last season, approximately 8 months ago. I used it for the last few months of the 2017 season, landing a bunch of big bass on it.
And right now, at the beginning of the 2018 season, I'm still using it. It sat on my spool all winter, in the freezing temperatures of my unheated garage, and it still casts perfectly and has no more memory than it did back during the summer months.
Let's Wrap This Up
As you can tell, I really, really like this line. It's a great value. It's durable. It behaves well. It's sensitive. It has almost no stretch. It holds up well under any conditions. And it doesn't cost an arm and a leg to buy. $10 or less for a 200 yard spool is a bargain, especially in light of the fact that it's actually very good line.
So if you're tired of paying premium prices for fluorocarbon line, give Stren Fluorocarbon fishing line a try. I seriously believe you'll not regret it for even one second.
You can check it out by clicking here.
If you like this article, please be sure to share it with others!
And feel free to leave comments below.
Good fishing <><