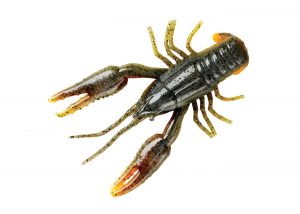 Tackle Test is reader-supported. When you buy products through links on our site, we may earn an affiliate commission.
Learn More
.
YUM CrawBug Review
I've learned over the years that soft plastic craw baits flat out catch fish. And itty bitty craws can slay the bass on tough days. It's because of this that you're reading my YUM CrawBug Review, to see what I think of this particular little soft craw bait.
About 6 or 7 years ago, I was guiding for a couple from North Carolina. They were in their 70s and they were retired. They had spent a considerable amount of time on guided fishing trips across the USA, mostly fishing for bass.
On this particular day, we got onto a soft craw bait bite that was on fire. We caught fish from start to finish, including some big bass. The lady, who had suffered from a pretty major stroke about 3 years prior, couldn't cast well. So I would cast for her, close the bail on the reel and hand the rod to her.
As I moved the boat around with the trolling motor, she would lift and drop the rod tip every once in a while. And every so often, she would set the hook and do her best to let me know she had a fish on. Because of her stroke, she also couldn't speak clearly. But trust me when I tell you, I knew when she had a bite!
An Incredible Day of Fishing
By the end of the trip, which was only 4 or 5 hours, we had loaded the boat with bass, and my retired NC friends were plumb worn out from it. Best of all, though, they were grinning ear to ear as they got in their car to head back to their hotel.
Can you say "happy clients"?
Every last one of the bass we brought over the side of the boat hit a craw bait. The fishing that day left such an impression on them that they called me again a day or two later for another trip!
And they have come back to fish with me every year since then.
Craws Catch Bass
So, now that we've firmly established that soft craw baits catch fish, let's get back to the YUM CrawBug Review that you came here for.
During my many years of tournament fishing experience, I have had many days when a soft plastic bait absolutely crushed the bass and put a paycheck in my hand. Some of those days would have had very sad endings had it not been for the craw.
And if you can count on one thing, it is the fact that no matter where I fish, whether day or night, I have a soft plastic craw bait rigged up and on my front deck.
Let's Talk Specifically About the YUM CrawBug
The YUM CrawBug is unique in a few ways. First, it is very realistic. This is not impressionistic art. It is realist. It's a very close imitation of the real thing, right down to the claws and antennae. Even the tail is curled downward, to imitate a real craw scooting along the bottom of the lake.
It is also unique in the fact that the front half of the bait is hollow. This not only makes it super, super soft to the touch, but it causes the claws to float upward underwater, giving it that natural defensive posture that real craws take when they feel threatened by a predator.
The other thing I like about these is that they are available in a wide selection of colors which will vary, depending on where you buy them. Tackle Warehouse, for example, has 8 colors available. Whereas the Dick's Sporting Goods website only offers 2.
Rigging Options
My YUM CrawBug Review wouldn't be complete without me talking about the many ways this bait can be rigged. The most obvious would be the standard Texas rig. Because this bait is small, the T rig for this one requires a small hook. The max would be a 2/0, depending on the brand and style used. The size of the weight you use will depend on the depth and the amount of wind you're fishing in. I usually start with a 1/16 oz. bullet weight and adjust slowly upward if needed.
But don't stop with the T rig! This bait screams for the angler to be versatile and willing to experiment with different rigging types.
With the floating claws, the YUM CrawBug shines on a few different types of leadhead jigs. My favorite is the Lunker City Ned Head. You can read my review on the LC Ned Head here.
The design of the Ned Head holds those claws up high and proud, making it ever so tantalizing for the bass to attack.
This can also be fished on a variety of other small jigheads, including finesse jigs with a small skirt.
My Favorite Colors
So far, my favorite color is Crawdad. I have to admit that none of the photos on any of the tackle retail websites do this color justice. Green Pumpkin Texas Red is a close second. Other obvious great colors would be Watermelon Red Flake and Black Blue Flake. The color you choose will be based on water clarity and plain old experimenting on your part.
Tackle Selection
Because of the tiny size of this bait, it is best fished on spinning gear. The Lew's Carbon Fire Spinning Rod in medium action is a good fit. Spool it up with 8-10 lb. test mono, or 15 lb. braid with a mono or fluoro leader.
I'm not (yet) a fan of fluorocarbon line on spinning gear. But some people like it. So if you like fluoro on spinning gear, I would recommend it, simply because it gives better sensitivity than mono. Small baits like this can get inhaled by a bass without you ever knowing it, so sensitive line can mean the difference between detecting bites or not.
Ultimately, braid with a fluoro leader is the absolute best line choice for this bait. The braid and fluoro combination will give you the ultimate in sensitivity, as well as not having to worry about breaking off if a big fish hits.
It's a Wrap
So, it's time to wrap up this YUM CrawBug Review and let you know what I think of it overall.
I really, really like this bait. It catches bass under all conditions. It is well made, inexpensive and comes in plenty of great colors. It's also very versatile when it comes to rigging and presentation options. Super solid 5 stars. It's that good.
You can check out the YUM CrawBug by clicking here.
I hope you've enjoyed my YUM CrawBug Review.
If you like this article, or if you found it helpful, please be sure to share it with others!
And feel free to leave comments below.
Good fishing <><