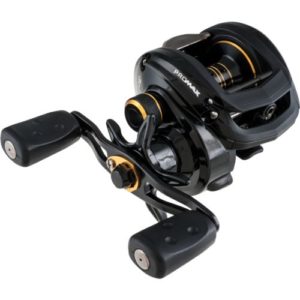 Tackle Test is reader-supported. When you buy products through links on our site, we may earn an affiliate commission.
Learn More
.
Abu Garcia Pro Max 3 Baitcasting Reel Review
I'm writing an Abu Garcia Pro Max 3 Baitcasting Reel Review due to some odd circumstances. Let me explain.
A couple years ago I sold all of my Shimano Curado reels and replaced them all with Abu Garcia Pro max 3 reels. I had very specific reasons for doing this, which I won't get into in this review. But suffice it to say that my Curados had one little nagging problem that drove me nuts from time to time.
So I sold them all. Every last one of them. And replaced those metallic green reels with all of these shiny black ones.
I originally learned of the Abu Garcia Pro Max reels a few years ago when a member of my Northeastbass.com forums mentioned that he had bought one and found it to be a good reel for the money.
I remembered his comments and ended up buying a couple of the Pro Max 2 reels. I ended up liking them quite a bit. And I actually wrote a Pro Max 2 review. Feel free to check it out if you'd like to 🙂
Fast forward a couple years and you'll find me in the situation I mentioned above, selling off all of my Curados to buy these new reels.
So here it is almost 2 years later, and I've had a chance to fish with the Pro Max 3 reels a lot. I've used them for spinnerbaits, soft plastics, topwater baits and more. They've been put to work under every possible weather condition, with the exception of when it was snowing. Daytime, night time and every hour in between, these reels have been put to the test.
My Results Have Been Quite Interesting
So let's talk about those results.
First, let's go over the reel's specs, just to get that out of the way up front.
Model: PMAX3
Weight: 7.3 oz.
Gear Ratio: 7.1:1
Bearings 7SS + 1RB
Line Capacity: 145 yds. of 12 lb. Test
Price: $79.99
So let's start with the bearings. First, this reel sports 7 Ball Bearings and 1 Roller Bearing. That's a lot of bearings for the price ($79.99). Typically, reels with 7+1 will run in the $120 – $150 range. In light of this, the Pro Max 3 is ahead of the game already.
The bearings are decent quality, allowing the reel to cast extremely smoothly. Backlashes with these reels are extremely rare. And retrieves are fairly smooth and quiet.
Moving on, the weight of this reel is middle of the road. It's not extremely light and it's not terribly heavy. So it fishes well over the course of the day. It's not tiring to use for extended periods of time. And much of that is due to its compact profile.
This reel palms very well, making it comfortable to hold and use, day in and day out. Its profile is small and it doesn't have any kind of odd or strange protrusions or indentations that feel awkward or uncomfortable to your hand.
What I Like About This Reel
For a reel in this price range, it has some cool features. They aren't major or earth-shattering features. But they make the reel a little more convenient to use. First, the braking system is tried and true. It just works well.
It's not fancy and it doesn't boast some new kind of technology. It uses the good old magnetic brakes that have been around for a long time now. And they work well. As I mentioned earlier, backlashing is not an issue with this reel, at all. It's rare that it does backlash. And if it does, it's typically my own fault because I hit something on the boat as I'm making a cast, or something similar.
The drag and and the spool tension knob both have a click sound when you make adjustments. This makes it very easy to make fairly precise adjustments on both features. Again, this isn't groundbreaking. But for a reel of this price, having that available, especially on the spool tension knob, is a nice feature.
Lastly, I like the way this reel looks. The black color with the gold accents makes for a super nice-looking reel. It isn't gaudy, with bright colors. And it isn't ugly. It's just pleasant to look at. Will this help it catch more fish? Absolutely not. But having 5 or 6 of them lined up on the front deck makes for a nice display 🙂
Minor Complaints
As I mentioned at the onset of this review, I bought a bunch of these all at once. Or at least in a very short period of time. I think I bought 7 or 8 of them within 10 days, if I remember correctly. And I bought them all at the local Wal-Mart, just a couple miles from where I live. In fact, I cleaned them out of this model!
Of the 7 or 8 that I bought, I had problems with one of them after catching a single 2 1/2 lb. smallie. This was the first time I had used this reel, and the very first fish I had caught on it. And it suddenly got very loud on the retrieve. The sound was a whining kind of sound. I'm guessing it was gear-related.
I would make a cast and work the bait for a short time. Then, when I was past the target/strike zone, I would crank the bait back in rapidly and cast again. It was during those rapid retrieves that the reel got louder and louder. It was starting to get pretty frustrating to listen to it over and over again.
At one point, I was on the phone with my wife (via a bluetooth headset) while fishing with that reel. As I began to crank the bait in rapidly, my wife asked me what that loud noise was. It was the reel whining! Immediately after that, I put that reel away and used a different one for the remainder of the tourney.
That reel got replaced. I wanted to take it back to Wal-Mart, since I had literally only used it once, but as I just mentioned, I had bought their last one. So I had to ship it back to Abu Garcia. They promptly replaced it for me and I had a new one back i my hands within a week.
I have also had a couple other very minor problems with one or two of the others. They were so minor, in fact, that I honestly can't even recall what the problems were. But Abu Garcia gladly took care of it for me by sending me brand new reels, no questions asked.
World Class Service
I have dealt with Abu Garcia off and on for many years. I have always found them to be top notch, no mater who I talked to or dealt with. And that continues to be the case with them today.
They are always polite on the phone and very helpful. And any time I have had to send a reel in for service or repair, the turnaround time has always been minimal.
I recommend them very, very highly.
Wrapping This Up
I have to say that writing a review for a reel in this price range is a bit odd. Why? Because there aren't really a whole lot of reels in the $75 – $80 price range. Seriously. Most reels are either in the sub $50 class or in the $100+ class (and upward).
But, with that said, I have to say that this reel represents the price range extremely well. For the price, it gives a whole lot of bang for the buck. I have no doubts at all that this reel will last for many years if taken even reasonably good care of.
I do own one or two of them that were bought before this large batch of them, and they have treated me very well. And if I was in the market for a reel in the price range again, I wouldn't hesitate to buy another one.
For my rating, I give it a very solid 4 stars.
So if you're in the market for a new reel, and you want to spend more than $40-$50, but not more than $80, you should seriously consider the Abu Garcia Pro Max 3.
I think you'd be more than happy with it and you'll use it for many years to come 🙂
If you like this article, please be sure to share it with others!
And feel free to leave comments below.
Good fishing <><