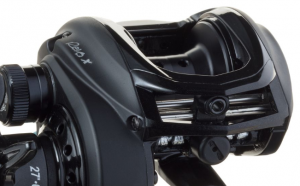 Tackle Test is reader-supported. When you buy products through links on our site, we may earn an affiliate commission.
Learn More
.
Abu Garcia Revo4 X Baitcasting Reel Review
A while back I hesitantly bought a reel that I only hoped would be worth the price I was paying for it. That reel is now the subject of this Abu Garcia Revo4 X Baitcasting Reel Review.
Many years ago I bought a Revo SX that was the backlash nightmare of all nightmares. I hated it with a passion. So much so that I returned it and bought a Curado 200E7. Now, years later, I learned that my experience with the Revo SX was not uncommon. They became known for their braking problems and massive backlashes.
Fast forward 10 years. I happened to see the new Abu Garcia Revo4 X for just under $100 and decided to take a chance and see if this sub $100 reel performed any better than its more expensive predecessor.
I ordered it online and waited for it to arrive, hoping that buying it was a wise decision.
It arrived very quickly, so I mounted it on my Lew's Carbon Fire Medium Heavy rod and spooled it up with Sufix Siege 17 lb. mono. I planned on using it primarily for spinnerbait fishing.
What I Mounted It On
The Carbon Fire rod is 7 ft., super lightweight and is very sensitive. In the past I had been using Abu Garcia Vengeance rods for my spinnerbait fishing. They are not overly sensitive. But they have treated me very well as spinnerbait rods. Not a single one of the 4 that I own has ever failed me in any way at all.
But I wanted to start using a more sensitive rod for chunking my big spinnerbaits at night. The extra sensitivity would allow me to feel some of those subtle night bites better. And it worked wonders for me! Anyway, let me get back to my Abu Garcia Revo4 X Baitcasting Reel Review before I get further sidetracked 🙂
After spooling the new reel up with fresh line, I hit a local lake at night for a few hours to give it a trial run.
Dialing it In
Prior to leaving my house, I had adjusted the brakes and spool tension knob to where I thought it should be, based on the typical reels that I have used over the last 30+ years. So when I made my first cast, I did so carefully, to make sure I didn't create the mother of all backlashes.
Thankfully the reel behaved pretty well right out of the gate. I had to thumb the spool a bit, but there were no backlashes. I tweaked the brake settings a little more and made another cast. Still not quite where I wanted it. Over the next half dozen casts I was able to dial it in and find that sweet spot that allowed me long casts with no threat of backlashes.
During the dialing in process, I noticed that the spool was extremely free-spinning. The bearings used were obviously decent quality for it to be this free-spinning on the casts. And to be honest, it was almost too free. So it took a bit more tweaking than I normally require to dial in a reel.
But, after a dozen or so casts, I had it where I wanted it. And for the rest of the trip, it was a complete pleasure to use.
The Combo Worked Well
Combining the Revo4 X with the Lew's Carbon Fire rod was a match made in heaven. They just went well together. As I mentioned, the rod is extremely lightweight, and the Revo4 X isn't overly heavy. So they balanced each other out very well.
Making a few hundred casts with these two isn't tiring at all. If I didn't know better, it would be easy to say that the Revo4 X and the Carbon Fire rod were made for each other!
How The Reel Feels
I really like the feel of the reel overall. It isn't heavy. It's smooth. It's reasonably quiet, especially for the price. It casts well and doesn't backlash easily. You can't ask for more than that.
The handle is extra comfortable to use. The grips are easy to feel and not slippery.
The reel is also super comfortable to palm for long periods of time.
How Does It Handle Fish?
It handles them very, very well. Since starting to use these reels, I have landed at least 3 big bass (over 4 lbs.) and the reels have handled all of them like a dream.
The drag is smooth and worry-free. And the gears in the reel are strong and smooth. And that handle… it's perfect.
At no time during fighting any of these fish did the reel feel inadequate. It was strong and smooth all the way around.
Wrapping This Up
I really like these reels. And having them at this price point, under $100, is very good for us, the anglers who buy them. It's an absolute bargain at that price.
And at that price point, I actually chose them as the best baitcasting reel under $100 in another recent post.
On top of that, I liked them so much, I now own 3 of them. They are slowly replacing my Abu Garcia Pro Max reels on the front deck of my boat. It's not that the Pro Max isn't a good reel. It's just that this reel is better, especially for the price.
So, based on my experience with these reels, I have no qualms at all with giving them 5 stars. I highly recommend them to anyone looking for a really good casting reel for less than $100. You won't regret buying this reel for one second.
You can check out the Revo4 X by clicking here.
I hope you've enjoyed my Abu Garcia Revo4 X Baitcasting Reel Review.
If you like this article, please be sure to share it with others!
And feel free to leave comments below.
Good fishing <><