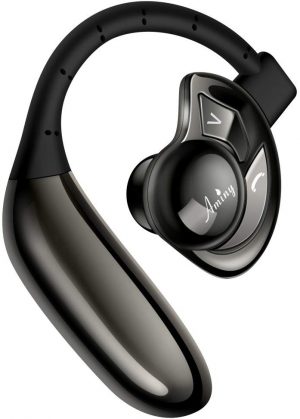 Tackle Test is reader-supported. When you buy products through links on our site, we may earn an affiliate commission.
Learn More
.
AMINY UFO Bluetooth Headset Review
As an angler, one of the most frustrating things I encounter while fishing is having to stop what I'm dong and answer the phone. I found the perfect solution for this problem, though. And that's why I'm writing this AMINY UFO Bluetooth Headset Review!
I pondered for a long time as to whether a AMINY UFO Bluetooth Headset Review would be suitable for a fishing tackle review website. But I figured that if this little piece of electronic equipment could help me focus more on my fishing, it could help you focus more also. So, let's get started.
Why I Chose This One
I have had a few different Bluetooth headsets over the last several years. Some were a pleasure to use. Others, not so much. My last good one was a Plantronics headset. I had it for quite a few years before it took a swim in my washing machine, in the pocket of my shorts. Oops! 😀
Surprisingly, once I took it out of the washing machine and gave it a day or two to dry out, it still worked perfectly. The problem was that the small plastic loop that went behind my ear no longer fit as tightly as I had previously. So I went on a journey to find something new and something that would be less obtrusive as that one was, even though it was actually pretty small.
I wanted something that was compact and would not stick too far out of my ear. This would help keep me from accidentally knocking it off, as I had done a couple times with the Plantronics headset. It would also make it less apt to catch the wind as I ran my boat across the lake at 50+ MPH. This one fit the bill perfectly.
And on top of those physical attributes, it was also very affordable and had great ratings from previous buyers.
What I Like About It.
The first thing I liked about this was the price. It's super affordable at just $23.99. There were others that were a tad cheaper, but they were the same style as my old one, and most of them had lower ratings than the Aminy UFO had.
And then there were a ton of them that were $40 and up. I like to keep things reasonably priced, so this one was a good fit, so to speak.
The second thing that I liked about it was the way it fits tight to my ear, with nothing protruding. This means that I won't accidentally knock it off and into the lake, and it won't get blown out of my ear on a high-speed run across the lake.
Third, I like the fact that it comes with two batteries that give me roughly 8 hours talk time per battery! The standby time is ridiculously long. This makes it a rare occasion that I have to change the battery while I'm on the water. And because the batteries have a small profile, it's easy to carry the spare in my pants pocket.
Fourth,I also like the fact that it has a multi-function button that I can use to make phone calls and send text messages, without ever having to touch my phone. This feature leaves my hands free to fish without ever having to pick my phone up to answer it, call someone or send a text message. This was the clincher for me that pushed me from just looking at it to actually buying it.
Fifth, the call quality with this is excellent. I have had zero problems with people not being able to hear me and with me not being able to hear them. I will mention, though, that if you try to use it near loud machinery or fans blowing at high speeds, the sensitive microphone will pick up on those noises and make it difficult for the person on the other end to hear what you're saying.
Lastly, it is extremely comfortable to wear, even for 8 hours of fishing. I have never had to take it out of my ear due to discomfort.
Features
As Bluetooth earbuds and headsets go, this one's pretty packed with features, especially for something so small and compact. I already mentioned the two batteries, the 8+ hour talk time per battery and the compact design. Oh, and I mentioned the multi-function button, too!
What about other features?
Well, it also has buttons to raise and lower the volume, as well as skip forward or backwards when listening to music. And of course, music can be paused.
Regarding phone calls, answering a call is as easy as pressing the multi-function button once. Press it again when you're ready to end the call.
Lastly, even though this isn't completely waterproof, it is water resistant. It is rated IPX6 Waterproof, which means it can handle heavy sweat and light rain without being damaged.
I would not recommend wearing it in a heavy rain or downpour, just to be on the safe side.
Dislikes
My only dislike is that if I use it to listen to music, I need to make drastic adjustments to the sound on my phone for it to sound good. Otherwise it is too muddy and low frequency sounds are overbearing. For this reason, I stick solely to using it for phone calls.
This isn't to say that it can't be used for music. It definitely can. But if you bounce back and forth between phone calls and music, be prepared to be constantly fiddling with sound levels and your phone's equalizer to make it sound good.
That is honestly the only thing about the AMINY UFO Bluetooth Headset that I don't really care for. Aside from that, I absolutely love it, and I highly recommend it. In fact, one of my best friends now owns one because I showed him mine and told him about it. He really likes his too!
Wrapping It Up
There's not much else that I can say about this earbud/headset. As I said previously, I really like it. The price is a crazy bargain, the features are insane and the functionality is awesome.
I highly recommend this earbud/headset, and I have no hesitation at all giving it 5 stars.
You can check out the AMINY UFO Bluetooth Headset by clicking here.
I hope you've enjoyed my AMINY UFO Bluetooth Headset Review and that it might help you if you're looking to buy a new Bluetooth earbud or headset.
If you like this article, or if you found it helpful, please be sure to share it with others!
And feel free to leave comments below.
Good fishing <><