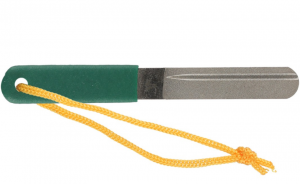 Tackle Test is reader-supported. When you buy products through links on our site, we may earn an affiliate commission.
Learn More
.
Dr. Slick Hook Sharpener File Review
Because I'm a stickler for sharp hooks, and I always insist on sharpening my hooks if they feel anything less than "sticky sharp", I figured it was about time that I wrote a Dr. Slick Hook Sharpener File Review.
Dull hooks are one of those things that are without excuse. There is absolutely never a good reason for having a hook that's anything less than extremely sharp. Dull hooks lose fish. Period. And lost fish never make for a fun day of fishing. They make a tournament day even worse.
As a guide, almost every single client that has ever seen me sharpen a hook during the course of a day on the water comments that they have never seen a hook sharpener like this before. And the vast majority of the anglers also make comments regarding the fact they they have never seen a hook file being used before.
That always leads me into a short pep talk about the importance of a very sharp hook and then a quick lesson and demonstration on how to tell if your hook is sharp or not. And it also always leads them to say something like "I guess I'd better buy one of those!".
Guide Trip or Tournament Day
It doesn't matter to me whether it's tournament day, a guide trip or a recreational day on the water. I always check my hooks and sharpen them if necessary. And I have actually had some hooks that were damaged or worn beyond sharpening. Those hooks get removed and then disposed of when I get home.
I don't lose fish very often. Of course it does happen occasionally. But thankfully it's pretty rare. So why don't I lose very many fish? Because I pay attention to the littlest details and always make sure my hooks are sticky sharp. This one seemingly insignificant detail can make the difference between landing or losing a tourney-winning fish or the fish of a lifetime.
To me, it's not even worth the risk, especially when you compare the effort required to keep your hooks sharp to the anguish of a losing a trophy fish or a fish that puts you in the money on tournament day.
As a guide, I know I'm obligated to keep the hooks my clients use extremely sharp. This increases their chances of landing a monster bass, like the one in the pic just above, to the left 🙂
And as a tournament angler, I owe it to myself to keep my hooks sharp. It saves me from a lot of frustration and heartbreak.
About The Dr. Slick Hook Sharpener File
I chose to write a Dr. Slick Hook Sharpener File review because nobody seems to take the time to write reviews about seemingly insignificant items like this that are small and cost so little. But I have a different opinion about its importance. To me, if I was to leave home without my hook file in my boat, I'd spend the day feeling like i'm missing a key piece of equipment.
Hook sharpener files aren't highly technical. They're not complicated to figure out. And they don't require a learning curve to use. They either work, or they don't. That's it.
This one, the Dr. Slick Hook Sharpener File, works very, very well! It's small, at just 4 inches in length. But it's big enough so it won't be easily lost in your boat. In fact, it's small enough to fit into your pocket, so you can keep it easily accessible.
As for the file component, it has a mildly abrasive surface that works perfectly for hooks. It's not too abrasive and not too smooth.
It also has a neat little groove that allows you to slide the hook point down it and keep the hook properly aligned and straight, with very little effort. You can use the groove for the hook point and the flat section for the sides of the hook, to give you a point that's as close to perfect as you can get it without a precision machine to do it for you.
The handle has a nice grip that's easy to keep hold of. There is also a lanyard for those who might be a little less than perfectly coordinated or slightly accident prone, to keep it from taking an eternal swim while using it.
And one other feature that's cool is the fact that it has dual sharpening grooves… one on each side.
Drop Dead Simple
As I mentioned, this isn't a complicated or intricate device. It's a hook sharpener file, plain and simple.
The only tip that I'd like to share when it comes to using it is to go easy with it. A little pressure is all that's required to sharpen your hooks. Too much pressure on the hook will destroy the hook point and lead to wearing out the file surface prematurely.
And, based on my own experience from the past 30 years, a little sharpening goes a very long way. It typically only takes a few light strokes to restore the point on a dull hook. You will most likely have to experiment a little if you've never used a hook sharpener file before, to get the angle of the hook and the pressure just right.
Once you get the hang of it, though, you will literally be able to sharpen a hook in 30 seconds and be back to fishing again. It's that simple.
If you use this tool properly and keep it from falling overboard, the Dr. Slick Hook Sharpener File should last you for many, many years to come, helping you keep your hooks "sticky sharp" and helping you land more fish on every trip.
I have no problem at all giving this item 5 stars. It's priced reasonably, does what it's supposed to and very high quality. What's not to like?
You can check out the Dr. Slick Hook Sharpener File by clicking here.
If you like this article, please be sure to share it with others!
And feel free to leave comments below.
Good fishing <><