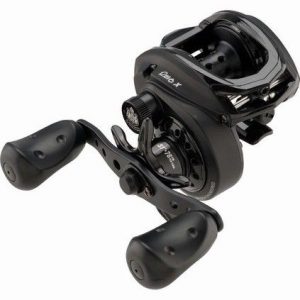 Tackle Test is reader-supported. When you buy products through links on our site, we may earn an affiliate commission.
Learn More
.
Best Baitcasting Reel Under $100
Many of the tests I've done on baitcasting reels have been on reels that fall in price brackets under $80. But this time I want to talk about the best baitcasting reel under $100.
Why? Because baitcasting reels around the $100 mark are a notch above those that are, let's say, $80 and under. Because of that, I thought it would be a good idea to write about the Best Baitcasting Reel Under $100 in order to talk about the differences once we approach that $100 mark, and to help you decide if spending the extra money is worth it or not.
After doing some testing, here's what I found.
First, most reels around that $100 mark usually have more ball bearings. Not only do they usually have more bearings, but those bearings are typically also of higher quality. They're smoother and quieter than the reels in the lower price ranges.
They also have quieter gears. Brass is more likely to be the material used in these reels, not aluminum or some other cheaper material.
The Best Baitcasting Reel Under $100 also has a better overall feel. Using it will prove its better value as you get a feel for the quality of the construction and the higher quality of functionality.
Which Reel Is It?
So, before we go any further, let me reveal which reel I chose, and then I will talk some more about why I chose it.
I have chosen the Abu Garcia Revo4 X as the Best Baitcasting Reel Under $100. This is an absolute beast of a reel for the price.
I have several of the lower-priced Abu Garcia Pro Max reels. I like them a lot. But this reel, for just $20 more, is leaps and bounds above the Pro Max. The funny part is that the Pro Max also has 8 bearings, like this one. But it isn't nearly as smooth as the Revo4 X.
And the Revo4 X just has a "better feel" than the Pro Max. It's hard to explain what I mean by that, except that it feels like a higher quality reel just by using it. And it is a quieter reel than the Pro Max. By and large, Abu Garcia baitcasting reels aren't the quietest on the market. In my opinion, they tend not to be quiet reels. But the Revo4 X is definitely quieter than the Pro Max and the Black Max, by far.
Let's Talk About Features
Let's spend a few minutes talking about what makes this reel my choice for the Best Baitcasting Reel Under $100.
First, it has 8 bearings. 7 of them are ball bearings, one is a roller bearing which powers the instant anti-reverse. Even better, though, is the quality of those 8 bearings. They're super smooth, allowing this reel to cast a country mile smoothly.
Second, it has a rugged brass main gear, which makes it smooth and durable. Abu Garcia calls it a Duragear™ brass gear. I'm not sure exactly what that means in terms of technical specs, but it apparently gives the gear more durability vs. standard brass gears.
Built on a lightweight X2 Craftic alloy frame, it is lightweight and strong. The Revo4 X also features a MagTrax brake system and a Carbon Matrix hybrid drag system, for backlash-free casts and super smooth drag performance.
Final Thoughts
As I mentioned above, the Revo4 X is smooth with its 7 ball bearings. The spool spins freely when the thumb bar is depressed. And casts sail like the wind.
The handle is extremely comfortable to hold onto, with grips that are "just right". They're not too big or too small. The shape of the grips feels super comfortable between your thumb and forefinger.
The reel is easy to palm and doesn't tire you out when using it for long periods of time.
My Only Gripe
I have only one very minor gripe with this reel. It's too smooth. I know that sounds stupid, but let me explain.
When you start getting into reels like this one, with higher quality bearings, the braking system isn't always able to keep up with the "free-ness" (if there's such a word) of those bearings, sometimes making it tough to dial the reel in and get it to cast without fear of backlashing.
This reel has that. Because I've been using baitcasting reels for over 30 years, I can usually dial a reel in within 2 or 3 casts and then never have to touch it again.
This one took me a dozen or more casts on my first trip out with it. I have to admit, though, that it was a pretty windy day, with winds of 10-15 MPH, so those aren't normal conditions. Nonetheless, it did take me a lot more effort than normal to dial it in.
Once I had it setup, though, it was good and I didn't have to touch it again after that. So, it wasn't exasperating by any means. And it didn't give me a headache due to having to adjust it and tweak it over and over again. Once I set it, I could forget it. But I wanted to mention this so anyone buying it will know in advance to set the brakes a bit tighter than you normally would. In fact, max the brakes out and tighten the spool tension knob more than normal, and then back them off slowly. If you do this, you'll be more than fine.
You Will Love This Reel
So if you're in the market for a baitcasting reel at or just under the $100 mark, this reel is for you. If you buy this reel, you'll have no regrets. It's built well and it's a pleasure to fish with.
Oh, and one last thing that I almost forgot to mention. This reel is tagged as a Best Seller over at Tackle Warehouse! That says a lot for it right there 🙂
You can check out the Revo4 X, the Best Baitcasting Reel Under $100, by clicking here.
If you like this article, please be sure to share it with others!
And feel free to leave comments below.
Good fishing <><