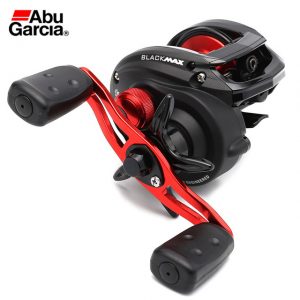 Tackle Test is reader-supported. When you buy products through links on our site, we may earn an affiliate commission.
Learn More
.
Best Baitcasting Reel Under $50
During my 30+ years as a bass angler, and over 20 years as a pro guide, I get asked the question "what's the best baitcasting reel under $50" a lot!
The cool part is that I have a quick answer for them that I can give with 100% confidence that I'm not steering them wrong, but pointing them to a great value reel that they will absolutely love.
But before I share what reel gets the honor of being called the best baitcasting reel under $50, let me share a little about why I chose this one particular casting reel.
As I've mentioned, I've owned a lot of different baitcasting reels over the last 30 years. Those reels have spanned several different brands. Some have been good, some have been excellent, and some have been downright awful.
In The Beginning
My first casting reel was a Shimano Bantam Black Magnum that I received as a Christmas gift from my wife back in 1989!
It was a great reel for the time period. It worked very well overall, and was a great reel for me to learn how to use a casting reel.
It was a little rough when compared to today's casting reels. But the fact that it didn't have a lot of the bells and whistles forced me to learn to train myself to pay close attention and learn how to master controlling the spool on each cast.
I learned from the very first cast that using a casting reel was nothing like using a spinning reel. My first cast resulted in the mother of all backlashes, which was a great teacher as to what not to do.
It didn't take me long, though, to get the hang of it. And before I knew it, I was using it like I'd had it for years. Ultimately, that reel was used to catch what is my personal best Largemouth Bass here in RI where I live. It weighed 9 lbs. 2 oz. and the reel handled it like a champ.
Back to The Future
So, now that I've gotten that bit of nostalgia out of the way, let's talk about the reel that I consider to be the best baitcasting reel under $50.
About 5 or so years ago, I bought a reel that I needed because one of my others had bitten the dust. I didn't have much cash to dispose of, so I needed to keep the new casting reel within a very tight budget. In fact, I wanted something well under $50.
I went to the local Wal-Mart and browsed through their casting reel selection. There were two reels that fell under the $50 price. One was a no-name reel that Wal-Mart was selling for around $40 (maybe less?). I picked it up and spun the handle once. And I promptly put the reel back on the peg where it was hanging. It was junk.
Let's Try Another One
A few pegs down from that reel, there was a peg with a half dozen Abu Garcia Black Max reels hanging on it. At that time, Wal-Mart had them priced at just $39.99!
I pulled one off the peg and gave the handle a spin. I was impressed!
It was smooth and quiet, especially for a reel in that price range. So I spun the handle again. Same thing. I was intrigued that a reel this inexpensive was this smooth when I spun that handle.
Another part of how I test a reel in the store is to press the thumb bar and give the spool a spin with my thumb, and I watch the spool to see how long it will spin before stopping. Unfortunately, the reels that Wal-Mart sells are all in clamshell packages. This keeps me from performing test #2 by testing the spool.
So I spun the handle one more time and decided to give this $40 reel a shot. I paid the money and headed home with it, hoping it would live up to my expectations.
More Than Happy
To say that I was more than happy with the Black Max would be an understatement. Was it on par with some of the more expensive reels that I've owned? Of course not. But let me tell you that it made me question how much I had paid for some of them in light of how well this reel performed for way, way less money.
The real test was not just how it performed during the first trip or two, but how it would perform and hold up for the season under tournament conditions. Would it last or would it abruptly fall apart after a few weeks or a couple of months?
I was blown away with how well this reel lasted. I put it to the test in so many ways. I used it to fish spinnerbaits at night during the summer months. So it got lots and lots of miles on the bearings, the gears and all of the other moving parts as I made hundreds of casts each trip out.
And It Kept On Going!
I made thousands and thousands of casts. I caught hundreds of bass. I exposed it to everything it needed to be exposed to in order to really test its mettle. It never even hiccuped.
Cast after cast, it just kept on going. Not a single complaint from the reel or from me. I had more than gotten my money's worth after just the first month or so.
The Reel
What makes this reel such a great value that I would choose it as the best baitcasting reel under $50?
First, the price was incredibly reasonable. $39.99 was an outstanding value. And even now, at $49.99 it's still a really great value.
The reel casts smoothly, with no problems with backlashes. Let me add a disclaimer that this reel needs to be adjusted properly, as does any baitcasting reel in any price range. But this one took me all of maybe 5 casts to get it adjusted right. After that, I didn't have to mess with it much at all.
Casting distance is excellent, especially once you get the brake set properly. Lengthy casts are no problem at all.
It also retrieves smoothly. It has a total of 5 bearings and uses brass gears, so it feels decent when you're using it. It's not butter-smooth. But nobody paying less than $50 for a casting reel should expect it to be. That's just wishful thinking.
The handle is comfortable to use. The grips are nothing special, but they just plain work well. They aren't slippery, even when extra wet in the rain.
And, lastly, it's pretty durable for what it costs. I've gotten a few years out of these reels before they even started complaining a little. And one of them was pretty much tortured, as I used it for punching weed mats to pull chunky bass out of them.
I would have sworn that the guts would come flying out every time I slammed the hook into a big bass's mouth. But it never even showed a single sign of stress as I boated many bass this way.
The Abu Garcia Black Max Wins
The Abu Garcia is my hands down choice for the best baitcasting reel under $50. It's an excellent value for the price.
No, it isn't on par with $150 reels. But nobody should realistically expect it to be. Anyone who does obviously doesn't understand reels to begin with.
Is the Abu Garcia Black Max a perfect reel? No. But I have had reels close to $200 that were not perfect either. And the nagging problem that all 6 of those $180 reels had drove me to eventually sell them all and buy something else that cost a lot less.
Despite not being on par with $150 reels, it's worth way more than the $49.99 price tag, in my opinion. It casts well. It retrieves well. It holds up well over the long haul.
And, after buying my first one, I went on to buy at least three or four more over the next two years. In fact, I even bought a new one for my wife to use on her casting rod. She loves it too.
So, that's my choice for the best baitcasting reel under $50, the Abu Garcia Black Max.
You can check out the Abu Garcia Black Max by clicking here.
If you like this article, please be sure to share it with others!
And feel free to leave comments below.
Good fishing <><