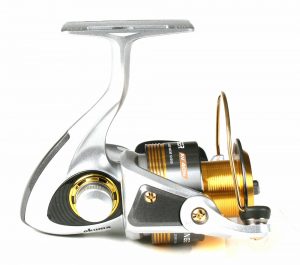 Tackle Test is reader-supported. When you buy products through links on our site, we may earn an affiliate commission.
Learn More
.
Best Spinning Reel Under $50
My most recent spinning reel review got me thinking more about spinning reels and the fact that I should write a review on the Best Spinning Reel Under $50. After all, the vast majority of anglers who buy spinning reels would probably like to know about the Best Spinning Reel Under $50, especially if they're on a budget.
So, here we go. And not only does this reel win our Best Spinning Reel Under $50 award, but it also costs less than $40. So I guess we could also call this the Best Spinning Reel Under $40.
Why does this reel win? What caused me to choose this reel, with so many others to choose from?
First, it is widely available and sold at a large number of major retailers. So it's easy to find. Second, Okuma has been around for a long time. They are well-established in the marketplace. This means that you're buying a product from a company that will stand behind their products and they won't be disappearing anytime soon.
How I Found This Reel
I buy my fishing tackle from a handful of different places. I choose where I buy from based on a few different factors. Price is one of those factors. Availability is another. And ease of access is yet another. Tackle Warehouse is my favorite online retailer. They have everything you can think of. And they have the best prices, guaranteed.
When it comes to buying locally, I have a Wal-Mart just 2 miles down the road, so I will buy from there if they have what I'm looking for. This is especially true if I need it right away. So this reel was actually purchased from Wal-Mart initially. And because I liked it so much, I ended up buying 2 more of them during the last year or so.
Long Term Testing
I have been testing this reel for a long time. My first one was purchased close to 2 years ago. As I just mentioned, I liked it so much that I ended up buying 2 more.
These reels are smooth, with a total of 7 bearings. 6 are ball bearings. The seventh is a one-way roller bearing which powers the instant anti-reverse, for bone jarring hook sets.
Because they are well-equipped with high quality bearings, they last a long time. My 2 year old reel still functions like new. It's been used under all kinds of conditions, from freezing cold, to scorching sun and heat. It has never so much as flinched and works flawlessly every time I use it.
Some Features to Mention
As I mentioned above, the reel has a total of 7 bearings. That's a lot of bearings for a sub $40 reel. It also features a brass pinion gear, which is becoming more and more uncommon in today's spinning reels. Many spinning reels today use aluminum gears. Some are even using plastic.
The reel's rotor was made using a computer balanced equalizing system. This makes the reel very smooth on the retrieve. There is no wobble as can be common on cheap spinning reels. With this reel there is no wobble whatsoever.
Here's a list of the features, directly from Okuma:
Multi-disc, Japanese-oiled Felt Drag Washers
Precision Machine-cut Brass Pinion Gear
Corrosion-Resistant Graphite Body
Precision Elliptical Gearing System
Machined Aluminum, 2-Toned Anodized Spool
Corrosion-Resistant, Stainless Steel Bail Wire
RESII: Computer Balanced Rotor Equalizing System
Narrow Blade Body Design for reduced fatigue
Backed by 1-year Warranty
One thing to take note of is the 1 year warranty. Most reels in this price range offer only a 90 day warranty. So if the company is willing to stand behind their reel for a full year, they have to be pretty confident that it has been designed and manufactured to last.
Last, but not least is the looks of the reel. It looks great, with a silver body and gold accents. It has a classy look that catches the eye. It doesn't look cheap at all. And it feels solid when using it, without feeling heavy or bulky.
It's a Win-Win
This reel is a win-win for the angler. It's priced very reasonably and is well worth the price tag. Anyone who buys this reel will undoubtedly be extremely happy with it, and will likely own it for years to come.
Because of the solid design, the reel's reliability and the extremely reasonable price, I give this one 5 stars.
You can check out the Okuma Avenger B Series Spinning Reel by clicking here.
If you like this article, please be sure to share it with others!
And feel free to leave comments below.
Good fishing <><
Check Out Similar Reviews

Understanding Fishing Reel Gear Ratios isn't easy for some people. But I've made it much easier to understand in this...

Read my top 5 tackle buys of 2019 and learn what I liked most of all my purchases! Click to...

Choosing the Top Five Tackle Buys of 2018 will be based on the overall value of the product. This will be...