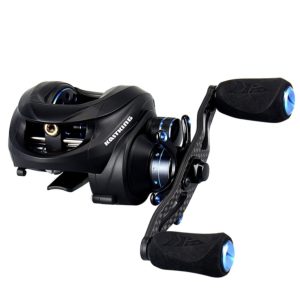 Tackle Test is reader-supported. When you buy products through links on our site, we may earn an affiliate commission.
Learn More
.
KastKing Assassin Carbon Baitcasting Reel Review
I think I should start this KastKing Assassin Carbon Baitcasting Reel Review by emphasizing one aspect of this reel that stands above the rest of the incredible features that it boasts; its weight.
Or should I say "lack of weight"?
This reel weighs in at a mere 5.7 oz. That's almost 2 full ounces less than the popular Shimano Curado 200K, which weighs in at 7.6 oz.! And 2.2 oz. less than the Abu Garcia Revo4 S, which weighs 7.9 oz.
So, to say that this reel is very light would be a huge understatement. But you might be asking how being 1 or 2 oz. lighter than these major brands is noticeable. After all, we're only talking about a 1-2 oz. difference.
But, we have to remember that ounces, when held for hours at a time, can make a big difference at the end of the day.
Think about it this way. Compare chunking a 1/2 oz. spinnerbait all day to a 1 1/2 oz. spinnerbait all day. Or maybe a 3/8 oz. crankbait vs. a 2 oz. swimbait. Both of these bigger baits will make you a bit more tired at the end of the day.
So it is with our rods and reels. Even though we might not be slinging them on the end of a rod, we're still holding them all day long. And at the end of the day, it does make a difference.
One of the things I did to capitalize on the light weight of the KastKing Assassin Carbon Baitcasting Reel was to pair it up with a very light rod. I chose the Lew's Carbon Fire baitcasting rod. This rod is extremely light and well balanced, so it made the ideal rod to match this reel up with.
Beyond The Weight
Beyond the fact that this reel weighs virtually nothing, it is supported by a slew of incredible features that make it truly a high end reel for a low end price.
Extreme Light Weight – 'Bulletproof' carbon construction body, side plates, and handle for extreme weight savings, corrosion resistance, and added rigidity
Stopping Power – impressive 4 disc carbon fiber tournament ready 16.5 Lbs. (7.5 Kg) drag
Dual Brakes – dynamic 6-pin centrifugal and magnetic brakes
Super Smooth – 11 + 1 shielded corrosion resistant MaxiDur ball bearings
Hard anodized aero-grade aluminum spool
Powerful precision matched 6.3:1 ratio gears
Instant stop anti-reverse for devastating hook sets
Braided line-ready line guide insert
Dazzling Looks – Midnight black finish with brilliant blue accents
One Year Warranty
Beyond The Specs
Beyond all of the specs (as impressive as they are), let's look at the reel in its intended environment; on the water.
After mounting this reel on the Lew's Carbon Fire rod mentioned above, I spooled it up with some brand new Sufix Siege 17 lb. line. A short time later, I was headed to the lake to do some fishing. And getting this reel broken in and tested was one of my goals.
A short time after hitting the water, I picked up the rod with this new reel on it. I checked the spool tension knob and made sure it was set properly. I also checked to make sure the magnetic brake was set at 100%. As for the internal, centrifugal brake, I was reasonably sure that I had already set that to 100% also.
I tied on a 1/4 oz. underspin with a white soft plastic swimbait body on it and gave it a cast. Oops. I guess I didn't have that internal brake adjusted after all. I generated a nice little backlash to start things off. Oh, man!
Well, after a couple of minutes of pulling the loose line off the spool, I wound it all back on. And then I realized that, in my hurrying to get ready to leave, I had accidentally spooled too much line on the reel. Oh, it was fine when I was spooling it on while holding tension on it. But once I had made a cast and retrieved it with very little tension on it, it got kind of "fluffy" on the spool and it began to rub on one of the steel pins that runs across the inside of the reel, directly in front of the spool.
OK. So I stopped and pulled about 10-15 yards of line out and cut it off. Bummer to waste brand new line, but it had gotten a bit kinked up with the backlash anyway. I re-tied the underspin on and then popped the side cover off to adjust the centrifugal brake. Sure enough, it was set to zero.
I had apparently gotten confused because I actually had two of these reels, new in their boxes. I must have adjusted the brakes on the other reel, not this one. Shame on me for not double checking!
Back to Fishing Again
Now that I had the backlash fixed and the brakes adjusted, I made another cast. Perfect. No backlashes this time. Not even a hint of one. So, I began to back the brakes off a little at a time. It only took me a few more casts to get it adjusted enough to find that sweet spot, where it casts like a rocket, but doesn't backlash.
As with my older KastKing reel, which I reviewed here, this one casted effortlessly, with great distance. Unlike my older KastKing reel it didn't require nearly as much finessing on the cast to keep it tamed and tangle-free. Don't get me wrong, the older Royale Legend Kastking reel is an incredible reel for the $37 price tag. But this reel was much more refined, more than likely due to being a newer model with more manufacturing experience and more tweaking under its belt.
I tried switching the lure a few times, alternating between the underspin and a bladed jig. Don't forget that I was also fishing with a brand new rod that I had never used before, so I was also trying to get a feel for the action of the rod, as well as the new reel.
Ultimately, I settled on the underspin as being more suited to the rod. And, unfortunately, I found no fish willing to bite the underspin. So I didn't get to land a fish on the new rod or the new reel on this particular trip. But I definitely did start to get a good feel for the new KastKing Assassin Carbon baitcasting reel. And I was liking everything that I saw and felt.
Let's Talk About Those Brakes
This reel has what is called a dual braking system. It uses two distinct systems to generate braking capabilities that allow super fine-tuning of the spool's speed and handling of casts. The older KastKing Royale centrifugal brake was a little less refined than this one.
The old system used pins that had to be manually popped up or slid down, ala Shimano Curado 200E7 style. They worked fine, but were a bit cumbersome to adjust.
The new reel uses a dial that is leaps and bounds better than the old system! Adjusting this brake requires popping the side plate off and then turning the dial one direction or the other to increase or decrease the braking power being applied.
This all takes a bit of getting used to before you get comfortable with it. It's not difficult. It just takes doing it a few times to get the hang of it and get a feel for where to set it to get that "just right" sweet spot. And that sweet spot might change with different lures, but it is infinitely easier on this reel than my older Royale Legend reel.
Another distinct difference I"ve noticed between this reel and the Royale Legend is that this reel, once adjusted properly, is actually very hard to backlash. After spending more time on the water with it, I fine tuned it a bit more and I'm really, really liking it. A lot!
It feels good. Not just how it feels in my hand, but in every aspect. It doesn't feel cheap. It has the feel of a reel costing double or more what it actually costs!
The Handle is Great!
I don't usually comment about or mention a reel's handle. For the most part they are all just very utilitarian. They do their job. Nothing more, nothing less.
But the handle on this reel is very comfortable to use. First of all, it's made of carbon fiber, so it helps to reduce the overall weight of the reel. Second, the grips are extremely comfortable. They don't feel awkward to grab hold of. And the material that the grips are made of is easy to grab and keep a grip on, even when wet.
Gears and Other Stuff
Based on the specs shown by the retailer, this reel boasts the use of some seriously good guts. 11 ball bearings and a stainless steel roller bearing (for the instant anti-reverse) makes this reel butter smooth on the casts and on the retrieve.
The only thing I did notice is that the gear shaft and the main gear are not brass. They are aluminum. I'm assuming this was done to help reduce the weight.
Now, aluminum isn't necessarily an issue or a problem, especially in this case. Based on the retailer's information, the aluminum used is aero grade, hardened aluminum. So it should hold up very well and last just as long as brass. Time will tell.
Lastly, I want to mention this reel's drag. It is comprised of 4 carbon fiber plates. The carbon fiber is super light, but it also super strong. This setup allows the reel to generate 16.5 lbs. of drag! This is insane. Especially when compared to some of the high end reels on the market right now.
For example, Shimano's Curado K reel has only 11 lbs. of drag. And that reel costs $120 more than the KastKing Assassin. And there are many other examples of reels that cost double or more what this reel costs, but with less drag than this reel.
Final Words
After spending much more time on the water with this reel, I'm happy to say that it has continued to impress me. It performs excellently. The braking system is crazy good, and the bearings make this reel more smooth than reels that cost 2-3 times as much. And the ridiculously light weight makes it a pleasure to use for long periods of time, especially if paired with a lightweight rod, like the Lew's Carbon Fire casting rod.
I don't think there is another $59 reel on the market anywhere that will rival what this reel gives you for the price; extremely light weight, superb braking system, massive drag system and 11 butter-smooth ball bearings. I am seriously impressed with it.
One other thing I want to mention is that this reel is sold by Amazon. So if you're a Prime member, you'll get free two-day shipping when you order this reel, making this an even better deal 🙂
I have no reservations at all giving this reel 5 stars. If I could give it more, I would!
Click here to check it out now.
If you like this article, please be sure to share it with others!
And feel free to leave comments below.
Good fishing <><