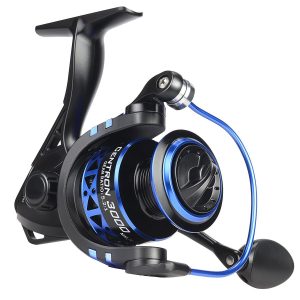 Tackle Test is reader-supported. When you buy products through links on our site, we may earn an affiliate commission.
Learn More
.
KastKing Centron 2000 Spinning Reel Review
I'm not a big spinning reel user, but I wanted to write a KastKing Centron 2000 Spinning Reel Review because I believe the reel deserves some exposure and people need to know what this reel is all about.
I'm a baitcasting reel user 90% of the time. The kind of fishing I do isn't well suited to spinning reels. I typically fish baits that are 1/2 oz. and up. Not the kind of stuff spinning rods and reels take very well.
But, there are times when a spinning setup gets the nod. This is usually when the bite is a bit tough and I'm tossing small soft plastics, like a 4 inch Senko or similar worms, with 10 lb. test line. Or I may use a small Bomber model 2A crankbait in my favorite color, Silver Flash. Both of these baits work well under tough conditions.
Anyway, regardless of what I'm throwing, I want a good reel that will handle a decent fish without fear of it locking up or malfunctioning during the fight.
I also want a reel that's lightweight, yet strong. And it has to be affordable, as in under $40, or maybe $50 max. That criteria narrows things down quite a bit. I do have a couple of the Okuma Avenger Spinning Reels that are very good for the price, but they are also slightly more expensive.
In my case, I wanted something for less than $30. I know that sounds like I'm being cheap, but I wanted to see if I could find a sub $30 spinning reel that was a great reel for the money. And that, my friends, is why I'm sitting here today writing a KastKing Centron 2000 Spinning Reel Review!
Let's Get Down to The Nitty Gritty
I found this reel on Amazon while doing some research. I already owned a handful of the KastKing baitcasting reels. Overall, I really like them. They are a great bang for the buck. So I figured that maybe this reel would be the same thing. I took a chance and ordered it.
Unfortunately, I ordered it in the middle of winter, so I didn't get to try it for a few months afterward. But when I did, I was very pleasantly surprised at how light and smooth it was to use.
The bearings (all 9 of them) are ultra smooth. When you give the handle a spin, it is effortless and feels buttery smooth. The handle turns for a long time after letting it go, with no bearing noise at all.
The drag is also very smooth. The fish I have caught have been big enough to pull some line off during the fight, so I have had ample time to test the drag. It has performed well.
The reel has a graphite body, which keeps it light, while still being strong. And on top of all that, the reel is very easy on the eyes, with the black body and blue accents.
The Reel's Features
This reel has features of reels costing 3x the price of this one! Here they are below.
9 Ball Bearings
1 Instant Stop One-Way Bearing for the Anti-Reverse
Lightweight Narrow Graphite Body
12 lb. Drag (Centron 2000)
5.2:1 Gear Ratio
I purchased the Centron 2000 model, which weighs just 9 oz. Very light for a reel of this class. The spool has a capacity of 235 yds. of 8 lb. test mono. It retrieves 24.4 inches of line per turn of the handle, which is really good.
The spool is anodized aluminum, so it's light and also nicely finished. The height and width of the spool allows it to hold a decent capacity of line, while also allowing it to flow off of the spool smoothly on the cast.
Wrapping It Up
There's not a whole lot more to say about this reel.
It's very, very affordable, at less than $24. It's smooth and strong. It looks super. It's lightweight and durable. What's not to like?
Based on my usual testing criteria, I have no problems with giving this reel 5 stars. If you're looking for a bargain spinning reel that will pleasantly surprise you, this is the reel for you. There probably isn't anyone out there who can't afford this reel.
You can check out the KastKing Centron Spinning Reel by clicking here.
If you like this article, please be sure to share it with others!
And feel free to leave comments below.
Good fishing <><
Check Out Similar Reviews
I don't buy many spinning reels, but I decided to try this one because I needed a new setup. Read...

Lew's Speed Spool LFS Baitcasting Reel is a reel I've been wanting to buy and test for some time now....

The Piscifun rods and reels seem to have a lot of hype surrounding them. Piscifun does a great job of...