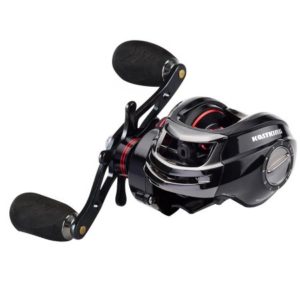 Tackle Test is reader-supported. When you buy products through links on our site, we may earn an affiliate commission.
Learn More
.
KastKing Royale Legend Baitcasting Reel Review
A little over a year ago I spotted a baitcasting reel on Amazon that I had never heard of before. It was a brand called KastKing. I ended up buying one, which led to this KastKing Royale Legend Baitcasting Reel Review being written. Read on to learn about my experience.
I spent some time reading through the specs and the reviews. And I have to say that I was impressed.
Before I was impressed, though, I was skeptical. There was no way this reel could be legit, especially with those features at that price point.
But I kept reading and digging. And before long I started to see that maybe this wasn't a fluke. And maybe, just maybe it wasn't too good to be true.
Could a sub-$40 reel really be this good?
Check out these specs for yourself and you'll see why I was impressed.
11 +1 Shielded Bearings
17.5 Lb Carbon Fiber Drag
7.0:1 Gear Ratio
Centrifugal and Magnetic Dual Brakes
Two Color Anodized Aluminum Forged Multi-ported Whiffle-Style Spool
Precision Cut Brass Gears
7.5 oz. Total Weight
31.5 in. of Line Retrieved Per Turn
See what I mean? Those specs are impressive in any price range. But here's the kicker. Even with all of those incredible features, this real is priced at an incredible $36.98 on Amazon.com!
I know what you're thinking right about now; Great… another piece of Chinese junk being passed off onto unwitting, inexperienced anglers.
And to be totally honest, I thought the same thing too. Trust me. I've seen a lot of that same junk fishing tackle being sold in too many places. But after reading the specs, I spent a good 20 minutes or more reading through all of the reviews. Once again, I was impressed. Thoroughly impressed.
Check them out for yourself.
Fantastic Reel!!!
This is the BEST reel that I have ever used
Amazing Reel for the Price!!!
Absolutely the best bang for your buck in a casting reel!!!
EXCELLENT reel!
Great price, great product and Awesome Support!
And that's just a tiny little fraction of the super-positive reviews on Amazon. As of the day that this tackle test is being written, this reel has over 1,000 reviews on Amazon, with a whopping 72% of them being 5 stars.
And let me remind you again that this reel sells for less than $40. That's unheard of for a reel with these features.
Real Life Results
So now that we've heard all about what others have said about this reel, let's talk about real-world results, on the water where it counts.
I bought this reel late in the season. So late, in fact, that I didn't get to fish with until the following Spring. So it sat on my boat, waiting for me to test it.
Fortunately, we happened to have a warm spell in mid January that allowed me to get out on the water for a few hours where I could give it a try.
As I always do with a new baitcasting reel, I made sure I maxed the brakes out before making the first cast. Getting a backlash on the first cast with a new reel isn't something I want to do. So, after maxing out the brakes, I made my first cast.
I was shocked! The lure kept going, and going! I'm not kidding. The bladed jig I had tied on just sailed through the air like there was no tomorrow.
After the lure finally hit the water, I engaged the reel and began to retrieve the jig. Again, as smooth as butter. I made several more casts with it, just to get a better feel for it. And every cast was effortless and long, even though I was only lobbing it.
Fast Forward 2 Months
That January fishing trip was only a few hours, as I mentioned above. And since the water was in the high 30 degree range, I didn't get any bites that day on the bladed jig. So I never got a chance to see how it handled a fish. But at least I went home knowing that it seemed to be well worth the $39.96 I had paid for it 🙂
March rolled around and my home lake iced out fairly early, so I went aboard it with a vengeance! And my home lake is spinnerbait and bladed jig heaven. So the new KastKing Royale Legend Baitcasting Reel got a good workout! And in the process, I learned about its quirks and idiosyncrasies, as well as its great attributes.
Let me start off by saying that not a single one of the idiosyncrasies cause it to lose any points. In fact, those little quirks are due to the extreme freedom that the spool has with those 11 bearings. But let me get back to that in a minute or two.
I want to talk first about the strengths of this reel. So I will list them really quickly and then touch on a few of them individually.
11 bearings, plus one more for instant anti-reverse, makes this reel butter smooth on casts. So smooth, in fact, that it takes discipline not to "over cast" and force a backlash. I had to train myself to cast gently, using almost a lobbing, sidearm action, to keep myself from overdoing it.
Trust me when I tell you that this is all it takes to get incredible distance out of this reel. A gentle lob sends a 3/8 oz. bait a very long way. And because casts are effortless, casting accuracy is greatly increased, as is controlling the landing of the bait, once you get used to the reel.
Once you get past that little "quirk" you will also love how smooth this reel is on the retrive and how strong it feels when playing a good fish.
No Guts, No Glory
This reel has guts. I mean, it has really good guts. Precision brass gears make this reel smooth and quiet on the retrieve. They also mean that they will last a good long while.
The drag system is comprised of 4 plates of carbon fiber, yielding an incredible 17.5 lbs. of drag. That's unheard of in most bass reels, let alone a reel of this price. That makes this reel a great candidate for heavy cover fishing, such as flipping and pitching!
And it means that it doesn't even blink when fishing in areas with less cover, where you don't need your drag locked down tight.
The handle is also extremely comfortable to use for hours at a time. It has a curve that makes it fit just right in your hand, and the EVA foam grips make it super easy to keep your hand on the reel and not slip, even when it's wet.
Put on The Brakes
Probably the most unique thing about this reel is the braking system. Most reels have either a magnetic brake or a centrifugal brake, in addition to the spool tension knob. But this reel actually has both!
That's not a typo. This reel has two distinct braking systems that work together to keep the spool tamed with those 11 bearings inside.
Let me say that I have kept the centrifugal braking system set to maximum from day one. And the magnetic brake is always set to near maximum too.
The 11 bearings create such a free-spool environment when you press the clutch bar that this reel needs both of these brake systems to help prevent backlashes.
And even with dual brakes, you absolutely have to train your brain to cast without trying to whip it out there. Smooth and fluid is the best way to go.
Adjusting the centrifugal brakes is as simple as flipping a small lever on the side of the reel and then rotating the side plate to expose the brakes. The first time I wanted to do this, it took me a minute to find the little lever that releases the side plate. And then it took me another minute to figure out which way to move the cover in order to get it to swing away.
Thankfully, after doing it a couple times it gets a bit easier and the cover moves more freely. And, if you're like me, you'll leave the centrifugal brake set at max and adjust only the magnetic brake, which is done via a rotating dial on the outside of the reel.
What The Fish Say
Now that we're past all of the technical stuff, and all of the features, let's talk about how it handles fish… especially big fish.
As I mentioned earlier, this reel has a 4-plate carbon fiber drag system, with 17.5 lbs. of drag. Not only does this give you the ability to lock the drag down and yank fish out of heavy cover without worrying about the drag slipping, but it also means that the drag is super smooth when a big fish decides to make a quick burst.
And the combination of solid brass gears, along with all 11 of those shielded ball bearings, playing and landing fish is smooth as can be. There's no jerkiness with the drag. There's no binding or clicking of the gears or bearings.
Everything just works super smoothly under all conditions that I have used it under. Daytime, night time, spring, summer and fall. This reel has treated me very, very well for the 1+ year that I have been using it.
Almost Ready to Wrap This Up
Before I finish this review, I want to talk very briefly about the one quirk that I found with this reel. It's not a defect. Just a quirk.
Because this reel has 11 bearings, which causes it to spool very, very freely once the thumb bar has been depressed, casting has to be done in a way that makes you think a little when you're first getting used to the reel. That's not a bad thing. It's just something you will learn to do when you start using this reel.
And, because the spool spins so freely on a cast, it will require you to make adjustments with the spool tensioner knob on the side of the reel to fine tune the tension and get it "just right".
Here's the catch of that little quirkiness. The one irritation I had with this reel was the fact that if I tightened the spool tensioner knob down just a tad too much, the reel would make a screeching/squealing sound on each cast. It wasn't major, but it was annoying.
To fix that, I took the spool tensioner knob off and put a drop or two of reel oil on the tip of the spool shaft and then put the knob back on and played with the tightness to find that sweet spot where it was tight enough to help prevent backlashes, but not tight enough to squeal any more.
Bingo! No more squealing. No more screeching. No backlashes. Just perfect casts that go a country mile with almost no effort.
It's a Wrap
To wrap it up, let me state very plainly that this reel is the cadillac of sub-$50 reels. And, in reality, it's the cadillac of sub-$100 reels. I'm dead serious. I dare you to find a reel with these features and this level of quality for less than $150. I promise that you won't be able to… anywhere.
This is the best reel I have ever bought for under $150, hands down. And to think that it actually costs less than $40 is just plain crazy. But it does. It costs under $40. $36.98 to be exact.
So if you've been wondering where you can find a honest-to-goodness high quality baitcasting reel at a truly reasonable price, this is it.
Buy This Reel. You won't regret it for one second. Click here to check it out now.
If you like this article, please be sure to share it with others!
And feel free to leave comments below.
Good fishing <><