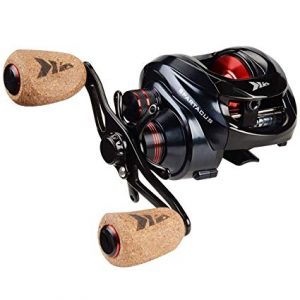 Tackle Test is reader-supported. When you buy products through links on our site, we may earn an affiliate commission.
Learn More
.
Kastking Spartacus Plus Baitcasting Reel Review
KastKing reels have been steadily gaining ground in the American fishing tackle marketplace over the last few years. During the last 2+ years I've bought several of them myself, including my newest model, the Spartacus. I have quite a bit of experience under my belt with KastKing reels, so I wanted to share my thoughts on this newest reel, in this brand new Kastking Spartacus Plus Baitcasting Reel Review.
How does the Spartacus, priced at only $45.98, stack up against the other KastKing reels that I own?
How About Other Brands?
Better yet, how does it compare to other reels such as the Abu Garcia Pro Max 3 (a $79.99 reel) or the Abu Garcia Revo4 X (a $99.99 reel)? I mentioned these reels specifically because the KastKing reels tend to stack up very well against other reels costing sometimes as high as 3 times as much. I found the KastKing Stealth baitcasting reel to be one of those. My experience with the Stealth is that it gives a massive amount of bang for the buck.
Anyway, as I go through this Kastking Spartacus Plus Baitcasting Reel Review I will talk about the pros and cons of the reel, as well as discussing the price point and the overall value for the dollar. As I've mentioned many times in my other reviews, the cost of a product plays a big part in how I rate them.
And to clarify that statement, let me be clear that a low price won't get a product a high rating based solely on the price. Junk is junk, so if a low-priced reel is junk, it will be rated as such. Just as a high-priced reel will also be labeled as junk if it deserves that rating.
Features of The KastKing Spartacus Plus
So let's start the actual review by talking about the reel's features. I will say right up front that for well under $50, this reel is packed with lots of great features.
First, let's talk about the dual braking system. The Spartacus has the typical KastKing braking system, using a magnetic brake that can be adjusted on the side plate of the reel and a second brake that is adjusted by removing the side plate.
KastKing baitcasting reels use two different centrifugal brake types. One system uses pins that get adjusted by flipping 4 small levers inward or outward. This style is used in the KastKing Royale Legend and the KastKing Stealth.
KastKing's other centrifugal braking system uses a dial that makes adjustments super simple by turning a dial one way or the other. This system is also featured on the KastKing Assassin Carbon baitcasting reel.
What's The Difference?
To be totally honest with you, I haven't really noticed any major differences in performance between the two centrifugal braking systems. But I will also readily admit that I haven't really paid super close attention to that aspect of the reels either.
Making adjustments to either one is simple, but I will say that sometimes the dial can be a pain to turn very easily. This is especially true if it's cold out and my fingers aren't functioning 100% normally. But even without cold fingers, it still seems a bit tough to turn easily. I believe this is something that needs to be refined in the future by whoever manufactures these braking systems.
So, in that sense, I prefer the tiny levers over the dial. They're easy to move under any conditions, whether it's cold, hot or anywhere in between.
KastKing states that the lever system has 4 adjustable pins, whereas the dial-based system has 6 pins. So, in theory, the dial system should be a tad better than the 4-pin system in terms of performance.
10 Levels?
The magnetic brake in the Spartacus boasts a 10 level system. I have to state, though, that I don't quite know how they came up with the number 10. There are 5 actual magnets, and the magnetic adjustment on the side plate of the reel actually has 26 clicks when turning it. So, it's really beyond me how they arrived at the number 10.
I guess the important thing, though, is how well the braking system works as a whole. And, based on my own personal experience with them, they have been steadily improving them since I bought my first Royale Legend in November of 2016. The quirkiness of the 4 lever system has pretty much disappeared and it now works very well overall.
KastKing Spartacus Plus Specs
Let's talk about the specifications for the KastKing Spartacus.
First, here they are, listed below.
6.3:1 gear ratio
High-torque 95 MM handle
Precision Brass Gears
11+1 MaxiDur corrosion resistant shielded ball bearings
Line Capacity (mm/m): 0.285/115, 0.33/90, 0.37/75, 0.4/60
Line Capacity (LB/125YD): 10/125, 12/100, 15/85, 18/65
CPT(cm per turn): 65
IPT(In per turn): 25.5
Weight (oz):8.1
The 11 shielded bearings make this reel super, super smooth in every aspect. And the +1 translates into a one-way roller bearing that gives the reel super-solid instant anti-reverse, for gut-wrenching hook sets.
In case you're wondering where there could possibly be 11 bearings in a reel, just look at it this way. Anywhere that it is possible to put a ball bearing, they put one. That even includes in the handle! Yes, the handle has ball bearings in it.
The brass main and pinion gears mean that they should last for a good long time versus cheaper materials, like plastic or cheaper grades of aluminum.
Chock Full
So, as you can see, the KastKing Spartacus Plus is seriously loaded for a reel in this price range. Now that we've established that, let's talk about my actual on-the-water experience with this reel. How did it fare in real life?
Where to Start
Well, let me start off by saying that this reel has not disappointed me in any way at all. It is smooth, as I had hoped it would be.
The braking system has worked flawlessly for me. I have had zero backlashes with this reel so far. And there have been no indications of any kind of quirks while trying to fine-tune the brakes.
In examining it more closely, it appears that the Spartacus Plus is built on the same chassis as the KastKing Assassin casting reel. The difference is that this reel is not carbon. So it's a tad heavier than the Assassin, but not terribly so.
The Line
Because I decided to use this reel on one of my Lew's Carbon Fire rods, as a bladed jig outfit, I opted to spool it up with braid. I haven't used a lot of braid in the last 15-20 years. But I wanted to get back to it for some very specific applications, with bladed jigs being one of them.
I initially spooled it up with 65 lb. KastKing braid. But after doing so, and using it a couple times, it became apparent that 65 lb. braid was a bit too big for this reel. So, I stripped that line off and spooled it with 50 lb. braid, which is perfect for this reel.
As a side note, I experienced a little problem with the 65 lb. KastKing braid that I will most likely talk about in a later review.
The new braid that I bought, however, has been perfect. And the Spartacus handles it with no issues at all.
What I Like About The Spartacus
As of writing this review, I can honestly say that I have found nothing about this reel that I don't like. Seriously.
It casts beautifully, with great distance and no backlashes whatsoever. The braking system has been flawless.
The reel is smooth and quiet, and it handles fish with no trouble at all. The drag is smooth. The bearings are smooth and the gears are quiet.
It feels good in my hand. It palms easily and comfortably. And the knobs, which are made of a cork composite, are easy to grab and hold onto.
KastKing calls the material that the knobs are made of "rubber cork". I don't know exactly what that means, as in what it's made of. But my guess is that it's a blend of cork and rubber. Whatever it is, it works well. I have fished with this reel in cold weather and in torrential rains. No matter what the conditions have been, the knobs are easy to hold onto.
The Gear Ratio
As I mentioned above, the gear ratio is 6.3. It's one of the reasons I chose this particular model. I was looking for a reel that would be good with moving baits, like spinnerbaits and bladed jigs. And this reel is perfect for that.
I can cast and retrieve a bladed jig effortlessly, without having to constantly remind myself to slow down my retrieve.
This gear ratio might not be ideal for flipping or pitching, but it works great for what I wanted to do.
My Overall Opinion
After getting to spend some time with this reel in real-life situations, I am really glad I bought it. It was a good choice that I'm super happy with.
It's reasonably lightweight, at 8 oz. It's comfortable to hold. The handle and knobs are easy to grab and keep hold of.
The 11 bearings make this reel super smooth. Casts are long and effortless. The brass gears are also smooth. And even better, they are quiet!
The brakes work very, very well. I have had ZERO backlashes, even when fishing in 25 MPH gusts of wind.
The reel handles fish very well, with a smooth, strong drag system.
And on top of all that, this reel looks great. The gloss black finish with red accents is sharp, but without being gaudy or obnoxious.
And all of this for well under $50.
Winner or Loser?
This reel is a clear cut winner in every aspect. If it continues to perform at the level it's done so far, it just might end up being one of my better purchases for 2019. Time will tell.
In the meantime, though, this reel gets a super-solid 5 stars from me, with no hesitation at all.
If you're looking for a solid reel for under $50, you can't go wrong with the KastKing Spartacus Plus.
As a side note, I want to mention is that this reel is sold by Amazon. So if you're a Prime member, you'll get free two-day shipping when you order this reel, making this an even better deal 
As mentioned above, I'm giving this reel 5 stars.
Click here to check it out now.
If you like this article, please be sure to share it with others!
And feel free to leave comments below.
Good fishing <><