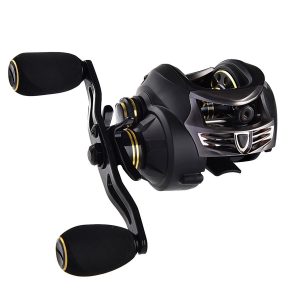 Tackle Test is reader-supported. When you buy products through links on our site, we may earn an affiliate commission.
Learn More
.
KastKing Stealth Baitcasting Reel Review
I like to try new products. I especially like to try new products that look like they might be an outstanding value. And it's one of those very products that led me to write my KastKing Stealth Baitcasting Reel Review.
Over the last couple of years I have bought and tested a growing number of KastKing products. I have written reviews on some of them here to share my experiences with them, both good and bad. Overall, my experiences have been pretty positive.
So, as I put this KastKing Stealth Baitcasting Reel Review together, I'm happy to share both, the good and the bad about this reel.
Let's Get Started
First, you may recall that the very first Kastking reel that I reviewed was the Royale Legend. You can read that review here. That reel was a monster bargain, costing well under $40 and boasting 11 bearings.
In my review, I mentioned that the reel was a great deal for the price, but a tad quirky. It took some getting used to in order to learn to cast it in ways that will avoid backlashes because the braking system is borderline adequate for high number of bearings in the reel.
Before buying this reel, the Stealth, I learned that it was built using the same braking system as the Royale Legend. That caused me to wonder if maybe this reel might be quirky too. But I decided to give it a shot.
Despite using the same type of braking system as the Royale Legend, this reel uses a different frame and outer shell. This reel is made from Carbon. It was the carbon construction that caught my attention and caused me to want to try these reels out.
Super Lightweight Reel
This reel weighs in at a miniscule 5.98 oz. I purposely bought it to pair up with my
Lew's Carbon Fire baitcasting rod
 because that rod is also made of carbon and is extremely lightweight. The two of them actually work very well together because of this. They make a super lightweight combo that is effortless to use for hours at a time.
One of the cool things about this reel, too, is that the handle is also made of carbon fiber. This helps make it light and super strong.
Appearance Isn't Everything
This reel is not shiny. It doesn't have fancy graphics or striking colors. It's black. And it's a matte black, at that. So there is no "bling" to this reel. It does have some small gold accents in various places, which give it a classy look.
It also features some brushed nickel detailing on the nose. Overall, these all work together to give the reel a solid look that doesn't come across as flashy or gaudy. I like that.
How It Feels
This reel feels excellent in my hands. It palms very well and is super comfortable to use, even for many hours at a time. That sub 6 ounce weight keeps it from being tiring to use for extended periods, especially when paired with a lightweight rod like the Carbon Fire rod I mounted it on.
The handle is comfortable, and the grips are easy to hold onto. They are made from Eva foam, so they stay "grippy" even in heavy rain or on overnight trips where there is a lot of dew on everything.
Also, the size and shape of this handle make it very easy to grab onto in a hurry. It's not over-sized, but not small either. It's similar in size and comfort to the handle on the Abu Garcia Revo4 X that I reviewed recently.
As I mentioned above, the handle is made of carbon fiber, keeping it light, yet strong.
The Features
There is an extensive list of features on these reels, so let's talk about them.
First, the lightweight carbon construction. Lightweight is definitely the key with these reels. They are basically featherweights. I know that might sound like an exaggeration, but it's really not. Most casting reels in this size group weigh between 7 and 9 ounces. This one comes in just under 6!
Next, let's talk about the bearings. There are 11 of them. And from my experience with KastKing reels so far, these are not junk bearings thrown in just to make the specs look good.
The 11 ball bearings are super smooth and quiet. These reels cast a country mile with almost zero effort. It's not hard to make a cast that will peel off at least half of the line on the spool with a 1/2 oz. lure!
The reel is also equipped with a roller bearing, which powers the instant anti-reverse. This gives the reel incredible hook setting power, instantly.
The Gears
As for gears, the pinion gear is brass, while the rest of the gears are aero grade hardened aluminum.
These gears are smooth and quiet. Whether they will last as long as brass gears remains to be seen. It will take a few years to know this. But based on how smooth and quiet they are, I would say they they are made with at least a decent amount of precision. Otherwise they would be noisy right out of the box.
The gear ratio of this reel is 7.0:1. It's a great ratio for spinnerbaits and other search type baits. But it does require that you stay focused, or you'll find yourself burning the bait back to the boat without realizing it.
How About The Brakes?
Part of this reel's features is the braking system. As with other KastKing casting reels, these reels have a dual braking system. It uses a combination of magnetic brakes and centrifugal brakes.
As I mentioned earlier, the Stealth uses the same braking system as the Royale Legend reel.
My Royale Legend reel is now over 2 years old. And when I use my two Stealth reels, it's very obvious that the brakes on these reels are far superior to the brakes on the older Royale Legend. So, my guess is that the braking system has been refined over the last two years to greatly improve its braking abilities and its reliability.
The Stealth is very, very easy to cast without any worries about backlashes once you get the brakes adjusted properly. And, to be honest, it didn't take me long at all to dial this reel in. And, unlike my older Royale Legend reel, I don't need to run both brakes maxed out.
This is a welcome change from the older Royale Legend. Not that the Royale Legend is impossible to use. It's not. But it takes a lot more work to dial it in and then cast it properly to avoid backlashes.
Contrarily, the Stealth is effortless in this respect.
The Drag
The drag in these reels is super smooth. It consists of a 4-disc drag system that provides up to 16.5 lbs. of drag power.
The discs are made of carbon fiber, so they're strong and smooth. I haven't landed any true giants on either of my Stealth reels. But I did land a fish or two around the 4 lb. range and the reels never even hiccupped.
There was no erratic drag behavior whatsoever. Just smoothness that kept me confident in the reel's ability to handle big fish with no trouble at all.
I also like that there is a click when I adjust the drag. It helps me know how much I adjusted the drag, one way or the other, so I can return it to where it was previously set afterward if I choose to.
An Annoying Problem
Now, here's where I ran into a slight dilemma with my second Stealth reel.
After having such a great experience with my first one, I ordered a second Stealth. It arrived two days later and I excitedly spooled it up with 17 lb. Sufix Siege, knowing that I would be using it with heavy (3/4 oz. – 1 oz.) spinnerbaits and medium – large sized topwater baits after dark.
I hit the lake a few days later and made a cast, only to be greeted with a massive backlash. So I took a few minutes to untangle the mess, maxed out all of the brakes and tried again, being very careful to thumb the spool and feather it as the bait landed. Not a backlash, but it took every bit of effort I could muster to prevent another backlash.
I wasn't happy. Not at all.
I tightened the spool tension knob and tried again. Once again it took a fair amount of effort to tame the spool and prevent a backlash.
At this point, I just put the rod and reel down and moved on to other things. I had better things to do than to fight with a brand new reel that didn't want to cooperate with me.
I Gave Them a Call
The next day I called KastKing customer service. The guy that answered the phone was very helpful. I honestly don't remember how the whole thing transpired, but I ultimately ended up communicating with him via email as we worked out the best way to solve the problem.
After I explained to him what was happening, his initial reaction was that I wasn't adjusting the brakes properly. But I assured him that I was, and that I have over 30 years under my belt using baitcasters.
Initially I had him ship me a new side plate, which is where the brake mechanism is housed. I figured this would be better than shipping the reel back. A few days later, I had the new side plate, as well as a new brake tension adjustment knob that he threw in just to be sure we covered all the bases.
I removed the old side plate and popped the new one on and then hit the lake a day or so later. Same results. I then changed out the spool tension knob, pretty much knowing that it would be the same thing. It was.
Long story short, I let him know that I wanted to ship the reel back for a replacement. A week or so later I had a new Stealth reel in my hands.
I spooled it up with the same line I had on the previous reel and headed back out onto the water. Bingo! Perfect casts with no backlashes at all. In fact, not even a hint of a backlash! The new reel behaved perfectly, just as my first Stealth baitcasting reel had done.
Now That the Problem Was Solved
Now that I had solved that little problem, I spent a fair amount of time using this newest reel. And I have to say that it has been a pleasure to use. And the more I have used both Stealth reels, the more I like them.
All in all, I fished with these reels from May through October. And in those 6 months I haven't experienced another single problem with either of them.
They slowly worked their way up the list to being one of my best tackle buys of 2018. And the best part is that they didn't break the bank. These reels are an honest-to-goodness excellent value.
So What do I Think of Them Overall?
I have to admit that when I began to have trouble with the second reel, I was ready to swear off "bargain" reels forever. I just figured it wasn't worth the hassle to buy reels that were from lesser-known companies. But when I encountered excellent customer service and the replacement reel was perfect, it changed my tune a little.
As I mentioned above, these reels have been sweet to use. They are smooth as butter in every aspect. They cast effortlessly, with no backlash problems. The drag is smooth and the bearings are also smooth and quiet.
The gears are also smooth and quiet. In fact, these are probably the quietest reels I own. I do have some reservations about the fact that the main gear is not made of brass. I don't know how that will play out over the long haul. But the fact that they're so quiet tells me that they seem to be made with some decent precision, otherwise they would be noisy.
So, with all of that said, I would recommend these reels to anyone looking for a quality reel that won't bust your budget.
In fact, I have personally shown them and recommended them to a couple people when they were fishing with me.
Wrapping It Up
I want to be 100% honest, as I always try to be in any review that I write. I'll admit that there was a point when I was seriously considering giving this reel a 3 star rating. The backlash problems that I experienced were casting a serious shadow on my experience with it (no pun intended).
But, in light of the fantastic customer service that I experienced, along with the fact that both of my KastKing Stealth reels are absolute gems to use, I am going to give this product 5 stars.
My guess is that my 2nd reel simply had a defect of some sorts. But they made it right, with no hassles or headaches. I didn't even have to spend a single penny on shipping to get it sorted out.
Let's face it, if I've had to deal with customer service for any reason while testing a product, that has to be part of a product's rating. Otherwise, a seemingly great product can suddenly become a nightmare for the user if that product breaks and the user encounters terrible customer service. So my 5 star rating is a conglomerate rating of sorts, taking the two reels and the customer service aspects all into consideration.
So, I highly recommend this reel, and I have no problems with giving it 5 stars, both for performance and for its overall value. And the excellent service I received just helps shore up that rating.
As a side note, I want to mention is that this reel is sold by Amazon. So if you're a Prime member, you'll get free two-day shipping when you order this reel, making this an even better deal 
As mentioned above, I'm giving this reel 5 stars.
Click here to check it out now.
If you like this article, please be sure to share it with others!
And feel free to leave comments below.
Good fishing <><