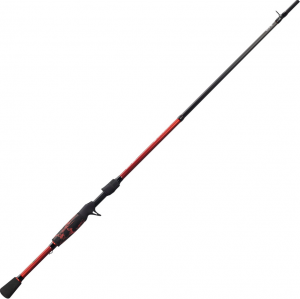 Tackle Test is reader-supported. When you buy products through links on our site, we may earn an affiliate commission.
Learn More
.
Lew's Carbon Fire Baitcasting Rod Review
I've done a few reviews lately on various Lew's products. And here I am again today, writing a Lew's Carbon Fire Baitcasting Rod Review.
Why another Lew's product review? Because I've been testing three of their Carbon Fire baitcasting rods recently, so it's time to share the results with you!
Let me start by saying that the moment I picked this rod up in the store, I was impressed. Why? Because it's a featherweight. I don't have an exact weight for any of the three models that I bought. But let me just say that it's miniscule. These are the absolute lightest rods I own.
Features
Before I get further into this, let me list some of the specs and features here:
High Velocity Carbon for superior strength and sensitivity
Winn® grip adds comfort for long fishing days
Lew's exclusive SoftTouch skeletal reel seat
Hook keepers built in the trigger for convenience
Strong stainless steel guide frames with aluminum oxide inserts
Guides – 9 +tip
These rods come in three actions, medium (6′ 10″), Medium Heavy (7′ 0″), Heavy (7′ 3″). As I said, I bought all three over the last several months, one in each action.
All of them are very well built. The guides are extremely well aligned on the guide. As I held the rods out in front of me to check the guides, I couldn't find a single one even slightly out of alignment.
All of the other aspects of assembling and building the rod were also excellent. The fit and finish is as close to perfect as you can get for a mass manufactured rod.
Coming to Grips
One of the things I have really grown to like about the Lew's rods is the Winn grip. The first rod that I bought with this kind of grip was the Lew's Mach II baitcasting combo that I previously reviewed. When I first held that rod in the store, I wasn't too sure whether I'd like it or not. But I've since grown to like it… a lot!
The Winn grip is extremely comfortable to hold. It's the type of material that lets you have a good grip on the rod, even in the rain, without feeling like you have to have a death grip on it. It doesn't get sticky or tacky in hot, humid weather. I'm not sure what it's made of, but whatever it is is a great update to rod handles.
As I mentioned in the Mach II review, the Winn grip will accumulate dirt and grime over time. The Mach II rod is a bright green color that shows dirt easily. So the dirt sticks out like a sore thumb, which drives me crazy. But the Carbon Fire rods are red, so it won't be as noticeable. Either way, though, any accumulated dirt and grime can be scrubbed off with some warm, soapy water, to make the grips look brand new again.
It's a Sensitive Topic
Let's talk about one of the other great aspects of the Carbon Fire rods. They're sensitive. They're very sensitive!
Lew's says that these rods are constructed from High Velocity Carbon. It's that carbon that makes these rods feather-light. But it also makes them ultra-sensitive. This makes them extremely good rods for soft plastics and jigs, due to their high sensitivity.
If you pair these rods with good fluorocarbon line and a lightweight reel, you'll be hard-pressed to find a better combination for fishing any kind of bait that requires a good "feel". And if you use braided line, you'll never miss a single bite. Period.
This doesn't mean that they can't be good rods for other types of baits, like spinnerbaits, bladed jigs or other search baits. It just means that you can use them with "touchy-feely" baits and do it with confidence that you'll be able to detect even subtle bites.
The Reel Deal
When it comes to what kind of reel to pair with these super-lightweight rods, I opt for a super-lightweight reel. I've paired them with the KastKing Assassin Carbon Reel, which weighs a mere 5.7 oz. This keeps things lightweight all the way around. And the KastKing reel helps make a very balanced combination when mounted on these rods.
Lew's actually makes a Carbon Fire Speed Spool baitcasting reel that was intended to be matched up with this rod series. Unfortunately, I wasn't able to find any specs for the weight on the Lew's reel. But I can promise you that it isn't anywhere near as light as the KastKing reel mentioned above.
Medium, Medium Heavy or Heavy
I want to mention one of the things that I've noticed with all 5 of the Lew's casting rods that I now own. It's not a terrible thing. It's not even necessarily a bad thing. It's just something that I've noticed, so I want to share it with you here.
Lew's casting rods tend to be a tiny bit on the light side when it comes to the rated action displayed on each rod.
For example, the medium heavy rod, in my opinion, is really a medium medium heavy, if there ever was such a thing. It has slightly lighter action than a medium heavy. It's not extremely noticeable, but it is noticeable, at least to me. And this runs throughout all of the Lew's rods that I now own, which covers three different models.
So, just know this before buying these rods. Again, it's not a terribly negative thing. It's not even really negative at all. It's just worth mentioning.
One Tiny Little Nagging Thing
I can find only one thing with the Lew's Carbon Fire baitcasting rods that bugs me. And it's the exact same thing that bugs me about the Mach II rod. The hook keeper!
Yes, I know I've mentioned this before, but I despise the hook keeper (if you want to call it that) on the Mach II rod. And these rods have the exact same stupid design, with the hook keeper in the trigger 🙁
Lew's, if you read this, please fix this awful design on your rods. You're taking excellent rods and annoying the crap out of a lot of people with this. Please put a Texas rig-friendly wire keeper on your rods. Tens of thousands of anglers, including me, will thank you for it immensely.
Seriously, though, that is the only negative thing I can say about these rods. I could find nothing else negative about them.
Summing it Up
As you can tell by now, I love these rods. I have nothing negative to report on them at all. They're lightweight, strong and sensitive. And they are very reasonably priced for such a high quality rod, at just $79.99. And if you keep your eyes peeled, you just might find them on sale for less than that at times. I actually saw them on sale recently for just $49.99!
As with all of our reviews, our ratings are based on the value of the product vs. the price charged for it. At under $80, this is a solid 5 stars. It's well-built and everything it's advertised to be. My opinion is that it's probably one of the best rods you can buy for under $80.
You can check it out by clicking here.
If you like this article, please be sure to share it with others!
And feel free to leave comments below.
Good fishing <><