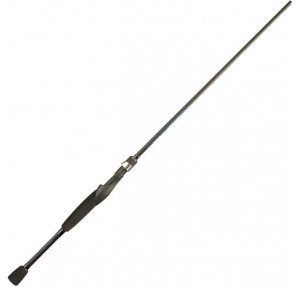 Tackle Test is reader-supported. When you buy products through links on our site, we may earn an affiliate commission.
Learn More
.
Quantum Escalade Spinning Rod Review
As I write this Quantum Escalade Spinning Rod Review, I have to admit that it's an odd review for me to write. And here's why.
First, I don't use a lot of spinning rods. So when I buy a new one, I typically don't like to spend a lot on them. In fact, I usually only spend about $40 on a spinning rod. So, with the Quantum Escalade hitting the $49.99 price point, I was spending a tiny bit more that I wanted to.
But, I was in seriously desperate need of a new spinning rod, since my older rod had suffered a broken reel seat, and this one felt good in my hands as I handled it in the store. So I spent the money and took the rod home with me.
I put the rod into action right away, using it in a club tourney and on some guide trips. I use it mostly for small soft plastics, such as 4 inch Senko style worms, 3 inch Salty B-Bugs and other such baits. It's a perfect fit for this.
My Initial Impressions
During those first couple of uses, I really liked the rod. It was light and, for the price I paid, quite a bit more sensitive than my previous rod. I started to really like it and it seemed like I had made a good choice when I chose this rod.
As I mentioned right off the bat, I don't use a lot of spinning gear. But right around the time when I bought this rod, there were a few days when I needed to use this new rod.
On one guide trip in early July, I was throwing weightless 4 inch stick worms. As I fished a particular gently-sloping flat, I had cast the worm out and didn't get any bites, so I began to reel it in very quickly to make another cast.
As the worm started burning across the surface, a bass grabbed it off the surface. I dropped the rod tip and then set the hook. The rod doubled over and the bass started to strip line off the reel. A short time later I hoisted a bass just under 4 lbs. aboard the boat.
The new rod handled this fish with ease. And just a few casts later, the very same thing happened. I was gaining more and more confidence in the new rod.
Fast Forward a Week or So
Not too long after that incident, I was out on another guide trip, hosting a family from Texas to catch some bass. The bite was a bit slow, so we were fishing primarily with 4 inch worms.
As I fished with the Senko style worm, I felt a subtle bite and set the hook. Immediately upon the hook set, the rod broke into two pieces 🙁
I was shocked, to say the least. So, after getting over the initial shock, I opened my rod locker, tucked this now-broken rod away and grabbed another spinning rod that I used for the rest of the day.
Getting it Replaced
After arriving back home and getting everything put away, I made a quick phone call to the local Dick's Sporting Goods store, where I had bought the rod.
I explained to them what had happened, being sure to mention that I had only had the rod for a very short time. Less than 4 weeks in fact. I also told them that I had my receipt.
After giving them the quick explanation, they told me that all I needed to do was to bring the rod back and they would happily replace it. I was pleased, to say the least.
Some Quick Research
After getting off the phone with the customer service people at Dick's Sporting Goods, I did something that I should have done before I bought this rod. I went and read some of the reviews on it over at the Dick's Sporting Goods website.
What I read was disappointing, but not surprising after what I had experienced.
There were 18 reviews on this particular rod. And at least 3 of them said that the rod had broken on them after only a short time of use.
Now, 3 reviews might not seem like a lot. But when you consider that there were only 18 reviews total, that's a very high 17%!
With that in mind, I pondered on whether I should exchange the broken rod for another of the same model, or opt for a different brand and model. I quickly checked the Dick's Sporting Goods website and verified that they definitely had at least one of the Escalade rods in stock at my local store, so off I went to pick up a replacement rod.
What to Do?
When I got to the store, I went right to the customer service desk and told them that I had already called in. They took the old rod and told me to pick out a new one. So I went directly to where I knew the rod would be. Sure enough, there was one of them in stock. Just one.
I picked it up and checked it thoroughly, and it looked good. Then I looked to see what other rods they might have that would be comparable. Nothing else there impressed me, except the Lew's Carbon Fire spinning rod. But that rod was a full $30 more than the Escalade.
After going back and forth in my head for a few minutes, I put the Lew's rod back and walked to the customer service desk with the replacement Escalade rod in my hand. They made the exchange and I went on my way. It was quick and painless.
Since then, I have used that rod many times with no issues. I have landed several more fish on it and haven't experienced a single problem. I'm hoping that's an indication that this rod will last me at least a few years.
Eventual Replacement
But I will be honest. I may just pick up the Lew's Carbon Fire rod before next Spring. I know those are great rods, based on my excellent experience with 4 or 5 of their casting rods of the same model.
If I catch them on sale at Dick's, I can probably get one for as little as $49.99. In fact, at the time of this review, they're actually on sale for $59.99!
Back on Topic
So, with all of that said, let's get back to finishing the Quantum Escalade Spinning Rod Review and see if we can get it wrapped up.
What I like about it:
It's very lightweight. It isn't tiring or cumbersome to use for long periods of time.
It's reasonably sensitive for a rod in its price range.
It has a great "feel" to it, both when holding it and when playing a fish.
It has a wire hook keeper.
It's priced reasonably.
What I Don't Like
Just as I like to tell you what I like about a product, I also make sure to tell you what I don't like.
For this rod, I obviously don't like the fact that it broke after landing only a handful of bass on it.
I also don't like the placement of the wire hook keeper or the design of it. It's located at the bottom of the lower grip. It's tucked very tightly against the rod blank, so it doesn't get in the way at all.
But the location is a nuisance and it isn't Texas rig friendly.
The fact that 17% of the reviews from the retailer's website mentioned having the rod break on them after only using it for a short time also bothers me. It tells me that there's an obvious quality problem, either in the engineering of the rod, or with the materials used. It leaves me hoping that the replacement rod I have doesn't eventually break again. But only time will tell me whether that happens or not.
Wrapping it Up
For the time this rod lasts me, I will use it and enjoy it for as long as it lasts. If it happens to break again, I'll update this review and make it known.
I'm really on the fence when it comes to what to give this rod for a rating.
Writing a fair Quantum Escalade Spinning Rod Review is tough in light of the first rod breaking as quickly as it did, as well as the negative reviews I found mentioning the very same problem, but the new one holding up so far with no further problems.
So, here's what I'm going to do. I'm going to give it a 4 star rating, but with the understanding that my rating may go down at a later date if this rod also breaks or fails somehow within the next year or less.
Click here to check this rod out now.
If you prefer, check out the Lew's Carbon Fire Spinning Rod by clicking here.
If you like this article, please be sure to share it with others!
And feel free to leave comments below.
Good fishing <><