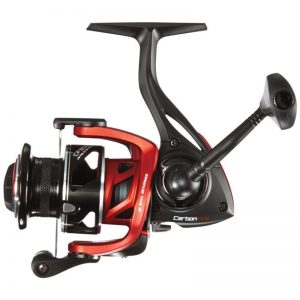 Tackle Test is reader-supported. When you buy products through links on our site, we may earn an affiliate commission.
Learn More
.
Lew's Carbon Fire SK Speed Spinning Reel Review
I don't buy a lot of spinning reels. So, it's a bit different for me to be writing this Lew's Carbon Fire SK Speed Spinning Reel Review.
With that said, I bought this Lew's Carbon Fire SK Speed Spinning Reel with high hopes, but also with a bit of hesitation. I did some research before buying it and found a decent number of mediocre and poor reviews. But I like Lew's rods and the two Lew's baitcasting reels that I own, so I wanted to give this spinning reel a try.
I bought my Lew's Carbon Fire SK Speed Spinning Reel back at Christmas time, with some gift cards I received from my daughters. The bad part of this is that I had no opportunity to even try the reel, since everything here where I live was frozen.
So, the reel sat on my boat for two months before even getting line spooled onto it.
Time to Fish Again
After waiting for the ice to melt on my local lakes, I finally got to mount the reel on the new Carbon Fire Spinning rod. Then I spooled some fresh Sufix Siege line onto it. All was good. The reel felt smooth and it was quiet. The line spooled onto the reel smoothly.
A week or so later, I was using it on the water for the first time.
For my first trip out, I had tied a small, shallow diving crankbait onto this rod. The reel was great. It continued to be smooth and quiet.
But on the second trip, I started hearing a slight noise whenever there was tension on the line. Even a small amount of tension, such as when a crankbait was being retrieved would cause the reel to make this noise. There was nothing I could do to stop it from happening.
Back to The Store
In light of the fact that the reel had only been used on two trips, I decided it would be best to take it back to the store. But, because it had sat in my garage for two months, and then I had used it twice in two weeks, more than 60 days had gone by since I had bought it.
Dick's Sporting Goods has a 60 day return policy on their products. After 60 days, they ask that you handle any warranty issues with the product manufacturer. But after I explained to them that the reel had actually sat in the package due to winter, they gave me a break and said they would exchange it for me.
So, I made the trip to the store, exchanged the reel and headed back home.
Immediate Concerns
The next day, when I took the reel out of the blister pack so I could mount it on my Carbon Fire rod and spool line onto it, I had immediate concerns.
The first thing I did after cutting the package open was to switch the handle to the right side of the reel. The next thing I did was to give the handle a spin. And when I did, my heart sank right away.
When I spun the handle and let go of it, it barely continued spinning. It went about a half turn and stopped dead in its tracks. I gave it another spin and it did the same thing.
Well, I wanted to give it a fair shot, so I spooled line onto it and tied the crankbait back onto it, hoping that it might free up some after using it a bit.
That Didn't Happen
Sadly, that didn't happen. I used the reel for a trip or two and decided I'd had all I could take. So back to the store I went.
Ultimately, I ended up getting a refund on the Lew's Carbon Fire SK Speed Spinning Reel.
Two Strikes
Two strikes was enough for me. I wasn't going back for a third one. Once I had gotten the refund, I ended up buying a new Okuma Stratus VI spinning reel.
I will be writing a review on that reel later, after I've had a chance to put it to the test on the water. But let me say right up front, the Okuma reel is smooth and quiet, feeling like much better quality than the Lew's Carbon Fire spinning reel.
Wrapping it Up
I'm giving this reel a 3 star rating. I believe that I somehow stumbled onto a batch of bad reels, which is unfortunate because the reel feels like it's built with quality components.
I was really disappointed that this one didn't pan out for me. I like Lew's products and have had great success with many of their other reels. WIth that said, though, all of those other Lew's reels were casting reels.
With this bad experience, it will likely be a while before I buy another Lew's spinning reel. But when I do, you can be sure I will be reviewing it here!
As mentioned previously, I'm giving this reel 3 stars.
Instead of this reel, I recommend that you check out the Okuma reel that I ended up buying. Click here to check it out now. It costs less and is a much smoother reel.
If you like this article, please be sure to share it with others!
And feel free to leave comments below.
Good fishing <><