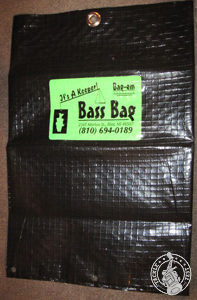 Tackle Test is reader-supported. When you buy products through links on our site, we may earn an affiliate commission.
Learn More
.
The Bass Bag
For this Tackle Test, I want to talk about a tackle accessory that may not be very well known, but it's something I believe every angler should have on their boat, whether they are a tournament angler or not. So, welcome to my Bass Bag review.
The size or cost of an item doesn't always dictate its importance. Such is the case with the Bass Bag.
What the Heck is The Bass Bag?
The Bass Bag is actually a small, heavy-duty plastic bag designed for the sole purpose of weighing a single fish, while protecting that fish from the usual stress and possible injuries normally associated with weighing fish on hand-held digital scales.
Let me give you a little background as to how I stumbled across this unique accessory. I had planned a night fishing trip with a good friend of mine, so we met at the lake and got everything ready and then headed out onto the lake.
The early part of the trip was uneventful, with no bites during the first half hour or so. My buddy had never been to this particular lake, so as we fished he was asking me some questions about it. I was filling him in on what I knew, based on my own past experiences.
One of the questions he asked me was what I thought the big fish of the night would be. I told him that I thought we would catch at least one fish between 5 and 5 1/2 lbs. When I told him that he was excited and told me that we would need to make sure we weighed anything big that we happened to catch.
That caught my attention because I usually just estimate the weight of my big fish, unless they look to be substantially bigger than most of the other big bass I've caught over the years. I do this because I don't want to harm or damage the fish by hanging it on a scale. When I mentioned this, he showed me The Bass Bag and told me about how easy it makes it to weigh a fish without having to handle it too much or fumble around hanging it on a hand-held digital scale. This definitely caught my attention.
A bit later, when it had gotten almost dark out, I was throwing a topwater bait and a bass slurped it under the surface. I set the hook and knew it was a good fish, so here was my chance to see The Bass Bag in action 🙂
I landed the bass and it was definitely a good one. I estimated it at somewhere between 5 & 5 1/2 lbs. Once the fish was unhooked, my buddy got his Bass Bag out and told me to slide the bass into it, head first. I went ahead and slid the fish in and then he placed the hook of my digital scale through the large metal grommets at the top of the bag.
What Makes The Bass Bag Special or Unique?
The Bass Bag has two metal grommets at the top… one on each side of the bag. The grommets are centered horizontally. Placing the hook of the scale through both grommets holds the top of the bag closed securely, eliminating any chance for the bass to jump or fall out while you're weighing it.
Additionally, The Bass Bag is made of heavy, reinforced plastic, so there's no chance of even the heaviest bass tearing the bag. The reinforcements are visible vertically and horizontally throughout the bag and the bottom seam is stitched with heavy duty thread.
The Bass Bag is also made of a black material, which prevents the bass from seeing light. This has a calming effect on the bass and keeps the fish the fish from thrashing while it's being weighed. All of this means that the fish is not being harmed or damaged in any way at all. Another advantage of weighing a fish in The Bass Bag is that it helps keep the fish moist, preventing damage to the fish's slime coat.
The Bass Bag is "just the right size" for weighing fish that would typically be caught during an average day of fishing. It measures 12″ x 18″. Even bigger-than-average fish fit easily into the bag for weighing. I've weighed largemouth bass over 6 lbs. with no problems at all. My guess is that you would have no trouble weighing fish well into the high single, and possibly even into the low double digit range.
Weighing a fish with The Bass Bag is about as effortless as it can get. If you're in a hurry to get the fish back in the water, using The Bass Bag will let you weigh the fish and get it back into the water in a minute or less.
All of this is obviously beneficial for the bass, and if you're a tournament angler it benefits you too, by saving you quite a bit of time when weighing a fish during a tournament. Time wasted on trying to get the fish to hang calmly on the hook of your digital scale is a thing of the past, as are bass flopping on your carpet because they've fallen off your scale while trying to weigh them.
I was so impressed with The Bass Bag after using my buddy's that night, I decided to buy one of my own shortly thereafter. I immediately saw the benefits after weighing just that one bass I had landed.
Because The Bass Bag doesn't have moving parts or any other kind of user-interactive functions, there isn't much else to test, review or critique. The only thing remaining to be discussed is the price.
The Bass Bag is available for around $10. I purchased mine online for $9.97. My initial impression was that this is a bit pricey for something so small. After using it for the remainder of the season, I still think the price could be dropped to around the $7 – $8 range, but $10 is not a terrible price for this accessory.
Wrapping it Up
So what's my opinion of The Bass Bag after using it for a while?
I like it. In fact, I like it so much that I highly recommend it, even at the $10 price. I've found it to be a very valuable tool, both for tournament use and recreational angling. I'll even go so far as to say that I think anyone who intends to weigh fish on a hand-held digital scale should have one of these. They protect the fish. There's no doubt about it. They are also affordable, so nobody can really say that they can't afford to buy one 😉
As for scoring it on my 5-star rating system,  the only factor that stops me from giving it a full 5 stars is the price.  Because I strongly believe this item could/should be sold a bit cheaper, I give it 4.9 stars out of 5. That's not too shabby for such a simplistic device.
So do yourself and the fish a huge favor; buy The Bass Bag. You'll be glad you did and after you've used it a few times you'll probably wonder how you got by for so long without it.
Oh… and that fish that I landed at the beginning of this review? It weighed 5 & 1/4 lbs. We also went on to catch another one just under 5 lbs. that night too. Thanks to The Bass Bag, we actually weighed both of them instead of estimating.
Unfortunately, as we were getting ready to publish this review, we learned that this company seems to have gone out of business. Their website is no longer running and the phone number on the Bass Bag is no longer in service. That's really unfortunate, because they had an awesome product!
We will notify you if/when we find a comparable replacement for this cool fishing accessory.