Lew's Mach II Speed Spool Baitcast Combo Review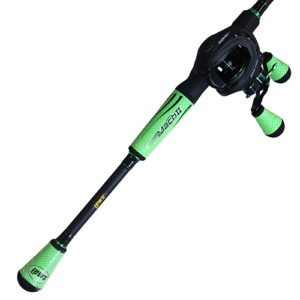 About a year and a half ago I was in the local Dick's Sporting Goods store, looking at baitcasting combos. I knew I needed a new one, but wanted to keep it fairly reasonable in price. And I wanted something very specific.
I like to fish a specific type of soft plastic bait from early spring through late fall. It's a craw bait that I've caught a ton of big bass on during the last 5+ years. It resembles the Sweet Beaver, but it's actually made by another company.
The rod I was looking for would need to be a medium heavy, between 6′ 10″ and 7′, with a fast tip (but not too fast) to use with this particular bait.
I didn't want it to be too stiff. I fish the Beaver knockoff on 17 lb. fluorocarbon, usually with a 3/16 oz. bullet weight, unpegged. Because of the light weight of the bait and bullet weight, a rod with too stiff a tip would give me grief with casting accuracy and lack of sensitivity. So it had to be just right.
I Tried an Abu Garcia Combo First
I had previously tried ordering an Abu Garcia Pro Max combo from Amazon, in the 7 ft. MH version. And while it was a decent setup for the money, the rod was too stiff for my liking (for that specific bait) and made it a real pain (more…)