Balaclava SA Face Shield Review
We thought it was about time someone did a Balaclava SA Face Shield Review. After all, the balaclava has become a pretty standard piece of fishing apparel for thousands upon thousands of anglers worldwide.
Maybe you're asking "what the heck is a balaclava?". Good question!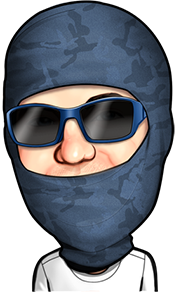 A balaclava is one of those stretchy things that you can wear to cover your face and neck during cold weather or hot weather. In colder climates, it provides protection from the cold and wind. In warmer climates, it provides protection from the sun, preventing sunburn.
They've become wildly popular during the last year or two. Pro anglers and amateurs alike are wearing them for protection from the elements. Some people even use them to keep pollen out of their face during the spring season. And even mosquitos can be kept at bay if they're biting your exposed skin.
And, yes, they can even be stylish if you want them to be. These stretchy face shields can be used in dozens of ways besides covering your face. I actually wear mine to cover my neck when the weather starts to turn cool. And if it gets too cold, I just slip it up over my mouth and nose and have instant relief from the cold.
One of the things I noticed is that Read more ›