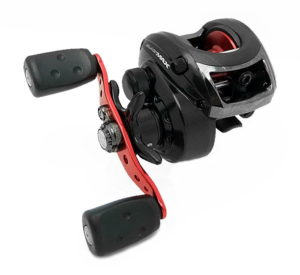 Tackle Test is reader-supported. When you buy products through links on our site, we may earn an affiliate commission.
Learn More
.
Abu Garcia Black Max 2 Combo Review
I've been wanting to put this Abu Garcia Black Max 2 Combo Review together for a while. Finally, I'm getting it done 🙂
During the past year and a half I've bought and used three Black Max 2 Combos and have put them all to good use, on the water, in real-life fishing situations.
I've fished with them in tournaments, while pre-fishing for tournaments and while fishing recreationally. So they've been used in all conceivable situations and under many different conditions.
I've used them from ice-out until Winter was setting in again, in water temperatures from the low 40 degree range up into the high 80s. And the same can be said for air temps.
I've gotten a really good feel for these reels, and the rods. I learned about their good traits and their not so good traits. Although the not-so-good is pretty minimal when compared to the good.
So let's get started with the meat and potatoes of the write-up and review.
First, let me state what I like the most about the combo as a whole, before I break it down into the rod and the reel separately.
The First Thing I Like
The combo is very, very affordable and very reliable. There aren't many anglers who can't afford to buy this combo, especially if you can find it on sale somewhere. I bought all 3 of my combos at Dick's Sporting Goods. And I got them all on sale, for something like $59.99. That's a crazy deal for a rod and reel of this quality.
Even at the regular price of $69.99, it's still a steal of a deal for a complete baitcasting outfit that will last a few years or more, if cared for properly.
Now, don't get me wrong. I'm not saying that this is a high end combo. It's not. Not by anyone's standards.  But when you compare the price to what you get, it's a no-brainer to buy it if you're in need of a new baitcasting outfit on a budget.
So let's start with the reel, and how it performed over these last 18 months or more.
What Else I Like
First off, it casts like a rocket. The bearings are smooth in this regard. Or maybe smooth isn't the absolute best word to use. How about free-spinning? Heck, I don't know, but hopefully you're getting the point here. These reels will cast a country mile and backlashes are almost non-existent, especially if you're a seasoned baitcaster.
Here's how I set these reels up to cast far, with no backlashes. First, I set the manual brake as free as it can get. I tighten it up a bit and then back it off until the spool has just a tiny bit of side-to-side play/movement. Not a lot of movement, but just enough so that you can see it or feel it if you put your thumb on the spool and try to move it back and forth. So at this point, this brake is basically not doing anything to slow the spool down at all.
Second, I turn the magnetic brake to the max setting and then go back 1 click. That's it. If I'm chunking a 1/2 oz. bait, this works perfectly. If I'm tossing something less than 1/2 oz., I will back the magnetic brake off another click, or maybe even two. But I only go one click at a time in order to get it where I want it, without taking the chance on having  a major blowout when I cast after making an adjustment.
Adjusting Your Reel
Always remember, especially if you're new to baitcasting, to make brake adjustments in small increments. Make a small adjustment and make a cast. If it's not quite where you want it, make another small adjustment and try again. Do this until you get it dialed in to precisely where you want it. It might take a few extra tries this way, but it saves you the headache of making a cast and getting the backlash of a lifetime because you adjusted too far in the wrong direction.
So once you get this reel adjusted, you should have no trouble getting great distance, and having no backlashes.
Once you've cast, and you're ready to retrieve, this is where you'll feel the budget aspects of the reel the most. The gears are good, but not great. That's not to say they're junk. They're absolutely not. But they're not high-end gears. You will feel them on the retrieve. They're not terribly noisy, or anything like that. But you'll hear them a bit and feel them a bit on the retrieve. They won't grind. They just don't feel butter-smooth.
One thing I'd like to note here is that I bought 3 of these combos. And with all 3 of them, each reel felt and sounded a bit different than the others. To me, that says something about quality control when it comes to the manufacturing process. The tolerances aren't tight, that's for sure. If they were, there would be little or no variation between different reels of the same model.
With that said, none of these reels has failed. They are all still being used on a pretty regular basis.
They've Seen Some Hard Use
One of these reels was used for spinnerbait fishing for quite a while, which is pretty hard on a reel, with constant casts and retrieves, for hours at a time. And it stood up to the rigors of constant casting and retrieving with no signs of premature wear, at all.
In fact, regarding longevity and durability, here's a little story for you to show that these reels really do stand up and take a beating. I was fishing a tournament on a lake in nearby Connecticut. Having a limit of bass, but no big fish had me on the hunt to upgrade my weight, so I knew I needed to change what I was doing if I was going to entice those bigger fish.
I rigged up a flipping bait on a fairly heavy action rod and paired that bait with a 1 oz. bullet weight, pegged to keep it tight to the bait. Then I proceeded to punch lily pad mats, hoping to catch the bigger, more wary fish that might be buried deep in the middle of them. Guess what. It worked!
It only took me a few minutes of doing this to hook up with my first bass. And let me tell you, you talk about close quarters battles! When the fish would hit, I would have to set the hook hard and immediately rip them from the cover to keep them from burying themselves and getting away. So I had my drag locked down tight and showed no mercy to the fish, or to my equipment.
I Was Worried!
By the time I had hooked the 3rd fish I was really afraid that my reel might just blow up from the impact of the hard hooksets at close range. But I was worried for nothing! I ended up hooking 4 decent bass this way, landing 3 of them, and the Black Max reel never flinched. I have used it since then with no qualms at all. So it came through those battles with no damage at all.
Let's talk about line for just a minute. First, I don't fish with braid. At all.
I know, I know. Methods like punching pad mats would be better done with braid. But I just don't like braid. I prefer mono or Fluorocarbon line. So my Black Max reels have had mono fished on them their entire lives. For mono, I use Sufix Siege most of the time. It's tough line that behaves itself in every type of weather and under any conditions I've used it in. For spinnerbait fishing, it's usually 17 lb. test on these reels, and they handle it perfectly.
The reel has a 6.4:1 gear, which  is a good all-around ratio for many types of fishing. It has a total of 5 bearings (4+1), so it's actually pretty smooth. And it's these bearings that allow it cast smoothly.
So, now let's talk about the Vengeance Rod that comes with this combo.
I really like the Vengeance rods. As with the Black Max reel, they're a lot of bang for the buck, especially if bought as a combo with the reel in this review.
As with the reel, they are not a high-end product. They're a tad above budget-based rods, though, so in my opinion they're well worth the price, even if purchased as a stand-alone product. They're versatile, light and work well for a variety of applications.
Most of my fishing with the Vengeance rods has been with spinnerbaits, bladed jigs and other types of moving baits. Chunk & wind. But I've also used them on a few occasions for pitching baits into downed timber and similar stuff.
The rods have a fairly stiff tip, so they're not really suited to pitching a 5 inch flipping tube with a light weight (1/8 oz. or less), but I have used them for that on a few occasions, and they worked well enough. They have enough backbone to yank a decent fish out of the timber. But the tip's not stiff enough to give it a broomstick feel, by any means.
For spinnerbait fishing, they're almost perfect. The 6′ 9″ length is perfect on the Medium Heavy rod for chunking a spinnerbait all day long. I've landed fish up to 7 lbs. like this and won't complain for a second about how the rods handled those fish.
Good Rod Overall
I think what I would see as the biggest drawback to these rods is that they aren't ultra-sensitive. But then what would you expect from a sub $60 rod anyway, right?
The Vengeance rod is pretty light and very comfortable to fish with for long periods. I've never had ti become cumbersome to use due to its weight. The handle is comfortable to hold, also.
The guide alignment is very good for a budget rod. I always make a habit of looking down a rod's length to make sure the guides are as close to perfectly aligned as possible, and these rods have been almost right on the money every time with this little test.
So that's my Abu Garcia Black Max 2 Combo Review
I base my ratings on the value that a piece of equipment gives for the money spent, not on how high-end it is. This is the only fair way to judge equipment. Otherwise, it would be useless to review items in this price range.
So in light of that, I am giving this rod & reel combo a solid 5 stars!
As I mentioned earlier, if you're in the market for a budget-based rod & reel baitcast combo, or if you're in a pinch and need an outfit in a hurry without breaking the bank, definitely give the Black Max 2 Combo a try.