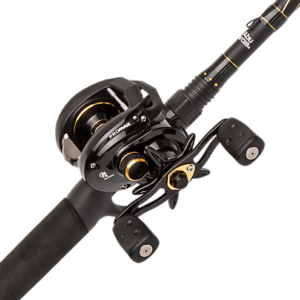 Tackle Test is reader-supported. When you buy products through links on our site, we may earn an affiliate commission.
Learn More
.
Abu Garcia Pro Max 3 Combo Review
In the past, I wrote a review on the Black Max baitcasting rod and reel combo. Today, I will be sharing my Abu Garcia Pro Max 3 Baitcasting Combo Review with you.
I've had this particular Pro Max combo for a year and a half. I actually received it as a birthday present from my wife in 2016. My original intent was to use this combo to fish a Sweet Beaver style bait, in place of an older rod that had developed a cracked reel seat 🙁
This rod and reel had some big shoes to fill. The rod that this one was replacing was a rod that I had bought in Texas in 2011, while I was there to fish at Lake Fork. The company has since gone out of business, so buying a replacement from them was going to be impossible.
So, here I was, on the hunt for a rod that would match the specs and feel of that other rod. That other rod was perfect for my style of "beaver" fishing. It was a medium heavy, with enough backbone to handle big bass, but a soft enough tip to let me cast accurately and feel the bait well as I crawled it across the bottom or pitched it into laydown timber and various types of weed patches.
I had grown to really like that rod because of those characteristics. Would the Abu Garcia Pro Max 3 baitcasting combo fit the bill and fill those shoes? I was about to find out. My only hesitation was that I was buying it online. So I didn't get to hold it in my hands before buying it. I almost never do that. The only exception to this rule is if I'm ordering a duplicate of a rod or a combo that I have already owned. This way there's no guesswork involved.
I Placed The Order
Regardless, I liked the price of this new combo, for just $99.00, so I ordered it and hoped for the best.
Two days later my new rod and reel arrived. Thankfully it was all in one piece and had sustained no damage during shipping. I removed it from the shipping container and promptly spooled some new 17 lb. fluorocarbon line onto the Pro Max 3 reel. Then I rigged up a Salty B-Bug with a small 1/8 oz. bullet weight.
I played with the rod a bit in my garage and in my back yard, to try to get a feel for it before heading out onto the water. It all felt good. But I was a bit concerned about the stiffness of the rod overall. It was rated medium heavy (MH), but it felt a bit on the heavier side than on the MH side.
On The Water With The New Pro Max 3 Combo
The first time I really got to use the rod on the water was for a tournament I was fishing with a friend of mine. It was an evening/night tourney on one of my favorite local lakes. I definitely planned on using the new rod and reel with that Salty B-Bug rigged up, before dark and after dark.
The tourney started at 6 PM and was going to run until 11 PM. About 2 hours or so into the tourney, dusk was setting in and we were fishing in an area I knew would hold some fish moving up from deeper water to feed in the shallows.
I picked a couple of shoreline targets and began fishing with the new setup around a dock. I chucked the B-Bug out and hopped it once. Tick!! The line jumped and I drove the hook home. The rod doubled over and a big bass surged and then jumped. And then the line went slack 🙁
I had no idea what had happened, but that big bass was gone as quickly as it had come. I reeled in the bait and checked the hook; needle sharp. I checked the line; no frays or abrasion. I double checked the drag; just right.
I had done nothing wrong and the equipment was all setup correctly. I stared for a moment and it dawned on me what had happened. The new rod was stiffer than the rod I used to use for the B-Bug. So when the fish jumped almost immediately after the hook set, the stiff rod didn't absorb the shock of the hook set and then the slack in the line, which gave the fish the opportunity to jump and go free.
I stood there for a minute or less, calling myself an idiot for losing that big fish, shaking my head in disbelief. Oh well, shake it off and get my head back into it!
And Another Big Bite
Roughly 5 minutes later in almost the exact same spot, I felt it again; Tick! So I set the hook and made sure to keep slack out of the line this time. Sure enough, a big surge and then a leap out of the water. This bass was psycho, jumping and running all over the place, just like the other one had done.
My partner slid the new under it and hoisted it aboard. I was shocked. I was 99% sure this was the same exact fish that I had lost a few minutes earlier, based on the size of it and the way it had behaved. That was a moot point now, though, because we had it in the livewell. And that fish would anchor a nice bag that would earn us a second place check when the tourney was over.
I ended up landing a few other nice bass that night on the new Abu Garcia Pro Max 3 Combo. And I never lost another fish on it. So it worked out well overall.
About The Reel
In light of the fact that I already wrote a thorough review of the Pro Max 3 reel, I'm not going to bother going into all of the reel's specs or pros and cons. No need to be redundant. If you'd like to read those specs, just click the link above to read it. It will open in a new tab, so you won't lose your place here.
Something Bugged Me
I liked the combo overall. I really did. The reel was smooth and the rod felt good. But it had a couple of nagging little problems that bugged me.
First was the stiffness problem with the rod. This wasn't a defect or a quality problem. But this is the kind of thing that irks me to no end, when a company rates a rod incorrectly.
I realize that there are no standards when it comes to rating the action of a rod. I guess it's just one of those things that we all have to work with when we're buying new rods.
But now that I'd had a chance to fish with the rod, my suspicions about it being too stiff were confirmed. This gave me grief with casting accuracy, even when I bumped the bullet weight up to 3/16 oz., instead of the 1/8 I usually use. It took intense concentration to make sure a cast would go where I wanted it to. Even pitching was a nuisance due to the stiffness of the rod.
Additionally, the reel had a glitch. It made a ticking noise while retrieving the bait. Being a brand new reel, this should never have happened. So, back to Abu Garcia the reel went, where it was promptly replaced. The replacement reel was fine, with no problems. But in light of the fact that a brand new reel had issues, I was a bit disappointed.
Moving Forward
As time went on, I experimented with the rod, using various baits. I finally ended up using it for big spinnerbaits, especially after dark. Big single-spin spinnerbaits work well with this rod, and the extra backbone it has make it a little easier to handle bigger bass, especially with the rod being a full 7 ft., instead of the usual 6′ 6″ or 6′ 10″.
The handle/trigger area does have a small bump where the trigger joins the actual handle. This can get a bit annoying after making a few hundred casts in a tourney, but it doesn't actually hurt in a painful kind of way. It just kind of keeps reminding you that it's there.
Wrapping It Up
Now that I've used the rod for going on 2 full seasons, I can say that it has held up well. I have landed several really nice bass on it and have made thousands of casts with it over this time.
I have experienced no further problems with the reel. And the rod is solid. It's not the most sensitive rod in the world, but it works great for moving baits, like spinnerbaits or bigger topwater lures that require a beefy rod to chuck them with.
One of the things that I want to mention is that this rod, like all of other Abu Garcia rods, has a Texas Rig-friendly wire hook keeper that makes storing your lure a snap.
The hardware on this rod has held up very well. There are no signs of any wear at all. The handles still look good and are not cracking or peeling at all. The guides have stayed firmly in place and none of the guide inserts have come out. All in all, it's a great rod for the money, especially when you figure that the whole outfit costs less than $100.
Based on my experience with this combo, I really want to give it 5 stars. But because of the defective reel that I received, and because of the fact that the rod is rated incorrectly (in my opinion), I am giving it a very solid 4 stars.
Armed with what I have shared here, you have what you need to buy this combo with the understanding that the rod is a bit stiff, so if you're looking for a 7′ casting rod to use with heavier baits, this one fits the bill for you and I would highly recommend it.
There are actually two different retailers where you can buy this combo from.
If you prefer to buy it from Dick's Sporting Goods, then please click here. Dick's gives free shipping on orders over $49. Or you can pay for it online and then go to your local Dick's store and pick it up there.
If you prefer Amazon, you can order it from them by clicking here. Amazon is currently showing the price at $98.30 (as of this writing). The price on Amazon does fluctuate, though, so please be sure to check it before making your purchase. Amazon will ship this item for free if you have a Prime membership.
If you like this article, please be sure to share it with others!
And feel free to leave comments below.
Good fishing <><