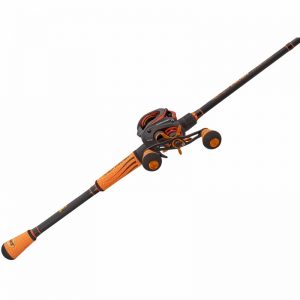 Tackle Test is reader-supported. When you buy products through links on our site, we may earn an affiliate commission.
Learn More
.
Lew's Mach Crush Speed Spool SLP Baitcasting Combo Review
As you've read in many of my other fishing tackle reviews, I don't like to spend a ton of cash on fishing gear. I think it's unnecessary. So when I laid out the cash for the Lew's Mach Crush Speed Spool SLP Baitcasting Combo, I flinched a little at the $199.99 price tag. It hurt a little. But the pain went away quickly once I started using it. And now here I am writing this Lew's Mach Crush Speed Spool SLP Baitcasting Combo Review so you can become a believer too!
It was my birthday, and my wife wanted to buy me some new tackle. So, I struck a bargain with her and told her that if she would pay for half of this combo, I would pay for the other half. She agreed, so off we went to the store to pick it up 🙂
I went through the Mach Crush baitcasting combos on display, I checked each one to look for defects or possible damage from being handled by other people in the store prior to me. Once I settled on the one I wanted, I carried it around with me as I debated whether I really wanted to spend the money or not.
While I was there, I also picked out some line for it. After much debate, I settled on a spool of 40 lb. test Sufix 832 braided line. I wasn't sure how long I would stick with the braid on this setup, but it's what I decided to start with for a few reasons. I will eventually write a review on that line. But for now I want to stick with the Lew's Mach Crush Speed Spool SLP Baitcasting Combo Review, so we don't get off track. But I digress.
Ultimately, I walked to the front of the store and paid the $199 and left to head home.
First Trip
The cool part about buying the Lew's Mach Crush Baitcasting Combo that day was that I had a tournament that night, where I would get a chance to give it some on-the-water testing right away. I was hoping that I would get to land some big fish on it. We would see.
As it turned out, the bite for me that night was tough. I did catch a kicker fish that weighed just shy of 6 lbs. But it was on my Lew's Mach II Speed Spool Baitcast Combo, not on this new setup. I did manage to catch one small bass on the new setup, but that was all. So, even though I didn't catch a lot of fish on it, I did start to get a feel for it.
First Impressions
I typically don't like to use a new rod & reel combo for the first time in a tournament, especially a night tournament, where visibility is at its lowest. I never know how it's going to behave during those first few casts. And the last thing I want to do is create a massive backlash on my first cast with a new combo and waste time having to pick it out.
Thankfully, my first cast with the Lew's Mach II Speed Spool Baitcast Combo wasn't nasty at all. It was smooth and uneventful. As I said earlier, my fishing that night was also pretty uneventful, with the exception of the 6 lber. and one other good fish. But I was glad that this new rod and reel behaved itself.
Going Forward
As I also mentioned earlier, I bought 40 lb. braid for this combo. I had some very specific ideas for the braid that never really panned out. And, since I fish in a lot of lakes with an over-abundance of rocks and boulders, I didn't want to leave the braid on it forever.
So, after fishing with the braid for a few weeks, I decided to switch over to 17 lb. Stren Fluorocarbon line. This would be better suited to the types of fishing I really wanted to do with this setup.
I stripped the braid off, putting it on another spool for later use, and spooled some brand new fluorocarbon line on it. Now I was really ready to put this combo to the test.
What Happened?
Well, I learned that this reel behaves very differently with fluoro than with braid. Setting it up for fluorocarbon requires a whole different approach when it comes to setting it up and dialing it in. At least it did for me.
I spent a bit of time on the phone with someone from Lew's, just to get some inside info on tips and tricks for dialing this reel in.
Here's what I learned that was super helpful.
Dialing it In
The internal centrifugal brake comes from the factory set with two pins on and two pins off. The magnetic brake comes set at the 50% mark. Lew's recommends that the reel be used initially with these two settings exactly like this.
They also strongly recommend setting the spool tension knob using a "drop test". I asked them to clarify this for me. They went on to explain that the lure you intend to use should be tied on and reeled almost to the tip of the rod, The rod should then be held at roughly a 45 degree angle, and the spool release be pressed.
When the button is pressed, the lure should fall slowly and either hit the ground so slowly that it doesn't cause a backlash, or it should stop gently before hitting the ground. Once this is correct, you should, theoretically, be able to cast with no issues.
If the reel seems like it wants to backlash, the other two centrifugal brake pins should be turned on. This should remedy any problems of this kind.
If the cast suffers from not enough distance, start backing the magnetic brake off one click at a time until the desired distance is obtained.
Keep in mind that these are the rules of thumb recommended by the people at Lew's. Your mileage may vary, though, so use them as a guide and tweak them from there, based on your personal preferences and real-life situations.
After Tweaking It
Once you've tweaked these settings and dialed the reel in, you will find it to be a very sweet reel in every aspect.
It's light, smooth, quiet and powerful, all in one package.
Once I got the reel dialed in, I was impressed. Casts were effortless, generating long distances with little effort.
Pitching with this reel is also a breeze, requiring only a flick of the wrist to pitch good distances with a Lure Parts Online  Salty B-Bug and a 3/16 oz. bullet weight.
Casting with this combo doesn't require whipping it out there. Gentle lobs are more than sufficient.
Fighting Fish
I use my rods and reels strictly for bass fishing. I don't fish for other species. But this reel has handled everything I've caught with ease. Hook sets are bone-jarring with the instant anti-reverse. And the gears are smooth and quiet while fighting fish. The 7.5:1 gear ratio makes taking up slack and catching up with a charging fish super easy.
Because I fish this setup around some timber and somewhat heavy weeds, I keep the drag set pretty tight. I don't want it slipping when I set the hook. Because of this, I don't typically have fish running away, stripping line off the reel. I can say for sure that the drag is more than sufficient for these kinds of situations. What I can't really say is whether the drag is smooth if a fish was to suddenly surge and make a run.
The drag uses carbon fiber discs for durability. And it's rated at 20 lbs. of drag, which is more than enough for any bass fishing scenario.
The Guts
My Lew's Mach Crush Speed Spool SLP Baitcasting Combo Review wouldn't be complete without talking about the guts of this reel. Lew's really built this reel to be solid, with 10 double-shielded stainless steel ball bearings, and a Zero-Reverse one way clutch bearing. The main gear and crank shaft are solid brass, so they will last a good, long time.
The reel has a one-piece graphite frame. And while a graphite frame isn't quite as rigid as solid aluminum, it does make it a bit lighter. So even though I prefer to see aluminum frames in reels costing over $100, I won't deduct any points for the graphite.
As I mentioned earlier, this reel has two separate braking systems. Lew's dub this a "Multi-Setting Brake (MSB) dual cast control system". It consists of an external click-dial for setting the magnetic brake, plus 4 individually dis-engageable disk-mounted internal brake shoes that operate on centrifugal force.
The handle on this reel is super comfortable and easy to grab hold of when a fish hits. The handle is 95mm, and made of solid aluminum, making it lightweight, but super strong. The grips are made of Winn Dri-Tac, which makes it easy to hang on, even when they're soaking wet.
The drag adjustment has an audible click, so it makes it super easy to keep track of how far you've backed it off or tightened it up. Adjustments are made using the solid aluminum bowed star wheel. The bow in this knob makes accessing it a breeze.
Let's Talk About The Rod
So far, I've spent a lot of time talking about the combo as a whole, or about the reel. So now let's talk about the rod.
The rod is built using an IM8 graphite blank, with high-end Airwave guides from American Tackle.
The rod features Winn advanced polymer Dri-Tac split-grips. My Mach II combo also uses these grips, as do all of the Carbon Fire casting rods I own. I've grown to really like them. They're comfortable and easy to hold onto, whether it's hot and dry, pouring rain or cold and clear. I just really, really like them. Enough said on that.
The time I have spent using this rod so far has proven it to be very, very light and quite sensitive. Spooling the reel with fluorocarbon line, instead of mono, only adds to that sensitivity.
I bought the 7 foot MH rod. And I will say that the MH rating is a pretty accurate rating. But this particular rod does have an extra fast tip compared to other Lew's rods that I own. So, if I was to compare this rod to the Mach II, there is a definite difference between the two. And this rod is noticeably different with regard to the speed of the rod tip.
Oh, And The Hook Keeper?
One other thing I want to mention is the hook keeper. While looking at these in the store, some had the terrible "hook keeper" that's basically just a hole in the trigger. Others had an actual wire hook keeper. The trigger hook keeper is just plain terrible. It's a hook in the finger waiting to happen if you reach into your rod locker without looking closely to see what you're grabbing hold of.
The wire keeper is a step forward, but it still isn't ideally located. They have placed it so far down on the rod that it's awkward. Additionally, it interferes with the use of lure wraps that I like to use when I have a treble hook lure tied on because it's located just below the reel. As I mentioned, it's definitely a step forward compared to the hole in the trigger. But I really hope they will move it up higher on the rod blank, above the reel, where it belongs.
Final Thoughts
The only other thing I really don't like is the gaudy, bright orange color. I am not a fan of brightly colored rods and reels. But, this is just a personal preference, not a gripe with the rod itself, or with Lew's. This rod does have some black accents on it, but not nearly enough for my taste 😉
Overall, though, I really like this combo. It's a sweet setup to use. It feels like quality all the way around. There is that additional little learning curve when it comes to dialing the reel in. But if you use the guidelines I mentioned above to get started, you'll have no problems at all.
I'm glad I spent the extra money to buy this combo. It's well worth it, in my opinion. And I think that you'll love it too.
This is a 5 star product from the word go. I'm sure that I will enjoy using it for several years to come!
You can check out the Lew's Mach Crush Speed Spool SLP Baitcasting Combo by clicking here.
I hope you've enjoyed my Lew's Mach Crush Speed Spool SLP Baitcasting Combo Review.
If you like this article, or if you found it helpful, please be sure to share it with others!
And feel free to leave comments below.
Good fishing <><