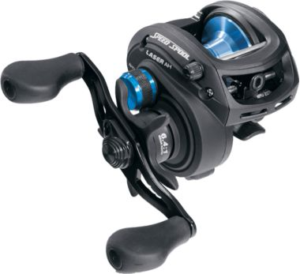 Tackle Test is reader-supported. When you buy products through links on our site, we may earn an affiliate commission.
Learn More
.
Lew's American Hero Baitcasting Rod and Reel Combo Review
For the last 25+ years I have fished with only two brands of casting reels; Shimano and Abu Garcia. So I never thought I would be writing a Lew's American Hero Baitcasting Rod and Reel Combo Review.
I didn't stick to those two brands because I thought Shimano and Abu Garcia reels were the only good reels on the market. It was more that I liked the products that I bought and didn't feel the need to step outside that little box. You know… my comfort zone.
But, during all of those years I heard some very good things about a small number of other reels. Lew's was one of those names that I kept hearing, over and over.
I heard it so much that I kept getting this nagging feeling that I was missing something, and that I needed to buy one of their products and try it. But I kept putting it off for a couple reasons.
One reason was that I was just used to the reels that I had. The other reason was/is that I am a budget-minded angler. I didn't want to buy something that wasn't a necessity. And so it went, for many years.
And then one day I ended up buying a Lew's Mach II Speed Spool Baitcast Combo. You can read more about that here.Now, here I was at the local Dick's Sporting Goods store again. It was about a year after buying my Mach ll combo. And I found myself holding a Lew's American Hero Baitcasting Rod and Reel Combo in my hand and pondering buying it.
I wasn't really in need of a new casting combo. But this particular combo just felt good.
I liked the way it felt in my hand. It was light. Not super light, but light nonetheless. I could tell that it wouldn't be the type of rod and reel combo that would tire me out if I had to use it all day. A definite plus for sure.
And the reel felt smooth. Again, maybe not super smooth. But smooth enough to tell me that it was well made and would probably last a long time if I treated it well.
I ended up carrying it around the store while I thought about it and browsed through some other fishing tackle items. I even went and put it back on the rack once.
And then my wife told me to go back and get it.
We were getting ready to leave the store when my wife noticed that I had put the rod and reel back on the rack. When she asked me where it was, I told her that I had decided to put it back because I didn't really need it. She looked at me and told me to treat myself and go get it. So I did!
Now here's the funny part. I bought this rod and reel on a Friday afternoon. That same night I had a club tourney to fish. It was an all-night tourney, running from 10 PM until 6 AM the next day. Yes… we're hard core when it comes to night fishing!
So, later that day, as I was prepping my rods and reels for the tourney, I got about 8 or 9 rods setup with suitable lures for the night tourney. I was all set, until I realized that I forgot all about my new Lew's rod and reel! I had already spooled fresh new Sufix Siege fishing line on it, but I failed to tie on a lure.
So, as I pondered for a minute on what to tie on, since I already had all of my night fishing essentials on, I made a quick decision to tie on a 5 1/4 inch stick (Senko style) worm, but with a 1/16 oz. bullet weight, instead of the usual weightless rig. I laid the rod in with the rest of the ones I had rigged up and strapped them down to the front deck and didn't give it another thought until I was on the water and starting to fish.
Where the Rubber Meets The Road
Several hours later, as I eased up onto one of my favorite spots, I had a hunch (based on the conditions) that I should throw that Senko style bait. So I grabbed my new Lew's American Hero Baitcasting Rod and Reel, checked the drag and double checked the brake settings before making my first cast with it.
The stick worm hit its target and within a second or so I felt a light tick and then felt tension on the line. I set the hook hard and the rod bowed over pretty good! A few seconds later I hoisted a nice 3+ lb. bass over the side of the boat 🙂
That was the first of many good bass I would catch that night with the new Lew's combo. And it handled all of them like a dream.
Fast forward about a week, back on the same lake. But this time I was guiding for a couple of local anglers. Again, we had conditions that looked ideal for the same bait on the Lew's combo. I felt a tick, set the hook and the rod doubled over again. 2 seconds later a big largemouth came shooting out of the water, shaking its head like crazy.
I landed the fish and unhooked it. Then I had one of the anglers in the boat with me shoot the pic to the left. Then Mrs. Largemouth swam happily away to be caught again another day. As with the first time that I used this combo, the rod and reel performed flawlessly.
The Meat and Potatoes of it All
So, now that I've spent some time telling you about my on-the-water experiences with this comob during the first week or so of owning it, let's talk about the equipment itself. Let's discuss what I like about it and what I don't like… the pros and cons.
First, the pros.
First, the Lew's American Hero Baitcasting Rod and Reel is affordable. This is one of the first things I look for in the fishing tackle and equipment that I buy. I don't like to spend a lot on the stuff I buy. I'm not on the road, fishing tournaments professionally on lakes across the country. So I don't need that level of equipment.
I want good tackle, but I don't want the high end stuff that costs me an arm and three legs to buy. And trust me when I tell you that there is plenty of great equipment available for reasonable prices if we spend a but of time doing some homework.
The Lew's American Hero Baitcasting Rod and Reel combo is one of those pieces of equipment. It's built well and performs well, creating a great value for the money. I got a great deal on it when I bought mine. And even though I don't see the combo available at Tackle Warehouse now, they do still have both pieces available. So they can be bought as individual items and paired up when they arrive.
The Reel
The reel is smooth. It's obviously not as smooth as a $200 reel, but that's to be expected for the price range this reel falls into. The gears are quiet and I don't hear any kind of ticking noises or loud noises from the gears meshing as I retrieve a lure. Of course I can hear them winding if I reel extremely fast when I'm cranking a lure in just to make another cast. But it's nothing more than what you would normally expect to hear when cranking a reel at that rate.
It casts extremely well and I can honestly say that I haven't had a single backlash with it after using it for 4+ months under a wide variety of conditions.
This reel sports 5 bearings. 4 ball bearings, and one roller bearing for the instant anti-reverse. Again, there are many reels with more bearings, but those are in another price range. The bearings are smooth and quiet. And that's all you can ask for in any reel.
The drag has a max of 10 lbs. of pressure, which is more than enough for most bass fishing applications. That might not make it the best candidate for flipping heavy cover, but for just about any other type of fishing, it's more than sufficient.
Weighing 7.2 oz., it's on the light side. It's not one of the lightest reels you'll buy, but also isn't the heaviest. It's comfortable to fish with for long periods of time and it palms well.
Overall, I have no complaints about the reel at all. It just works well and I like it. Plain and simple.
Let's talk about the rod
I bought the medium heavy rod. I liked the fact that the tip was light enough to make accurate casts with lures that didn't need to weigh 1/2 oz. or more. There are way too many "broomstick" rods on the market that are labeled as medium heavy. This isn't one of them.
What I will say, though, is that this rod feels and fishes a little more on the medium side than on the heavy side. With that said, I need to note the fact that the model I bought was 6′ 10″. I no longer see that model available. So maybe the 7 ft. version will fish a little heavier. I have a Lew's Mach Speed Stick Casting Rod in the 7 ft. length, that I will be reviewing in the near future. And it is a bit stiffer than this rod. But not unreasonably so.
This rod has 9 guides, plus the tip, which is very good for a rod in this price range. There are no big gaps on the blank where guides are sparse or noticeably missing. The guides are stainless steel with stainless steel inserts.
The handle is a split grip style, which I really like. It's comfortable to use and isn't bulky or heavy. It's made from EVA foam, so it's "grippy", even when wet. And, being black, it doesn't show dirt and grime from the oil and dirt that might transfer from your hands to the handle.
Sensitivity is a big deal for most people when it comes to rods. This rod is sensitive. But once again, it's not nearly as sensitive as rods in a higher price bracket. I use this rod primarily for stick worms. And for that it works well. Stick worms are not the easiest baits to feel bites on. Bass will typically just inhale it and swim away, with more than half the bites going undetected.
With this rod, you feel bites most times when you should. As with any other rod in this price range, there wlil be some times when you miss some bites. It's just part of fishing soft plastics.
I haven't used it for a wide variety of baits. It's been mainly used for soft plastics. But it works well for this application.
It handles big fish well. I have caught several bass up to 5 lbs. on this setup and I have no complaints whatsoever about how the rod (or the reel) handled those fish.
So, now let's talk about the cons.
I can honestly say that I have found only one con with this combo. And it's not with the reel. It's with the rod. It's not major. In fact, it's pretty minor. But I would be amiss if I didn't talk about it.
As I mentioned above, I have another Lew's rod (The Mach Speed Stick). And my biggest complaint about that rod is the lack of a wire hook keeper. It does have a hook keeper, but it is the most ridiculous thing I have ever seen. But I won't get off track here. You can read more about that when I write the review for that rod and reel combo.
For now, though, I want to make note of the fact that Lew's did actually put a wire hook keeper on this rod. The location of it is a bit odd, being located way down under the lower part of the handle.
Having it located there is inconvenient and just strange. I'm not sure what their logic was in doing this. But needless to say, it is what it is, so I deal with it for now.
Despite it being a wire keeper, it isn't Texas-rig friendly. So this means that when you're finished fishing for the day, you'll need to pull the soft plastic from the point of the hook in order to use the keeper. Again, not a major inconvenience, but totally unnecessary.
But that's it. That's the only complaint I have about this rod. Like I said, it isn't major at all. Just irritating.
Wrapping it up
Let's wrap this up so you can get back to fishing!
As always, I base my reviews on the value of the product vs. the price. And the Lew's American Hero Baitcasting Rod and Reel has no problems at all scoring a solid 5 stars. No, it isn't on par with a $300 setup. But there's no reason why anyone should expect it to be.
So if you're in the market for a good, solid budget-friendly baitcasting combo, buy this reel and this rod. You won't regret it.
Click here to check it out now.
If you like this article, please be sure to share it with others!
And feel free to leave comments below.
Good fishing <><