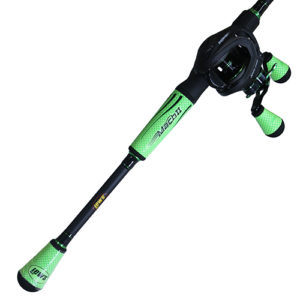 Tackle Test is reader-supported. When you buy products through links on our site, we may earn an affiliate commission.
Learn More
.
Lew's Mach II Speed Spool Baitcast Combo Review
About a year and a half ago I was in the local Dick's Sporting Goods store, looking at baitcasting combos. I knew I needed a new one, but wanted to keep it fairly reasonable in price. And I wanted something very specific.
I like to fish a specific type of soft plastic bait from early spring through late fall. It's a craw bait that I've caught a ton of big bass on during the last 5+ years. It resembles the Sweet Beaver, but it's actually made by another company.
The rod I was looking for would need to be a medium heavy, between 6′ 10″ and 7′, with a fast tip (but not too fast) to use with this particular bait.
I didn't want it to be too stiff. I fish the Beaver knockoff on 17 lb. fluorocarbon, usually with a 3/16 oz. bullet weight, unpegged. Because of the light weight of the bait and bullet weight, a rod with too stiff a tip would give me grief with casting accuracy and lack of sensitivity. So it had to be just right.
I Tried an Abu Garcia Combo First
I had previously tried ordering an Abu Garcia Pro Max combo from Amazon, in the 7 ft. MH version. And while it was a decent setup for the money, the rod was too stiff for my liking (for that specific bait) and made it a real pain to cast the bait accurately with such a light weight. I also found that the extra stiffness caused some problems with losing fish shortly after the hook set, due to lack of shock absorption.
The stiff tip of the Pro Max MH rod didn't handle a jumping fish well at all due to not being soft or flexible enough to absorb the change in tension on the line when a fish surged toward the boat or made a jump. The fact that I was using fluorocarbon line only amplified that problem due to the lack of stretch.
I've since used the Pro Max combo with other baits that the rod was better suited for, and I'm pretty happy with it. But, the fact that the Pro Max combo didn't suit my needs kept me on the lookout for a more suitable rod or rod/reel combo.
I Like to Buy Only What I Can See and Touch
I'm not a fan of buying rods via mail order. I rarely do it, unless I'm buying a duplicate of a rod I already own. Here's why. I want to hold the rod or rod/reel combo in my hands. I want to know how it feels. Is it light or heavy? What kind of action does the tip section have? Is it stiff or not? Is the rod & reel combo well-balanced? Are the guides aligned perfectly? Etc., etc.
So after ordering the rod I mentioned above from Amazon, and ending up with a rod that wasn't what I needed, I wanted to make sure that didn't happen again, since I'm budget-conscious and don't want to waste money on another rod that I didn't really need.
Still On The Hunt
So, here I stood at Dick's, still searching for that "just right" rod or rod/reel combo. And as I browsed the racks and held various rods and combos, I found one or two that seemed like they might fit the bill. One was fairly inexpensive, but it was an odd brand that I hadn't heard much about. I don't remember the name of it, to be honest with you. But the fact that I didn't know anything about it, and I didn't really like how the reel felt, caused me to decide to put it back on the display rack.
The other one was a Lew's Mach II Speed Spool Baitcast Combo. First off, it stuck out like a sore thumb on the display rack due to its bright green highlights on the rod and the reel.
I'm never a fan of bright, gaudy colors on anything. And there are actually some rods (and other things) that I just plain won't buy because I don't like the looks of them. I know, maybe I'm just too picky. And maybe I miss out on some good stuff because of it. But that's my prerogative 😉
Anyway, the bright green caught my attention, so I grabbed it and really liked what I felt. So I carried it around the store while I browsed some more and looked at other rods and reels.
I hadn't owned any Lew's equipment up until then, but I had wanted to buy one of their reels and give them a try. Finding this combo put me one step closer to that.
Will It Pass The Test?
I tested the rod in the way that I "test" all of the rods I'm considering buying. Those little tests involve a few little things that I do. First, I look down the rod and check to make sure all of the guides are properly aligned. They were, so I moved on to the next step.
Next, I hold the rod out in front of me at roughly a 45 degree angle, with the tip pointing somewhat toward the ceiling. I will then shake the tip up and down a few times fairly hard and watch to see if it flexes and moves at all. In this case, I wanted to see the tip move some, but not too much. It passed this test too.
Next, I will hold the rod down so that the tip just touches the floor. Then I'll put a tiny bit of downward pressure on the rod a few times and watch the tip to see how it reacts to this pressure. Again, I'm looking for it to flex some, but not too much. Passed this test too!
Next, if it's a combo, I palm the reel and see how it all feels in my hand. Is it fairly well balanced? Does it feel light or heavy? This one felt good. It wasn't extremely light, but it definitely wasn't heavy either. Check. This test passed too.
Next, because there was a reel involved, I gave the handle a spin and listen for any odd noises. I also watch to see how long the handle spins and whether it spins freely or not. The noises I'm listening for are gear noises and bearing noises. I will also depress the thumb bar and give the spool a spin to see how long it will free-spool for. I do this with the brakes turned all the way down, so they don't hinder its ability to spin freely. Again, it passed this set of tests.
So, this setup was looking like a winning candidate! It passed all of my initial tests. It felt good and appeared to be of very good quality overall. And the length of the rod was what I was looking for. All I had to do now was pay for it.
But Now There Was a Problem
I did have an issue with this combo. The price.
As I've mentioned previously, I'm very budget-conscious. I'm not cheap, but I also won't spend more than is necessary on anything I buy. I try hard to get the most bang that I can for my buck.
So now I had this dilemma. I had found the perfect outfit, but I didn't like the price. What to do??
I walked around a little longer, holding onto the combo, doing the math in my head and debating whether to buy this or not. Then, I did what I thought was best. I put it back on the rack. I decided not to spend the money on it. And about that time, my wife walked over and asked me if I had found anything.
So, I told her all about what I had found, but also about the price. And then I told her that I thought it was best to wait and find something less expensive. Once again, as she had done with my other Lew's combo, she told me to buy it. I questioned her because I really didn't want to spend that much. But in light of the fact that it seemed like exactly what I was looking for, I walked to the front of the store and made the purchase.
That Was Over 18 Months Ago
Since that day I have had 18 months (or more) to fish with this combo. I have used it exclusively for that Beaver style bait. And I have caught a ton of fish on it. Some of them have been big fish, too. So it has been through some great real-life, on-the-water tests.
Has it passed them? Yes. Absolutely. It has passed them all with flying colors. So let me tell you a little more about the Lew's Mach II Speed Spool Baitcast Combo, from a user experience point of view.
First, I have had no problems at all with this combo. The rod and the reel have performed flawlessly. And as I surmised from my tests in the store, it is the perfect fit for the application I wanted it for. It casts the bait perfectly and accurately, even fished with the light bullet weight.
The rod's action is excellent, not too soft and not too stiff. And the sensitivity is also excellent. I feel even very subtle bites, whether day or night fishing.
It has enough backbone to handle big fish, but it is also soft and flexible enough so it absorbs shock and doesn't cause fish to come unbuttoned if they surge toward the boat or jump on the hookset.
The reel is smooth and quiet. It casts very well, with great distance and no problems with backlashes. The drag is smooth and works flawlessly. The gears and bearings are smooth and quiet. Again, no complaints at all.
Some Specifics
Before I get too much further, let me share the specs of this combo with you.
The Rod:
Rod constructed from a 1-piece IM8 graphite blank with Nano technology
Durable stainless steel guides
Aluminum oxide inserts
Lew's® exclusive SoftTouch graphite skeletal reel seat
Winn advanced polymer Dri-Tec split handle grips
The Reel:
Reel has a strong, lightweight graphite frame and sideplates
Machined and anodized aluminum U-shape spool
Main gear and crank shafts are made from high strength solid brass
10 bearing system with double-shielded stainless steel ball bearings
Zero-Reverse 1-way clutch bearing
Externally adjustable Magnetic Control System (MCS) allows for quick fishing adjustments depending on conditions and desired technique
Double anodized aluminum spool tension adjustment with audible click
Double anodized spool tension knob with click adjustment
Durable Rulon drag system increases the drag power up to 10 lbs.
Bowed lightweight aluminum 95mm reel handle with Winn Dri-Tec handle knobs
Anodized aluminum bowed drag star with audible click adjustment
Quick release sideplate lock lever
Zirconia line guides
That's a pretty lengthy list of features for any rod and reel combo.
And I have to be totally honest. This rod and reel combo has far exceeded my expectations. It was well worth the price of $169.99 that I paid. And that's coming from me, a very budget-conscious shopper who never spends this kind of money on a rod and reel combo!
Let's Talk About Some of Those Features
First, let's talk about the rod. I like it a lot. It isn't heavy or bulky, and its action is perfect for the bait and the method that I bought it for. It's sensitive and rugged at the same time.
I fish this rod with 17 lb. fluorocarbon spooled on its reel at all times. It handles it very well and, in my opinion, it's a perfect match.
The guides are high quality. I have had no problems whatsoever with any of them breaking or losing an insert. Again, I have no complaints at all about the quality of the rod and the way it was built.
I also want to mention the grips on this rod. They're made from something called Dri-Tec. I don't know much about the composition of this material, but I actually like it a lot. It's easy to hold onto, even in the rain. It doesn't get slippery when wet and it doesn't get tacky when it's hot and humid.
My only real complaint about it is that the bright green color shows every speck of dirt and oil from my hands. I definitely need to scrub them occasionally to keep them looking clean! Mild dish soap and warm water does the trick, though, so it's not hard to do.
And, finally, let me gripe some more about Lew's lousy idea of hook keepers.
This rod has the poorest excuse I have ever seen for a hook keeper. When I first spooled the reel with line and tied on a hook, I looked up and down the rod trying to find a wire hook keeper, but shook my head when I didn't find one.
I actually sent an email to Lew's support to ask them if they had intentionally made these rods with no hook keeper.
It was only after I sent this email that I found a little tiny hole in the rod's trigger, that I assumed must be their idea of a hook keeper. So I started using it as that.
In reality, I wondered if this was their idea of a bad joke. But, yes, their staff wrote back to me and told me that the hole in the trigger was indeed the hook keeper for this rod. Shame on you, Lews. You need to stop trying so hard to be innovative and just put a Texas rig-friendly wire hook keeper on your rods and be done with it. I, and every other angler who buys your rods, will thank you for it.
Anyone reading this might wonder why I'm ranting so much about this little tiny hole in the trigger. Why does it make me crazy to have to use it as a hook keeper?
First of all, it's not Texas rig-friendly. It requires that a Texas rigged bait be partially unrigged in order to use it.
Second, it's in a really weird location. I can't really explain why, but it just is. If you had to use it, you'd see for yourself what I mean by that. But suffice it to say that it's just a really lousy idea overall.
That is my only complaint about this rod. Seriously. I can think of no other negative issues with this one. And that's good!!
So Let's Move On To The Reel
This reel is super smooth and very quiet. The 11 bearings and solid brass gears make sure of that. In my 18 months of using it, I have had absolutely no problems with it whatsoever. None. It hasn't hiccuped even once.
As I said, it's very smooth to use. Casting is effortless. And backlashes just plain don't happen, unless you try very hard to make them happen. And who would do that, anyway?
The drag is also excellent. It's strong and smooth. I've never had it stick or misbehave in any way at all.
It's also a very comfortable reel to fish with. The shape is very ergonomically pleasant to hold in your hand, and it palms very easily. It's not heavy or bulky.
The handle kind of concerned me when I first brought it home, before I had actually fished with it. Those big, round knobs kind of caught me off guard. I'm used to handles with knobs that are flat, not round. So I didn't know how well I would adjust to them.
But they're actually very comfortable to use. They've given me no grief whatsoever. And the material they're covered with is actually very good. It's "grippy" under any conditions, including rain.
Wrapping It Up Here
I could probably find more really good things to say about the Lew's Mach II Speed Spool Baitcast Combo. But I think i've said enough to let you know what I really think of it.
As my very first Lew's rod and reel, this thing has done nothing but convince me that Lew's makes some excellent products. I only hope they will make one tiny change to all of their rods and put a better hook keeper on them!
But, seriously, despite having to spend $170 on it, it has pleased me to no end. And if you buy this combo, I'm 100% confident that you'll also like it as well.
I can very confidently say that the Lew's Mach II Speed Spool Baitcast Combo gets a very solid 5 stars, with no hesitation at all on my part.
Please click here to check out this combo.
If you like this article, please be sure to share it with others!
And feel free to leave comments below.
Good fishing <><